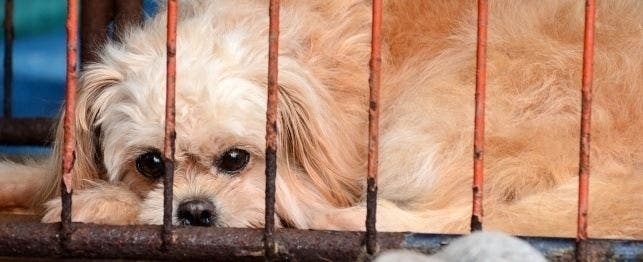 The Battle Against 'Puppy Mills'
Bonnie Peters slammed on her brakes in the pouring rain when she spotted a tiny, ailing puppy on the roadside in upstate Galway, N.Y.
"It staggered when it walked and then laid down near a tree," Peters wrote in a court deposition about her encounter with the sickly black Labrador mix. "He was very thin and his hair was sparse and he was shaking."
After scooping up the pup in a blanket, she drove him to the Saratoga County shelter, where she discovered he was near starvation and had sarcoptic mange, a parasitic skin disease humans know as scabies.
Somehow, the pup had escaped from the nearby Highland II Kennels, which authorities labeled a puppy mill after raiding the warehouse and garage that housed 50 breeds. In a plea deal, kennel owners Michael Garrick and Carmello Galway pled guilty to misdemeanor animal abuse charges and had their business shuttered.
'Puppy Mills' Dupe Dog Lovers
Despite decades of negative publicity, substandard commercial dog breeding facilities – called "puppy mills" – continue to flourish, victimizing countless animals and duping dog lovers into buying pets that may harbor severe health or temperament problems. Lax law enforcement and consumer demand for purebreds are the driving forces behind the industry, experts say.
"It's a horrible system," said Nancy Blaney, director of the ASPCA's national legislative office. "You've got animals living in wire cages stacked on top of each other, with waste dropping from one cage to the next, females bred perpetually, and no socialization whatsoever."
Mill pups, who are removed from their mothers as young as six weeks old, are transported by truck and plane and may later reveal symptoms of deadly canine diseases like parvovirus, which affects the intestines, or often congenital defects like hip dysplasia, a degenerative condition that causes lameness.
No Attempt to Breed Social Dogs
"There's no attempt to breed dogs who are social and friendly," said Dr. Stephen Zawistowski, an ASPCA animal behaviorist. "And since the dogs aren't exposed to people at a critical period in their development, you've got the potential for aggression."
Rex, a two-year-old Pembroke Welsh Corgi born in a Midwestern puppy mill and purchased at a Los Angeles pet store, arrived at Meredith Brittain's rescue shelter last year surly and aloof. His frustrated owners had turned him over to her after months of failed attempts to make him part of the family.
"I eventually had to put him in a crate, and he attacked me and nearly took my face off," recalled Brittain, a rescuer from San Bernardino, Calif. "So I called the vet, who sedated him, and I held him and kissed him on the nose. And then we euthanized him."
Pet-store owner Marc Morrone, who appears on the pet segments of "Martha Stewart Living" and has been vilified by animal rights groups for selling puppies in his Long Island shop, maintains there's another side to the story.
"Nobody talks about the people who bought dogs from a pet shop 13 years ago and have loving, wonderful pets," he said. "The truth is, the demand for puppies is insatiable, and it's not illegal to sell them. It's pointless to tell people to stay out of pet stores when it's the only real avenue open to them."
Humane Groups Offer Other Options
Humane groups insist there are other options. They urge dog lovers to consider adopting from local shelters, contacting rescue groups for purebreds, or buying from small-scale breeders.
"We try to educate people, but after all these years, people are still buying dogs from pet shops," said Zawistowski, asserting that 90% of all dogs sold in retail stores come from the mills.
The term "puppy mill" was coined after World War II, when the federal Agriculture Department (USDA) encouraged struggling farmers to raise puppies as an alternative "crop." Retail pet stores opened across the country in response to the growing supply of pups, paving the way for mass puppy production. Novice puppy farmers, however, often launched their ventures with little money and even less knowledge of canine husbandry.
Outraged humane groups pressured the federal government into adopting the Animal Welfare Act in 1971, which gave the USDA the authority to punish substandard facilities with penalties or license revocation.
Inspections Are Spotty
Advocates argue, though, that unscrupulous breeders conduct business with relative impunity, since inspections are spotty. Currently, there are 65 USDA inspectors nationwide charged with overseeing 11,263 sites, including roughly 4,100 licensed breeding facilities.
Other advocates argue that enforcement of the law poses a direct conflict of interest for the agency. "There's an inherent problem when you look at dogs as 'the product' and you've got an economic interest on the other side," said Holly Hazard, executive director of the Doris Day Animal League, a nonprofit lobbying group. In May, the League sued the USDA in federal district court in Washington, D.C., for "failing to halt cruel and inhumane practices in puppy mills throughout the United States."
Jim Rogers, a USDA spokesman, declined to comment on the pending litigation but added, "People see conditions that maybe aren't the best in the world, but the law allows for that. We try to stay neutral and simply enforce the law," he said, adding there are good ones and bad ones.
The "bad ones" caught the attention of Congress in 1995, when 149 members blasted the industry for "overcrowding, inadequate shelter, improper veterinary care, lack of sanitation and incessant breeding." Regulations were adopted requiring plastic-coated wire for cages and banning animal tethering. But other recommendations – including increasing cage size, requiring constant access to water, and limiting the number of times a dam could be bred – were not.
Puppy 'Lemon Laws'
Some states, like California and New York, have puppy "lemon laws" on the books, which enable consumers to get a portion of the purchase price back. New York also passed a pet dealer licensing bill on June 13.
But Brittain and others insist more needs to be done to protect not only the animals, but the integrity of the breed.
"I had a mill dog named Tommy come to me, and he was one of the oddest-looking corgis I'd ever seen," Brittain said. "He looked like a corgi on stilts, with big, long legs. He was so weird-looking, my heart sank. Apparently, no care was taken to breed to the standard."
At Highland II, investigators found "overall filth," recalled Cathy Cloutier, executive director of the SPCA for upstate New York. The operators "knew we were on to them so the animals had been removed, but there was urine in the water bowls and moldy poop on the floor," she said. "An old plastic bag was filled with hypodermic needles."
Of the little black lab's four littermates, two were euthanized in shelters and another was sold – while suffering mange – to an Albany woman. The fourth pup was never found.
The roadside puppy's tale, though, had a happy ending: He was dubbed "Mungie" by Cloutier and other SPCA staffers, and is now a healthy, happy pooch.
"He's small because he was so malnourished, but he's wonderful," Cloutier gushed. "He was the last puppy to make it out of there. He's one lucky dog."