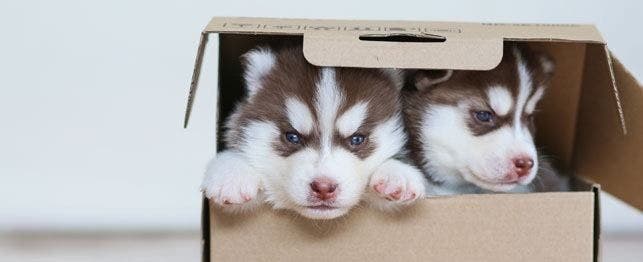 The Complete Guide to Subscription Pet Boxes
You lucky dog (and cat), you!
The canine and feline recipients of subscription pet boxes have it good alright. It's as if they celebrate a birthday every month, and their excitement levels are palpable each time.
The notion of monthly subscriptions is hardly a new concept, as magazine readers and wine enthusiasts – among others – can attest. But it wasn't until the last five years that the subscription box trend expanded to include pet recipients. So what's there to know about this retail movement that's taken the pet industry by storm?
What is a Pet Box?
Stated simply, a subscription pet box is a service providing monthly mail delivery of a box of treats and toys to pet recipients. Once a pet owner enrolls as a monthly-rate subscription member with a particular pet box provider, the lucky dog or cat giftee receives a goodies box containing surprise items often centered around a particular theme.
Since the establishment of BarkBox in 2011, the subscription pet box business model has enjoyed remarkable success and tremendous growth. Today dozens of pet box companies nationwide collectively boast hundreds of thousands of subscribers, resulting in numerous happy pets. Or as BarkBox states, "…the joy of a million belly scratches."
Why are Pet Boxes Popular?
It's no secret that people love to spoil their kids, even those children of the furry variety. Doing so fosters a special feeling of parental satisfaction. Recognizing the deepening human-pet bonds and increasing spending habits of many pet owners, savvy entrepreneurs capitalized by targeting dog and cat owners for subscription boxes for their beloved companions.
Pet owners enjoy the surprises typically associated with pet boxes, as well as the reaction these monthly gifts elicit from their four-legged friends. Equally important, though, subscribing pet owners also benefit by possessing a built-in capability each month to discover new products (toys, chews, treats, health and hygiene items, etc.) entering the pet marketplace. Moreover, pet box subscriptions represent a great gift option for the pet lovers in your life.
How Do Pet Boxes Work?
While the process may vary somewhat with each subscription company, pet box enrollment generally includes the following three steps:
Select your pet and size: This is when you establish whether your pet box subscription is for a dog or a cat, as well as the size of that pet based on weight (typically some variation of small, medium, or large).
Choose your subscription plan: This is when you determine the length of your membership. Many providers offer subscriptions ranging from single purchase to 3-, 6-, or 12-month plans, with the price-per-box decreasing each time the duration of membership increases.
Pick your payment option: Whereas most pet box providers follow the magazine subscription format of requiring full payment upfront, some allow for monthly payment. Many plans offer free shipping within the U.S. Once initial payment is received, subscribers typically receive their first pet box within 2-4 weeks.
Top Pet Box Brands
As a dog or cat owner seeking to subscribe to a service offering a monthly pet box, there are numerous options at your disposal. Here are a few pet box brands that stand out from the crowd:
Brand: BarkBox
Tagline: "A monthly box of dog goodies"
Key Facts: One of the original and largest pet box companies; has shipped more than 16 million toys and treats so far; only provides services for dogs; each item is unique from anything ever sent in a later box; allows subscribers to replace one item per box if necessary; supports shelters, rescues, and non-profits across the U.S. that help dogs find their forever homes.
Brand: meowbox
Tagline: "A monthly cat subscription box filled with fun unique toys and goodies"
Key Facts: Offers month-to-month, 3-month, and 6-month options; only provides services for cats; selects food and treats that are either made with natural ingredients, are tasty, nutritious, grain-free, organic, or locallymade; actively supports animal shelters and rescue efforts.
Brand: PawPack
Tagline: "The Box You Both Love to Open"
Key Facts: Offers durable toys and a useful blog; provides services for both dogs and cats; prides itself on featuring hypoallergenic products; promises to give 10 percent of all proceeds to supporting rescue causes; aims to support local, independent, and small businesses with its product selections.
Brand: PetGiftBox
Tagline: "Paw Print of Satisfaction"
Key Facts: One of the fastest growing pet box companies; offers monthly billing and one-time purchase; provides services for both dogs and cats; customizes pet boxes by gender; supports America's VetDogs®, providing assistance to veterans with disabilities.
Brand: Surprise My Pet
Tagline: "A Monthly Box of Dog Supplies"
Key Facts: Includes 4-6 handpicked products per box; provides only treats sourced in the U.S. or Canada; inspects boxes before they're shipped to assure items are healthy and safe for pets; does not utilize pet items from China; has an extra-small dog option; offers Facebook-related discount; supports animal charities.
Is a Pet Box Right for You?
Ultimately, the decision regarding whether to pursue a pet box subscription must be made on an individual basis by each dog and cat owner. However, here are some pros and cons associated with pet boxes to assist your decision-making process:
Pros of Pet Boxes
Provide monthly excitement for both you and your pet
Furnish unique and surprising array of pet products
Encourage human-pet bonding
Promote pet health, fun, and well-being
Educate pet owners regarding the available product offerings
Offer flexible membership plans
Support pet-related charities
Cons of Pet Boxes
Necessitate a considerable cost investment
Often require upfront payment
Disincentivize owners from seeking unique pet products on their own
Cannot guarantee your pet will enjoy the delivered products