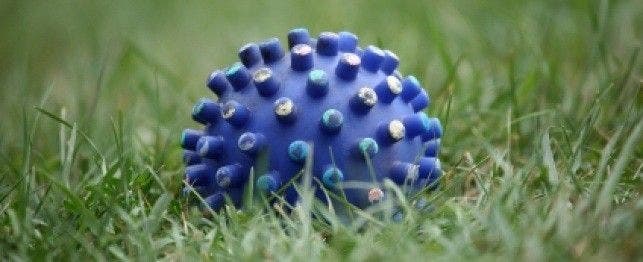 Toxic Toys: Is There Lead Lurking in Your Pet Supplies?
A concern in the minds of many, there is recent evidence that some products made in China contain unsafe levels of lead. Particularly shaken by the news are families with young children, due to popular toys being recalled, such as the Easy Bake Oven and 1.5 million Fisher-Price toys. With all this frightening news, who can you trust, what is safe? Should you be concerned about your beloved pets?
Is Lead Dangerous to Pets?
Lead can indeed be a threat to pets. Lead toxicity can be caused by the ingestion or inhalation of products containing lead. Some lead-containing products which can be a threat to pets include the following: lead paint, fishing weights and sinkers, gun pellets, linoleum, drapery weights, rug padding, automotive parts, and construction materials among others.
There are numerous symptoms of lead poisoning in pets, many of them mocking symptoms of more common health problems. Because of lead poisoning's vague presentation and the rarity of such a contamination, the condition can be difficult to diagnose.
Some symptoms of lead poisoning include anemia, vomiting, diarrhea, lethargy, seizures, blindness, deafness and behavior changes.
For more information on lead poisoning in pets, read PetPlace's in-depth article on Lead poisoning.
Regulations
The Consumer Product Safety Commission (CPSC) checks the safety of all toys intended for humans. Unfortunately, there are no organizations regularly testing animal toys, and there are no federal standards regarding lead in pet toys. The CPSC enforces a federal standard for lead in paint on children's toys. This standard is 600 parts per million (ppm).
Toxic Toys
In the wake of the lead scare, two laboratories have conducted independent tests on randomly selected pet items. These very qualified laboratories include Trace Laboratories, Inc. in Illinois and ExperTox Analytical Laboratories in Texas. Both labs have found lead and other toxic heavy metals in pet items purchased from American stores.
ExperTox Analytical Laboratories tested a Chinese-made, Wal-Mart marketed cat toy and dog toy. Both were packaged in a clear plastic wrapping with a cardboard label and no brand name.
The dog toy, a latex, green monster, contained high levels of lead and chromium (a cancer-causing heavy metal) and smaller amounts of other toxic materials. The cat toy contained very high levels of the toxic heavy metal, cadmium.
The lab determined these toxins were easily accessed and could be acquired from the toy with a simple lick of the dog's or cat's tongue.
Trace Laboratories tested Paws 'N Claws tennis balls purchased at a dollar-type store. They found an astounding 27,200 ppm lead levels in the ink on the balls. They also tested a ceramic food dish and found lead levels at 2,890 ppm. The lead levels in both these items far exceeded the limit set for human toys.
Should You Be Concerned?
There are conflicting opinions regarding the severity of these levels of lead and other heavy metals in pet products. Because of the lack of federal regulation at this time, it is up to you, the pet owner, to determine your level of concern.
An interesting bit of information to consider: Wal-Mart actually recalled children's toys which are quite similar to their lead-containing pet toys. These Chinese-made, Wal-Mart children's toys are sold at a similar price, without a brand, in packaging very similar to that containing their toxic pet toys. If these toys are not safe enough for your children, should your pet be playing with them?
What Can You Do?
How can you protect your pet? Talk to your veterinarian. Do your research. Check with the manufacturers of your pet's toys; ask for proof of their safety testing. Strongly consider discarding your pet's current products which are made in China. When buying new products, look for items made in the United States. Also, avoid toys made of latex, as they are more likely to contain lead. Above all, be proactive and don't take chances with the health of your pet.