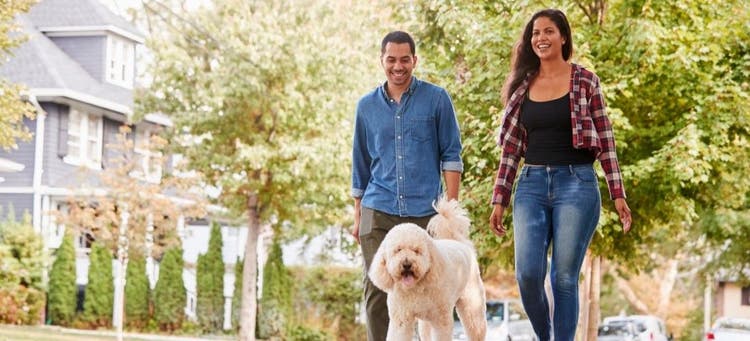 Celebrate Take a Walk in the Park Day with Your Dog
As the warm, spring air finally makes an appearance, there's nothing better than taking a relaxing walk with your dog through your favorite park.
If your walking schedule has fallen short over winter or you've needed some extra motivation to move your walk to a new location, National Take a Walk in the Park Day is the perfect opportunity.
On March 30th, this national celebration encourages everyone (dogs included!) to get out, stretch their legs, and explore their neighborhood parks. Read on to learn why you should walk your dog on National Take a Walk in the Park Day, and how you can make their walks even more fun.
Benefits of Walking with Your Dog
Not only is walking with your dog fun, but it comes with many benefits for both you and your furry friend.
Benefits for Your Dog
Taking your pup for a walk on a regular schedule is a great form of exercise. Roughly 40-45% of all dogs aged 5-11 years old are overweight in North America, but consistent walking and exercise can help your pup maintain a healthy weight and reduce their health risks.
Walking, especially through a park with many places to sniff, also provides mental enrichment for your dog. This can reduce their stress levels, improve their behavior, and build their confidence. Walking also helps add structure to your dog's bathroom schedule, keeping their digestive tract healthy.
Benefits for You
What offers more motivation to stay active than your dog? Walking with your pup can help keep you motivated and provide structure to your daily exercise routines. Just like for your dog, walking can help reduce your health risks, as well as decrease your stress levels.
Walking can also help reduce your risk of heart disease and stroke, strengthen your bones, improve your balance, and more. As you walk, you carry your own body weight, making walking a natural weight-bearing exercise.
Walking can also do wonders for your mental health. Getting outside for a daily walk can not only improve your mood, but it can also improve your memory and sleep.
4 Ways to Make Your Walk in the Park More Fun
As much fun as a regular walk in the park can be with your pup, there are ways to make your daily walk even more fun.
1. Make Your Walk a Sniff Walk
Turning any walk into a "sniff walk" offers your dog even more opportunities for mental enrichment.
Also called "sniffaris," these slower-paced walks are focused on letting your dog sniff their surroundings at their own pace instead of reaching a particular destination. Your dog leads these walks with their nose, so they can explore their surroundings and discover more smells.
Sniffing is a naturally relaxing behavior for dogs. It helps to lower your dog's pulse rate, release mood-boosting dopamine, and naturally reduce their stress levels. A short sniff walk through the park can be just as tiring as their usual long walk.
2. Try a Different Route
If you typically walk your dog along a certain route, take this day as the perfect opportunity to try a new park! This can be a neighborhood park you haven't visited in a while, or you can travel to a park further away as a special treat for your dog.
Smelling the same smells over and over can make your daily walk boring for your dog. While they may still be getting exercise, they aren't receiving all of the benefits that walking has to offer.
Switching up your path lets your pup experience new sights and smells, offering more mental and emotional stimulation. It can also make walking more exciting for you, which helps you stay motivated and consistent.
3. Bring Along a Friend
What's better than walking in the park with your dog? Walking in the park with your dog and their best friend! Nothing makes a walk more exciting and motivating than bringing along a friend or two.
If you have other friends that are pet parents or your pup has a special furry friend that they enjoy, share the excitement of Take a Walk in the Park Day with them and turn your walk into a social event.
This not only makes the walk more enjoyable for you, but it presents new opportunities for your dog to socialize and improve their training.
4. Incorporate Training into Your Walk
Speaking of training, adding in a few training sessions during your walk can be a great way to spice up your typical walking routine, especially for dogs that are high-energy and love a challenge.
Training is the perfect enrichment activity because it requires your dog to think through their actions and to problem-solve. When they successfully solve the problem and learn a new skill, they get rewarded for their behavior, making training sessions naturally motivating for your pup.
The park is the perfect place for a few training sessions. There's typically ample space for you to work with your dog, and the addition of other people and their pets can make for a great challenge for your dog's focus.
Impulse control, for example, is a great training activity to work on during a walk in the park. If your dog tries to run every time they see a squirrel, take a few minutes to practice getting their attention every time a squirrel appears.
If you reward your dog every time they pay attention to you instead of the squirrel, they'll slowly improve their ability to ignore their impulses, and your daily walks will be that much easier.
Practicing other skills like "sit" and "stay" during your walks is also a great way to reinforce those commands. Even if you think your dog has mastered those basic skills, continued practice keeps them at the top of their game.
How Will You Celebrate Take a Walk in the Park Day?
National Take a Walk in the Park Day is the perfect opportunity for you to get outside and enjoy nature with your best furry friend. Whether you're visiting your pup's favorite local park or venturing out to a new location, the benefits of walking are endless.