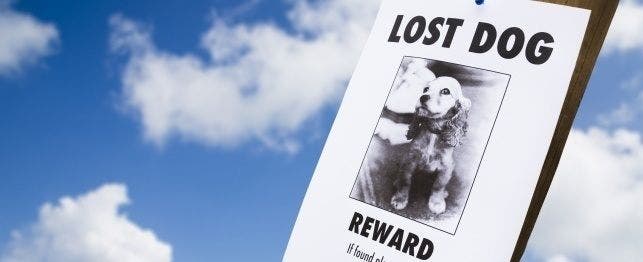 What To Do If Your Dog Is Lost
It's the thing every pet owner fears most. You stroll into the yard to call your pet and no one comes running. You walk to the side of the house and call again. But he's nowhere to be found. You wonder if he's wandered off somehow – or been stolen.
This is no time for terror, no time for panic. It's time for action. Here are some important suggestions for getting your buddy back.
Your Pet Is Missing
Search the area, and talk to the neighbors and passersby. Walk or drive through the area several times daily. Early morning and evening are the best times to look for a lost pet. Hand out a recent photograph of your pet and information on how you can be reached.
Post signs in the neighborhood with your pet's description, a photo, your phone number and information about ID tags. Put signs in grocery stores, community centers, veterinary offices and other high traffic locations.
Place advertisements in newspapers and with radio stations. Include your pet's sex, age, weight, breed, color and special markings. But to be sure your caller is legitimate and is not just playing a cruel trick, leave out one identifying characteristic so you can ask callers to describe it.
Widen your search: You don't know how long your pet has been gone and he may have had time to stray a long way from home. File a lost-pet report with every shelter within a 60-mile radius of your home and visit the nearest shelters daily, if possible. Even if they say your pet is not there, go and see for yourself. Check repeatedly. New animals come in every day. If there is no shelter in your community, give the local police an accurate description and recent photograph of your pet.
Contact the police if you believe your pet was stolen.
The Internet can be of some use in helping track down a lost pet, although its search is wide and random. The Humane Society recommends trying a United States Department of Agriculture Web site called USDA Missing Pet Network (www.missingpet.net) that connects you to a notice board for missing and found pets in your state.
Don't give up your search. Animals who have been lost for months have been reunited with their owners.
Beware of Pet Scam Artists
Most people are especially sensitive to those who have lost pets. Unfortunately, some aren't, and a variety of scams have sprung up to exploit unsuspecting pet owners. Here are a few guidelines:
Be careful when placing lost-and-found notices: Give enough of a description so your pet can be recognized, but, again, hold back information about an identifying characteristic that will allow you to verify whether or not a person actually has your animal. Once a person has a description of your pet, they may use that information for their own gains.
When someone calls saying they've found your pet, take some precautions. Do not provide any information – ask the caller for a description of the animal. Do not answer their questions about your pet's description. Ask them to describe your pet in every detail. If a person has your pet and is sincere, they will be eager to describe him and give him back to you without asking for anything in return.
If your pet was wearing a collar and I.D. tag, ask about it without disclosing any details. If the caller asks for information, wants to meet you at an obscure location or immediately asks for money for the animal's return, be cautious. It may be time for you to call the police.
One ploy that is fairly common is called the "trucker scam." Someone will call and say they have found your pet. "He must have hopped in my truck at the rest stop. I didn't even realize he had fallen asleep in the back. I am 200 miles from you now. Please send me some money so that I can drive him back to you," the caller usually will say.
You send them a check and never hear from them again. What happened? The scammer picked up your lost-and-found ad and has called your number and described your pet from your write-up.
Remember: People who have actually found lost pets usually do not want anything but to help you get him back. If the finder is not willing to return your pet without a reward, be suspicious. Ask the finder to deliver your animal to you for the reward. If he refuses, he probably does not have your pet. If the person talks ransom, ask for a phone number so you can get back to him. Then call the police, who will tell you how to proceed. If the caller won't give you a phone number, he probably does not have your pet.
Keep Your Best Friend Safe
Secure your yard. Ring it with a fence and make sure the gate is closed after people come and go.
Don't leave your animal outside when you're gone for long periods of time.
If you are gone for a long time, leave your pet with a responsible person.
Walk your dog on a leash so he doesn't wander off.
Jot down the numbers from your pet's rabies tag, write your phone number on his tag, and take a good photo of your pet.
Consider having a computer microchip implanted under your pet's skin. Shelters and veterinary hospitals use microchips to identify lost animals and reunite them with their owners.