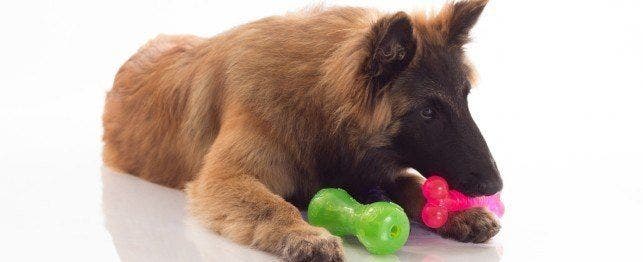 What to Expect from Your 6 month old Puppy
At about 5 to 6 months, if you have more than one pup, you may find that play becomes more aggressive and exhibits some nipping, growling, and other general displays of dominance. Many males, and some females, will begin humping each other at this stage as they rehearse for their adult roles. Such behavior is acceptable as long as it is not directed towards you.
Puppies can be taught to sit, lie down, wait, stay, leave it, and other such useful commands that will stay with them for the rest of their lives. Once these behaviors have been learned they should be reinforced periodically throughout life. This is the usual time for formal puppy training classes outside the home. Such classes are extremely helpful as long as they are conducted in a non-confrontational way.
The following list will help you know what to expect from your puppy as he develops.
How Big? – Most 6-month-old puppies are approximately 75 % of their adult body weight. Most puppies will gain or grow each week until they attain their adult size which occurs between 9 and 16 months of age. However, there is a range of maturity between the different breeds. Small dogs mature faster and reach their adult size and body weight faster than large and giant breeds of dog.
Teething – By 6 months, the permanent canines erupt. Permanent premolars erupt at 4 to 6 months and the molars erupt at 5 to 7 months of age. Most breeds will show all their permanent teeth between the ages of 6 to 7 months of age. Although dogs this age have all their adult teeth and are not actively "teething", chewing may peak at this stage. Make sure they have safe and approved chew toys. This is a great age to be on a regular tooth brushing schedule as these are the teeth they will have for the rest of their life so it is important to care for them properly.
Senses – By 6 months of age, most dogs have a very keen sense of hearing, vision, taste and smell. At this age, dogs are learning to differentiate one dog (and human) smell from another.
Ability to Hold Urine – 6-month-old puppies can generally hold their urine for about 7 hours. This means you will need to take them out at least every 7 hours if you expect them to not have an accident. They should be able to sleep through the night without having to go out.
Intelligence – 6-month-old puppies are in the beginning of their adolescence. They are smart, curious, strong, willful, and very playful. They also may take more risks by eating things that younger puppies may not. It is important to ensure that your puppy does not have exposure to trash cans, dirty clothes, and other objects he may want to eat.
Agility – Most puppies that are 6 months old are becoming very strong and coordinated. They can generally romp, play, fetch, jump, and run with very good accuracy. This is a time they have lots of energy and some of the fetch type toys can be a good release.
Sleep – Puppies that are 6 months old sleep approximately 16 to 18 hours per day.
Puberty – Be aware that by the time most puppies are 6 to 8 months of age, puberty has set in and unplanned pregnancies are possible, so be ready to take precautions or consider spaying or neutering as soon as possible.
Physical Appearance & Hair Coat – Your puppy will begin some changes from a puppy to an adult haircoat. Most puppies begin to shed some of their puppy coat. Get your dog used to being brushed as the shedding will get worse as they full loose their puppy coat. Your puppy will appear much more like an adult at this stage, starting to grow in height and length and fill out with developing muscle.
Tips on Best Ways to Raise Your 6-month-old Old Puppy
Consider that crate training is for life
Take him out at least every 7 hours
Make sure he gets plenty of exercise!
Brush and comb daily
Brush teeth daily
Feed twice a day
Switch out safe chew toys
Don't let your puppy chew on anything he can swallow
If he is at risk for heartworm disease, make sure he is on preventative!
Get your puppy spayed or neutered
Give positive reinforcement for work well done. Read about What your 6-month-old Puppy Needs to Stay Healthy!