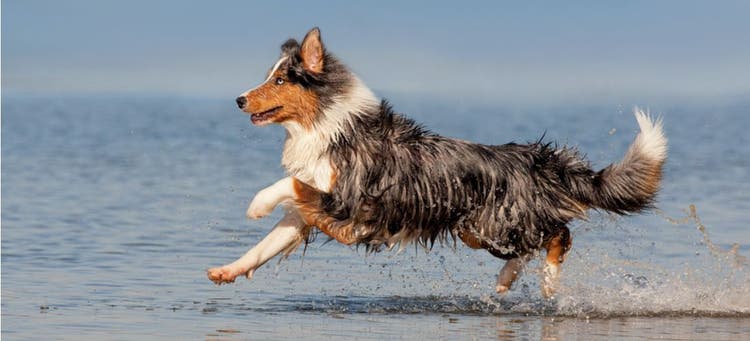 CBD for Dogs: 3 Myths and 3 Frequently Asked Questions
Content Sponsored by Elixinol.
You've probably heard about CBD (cannabidiol)1 and how it can benefit your dog's health. But you may still have some questions about whether it's right for your pet. The truth is, there are still a lot of myths and misconceptions surrounding CBD. So, we're here to set the record straight. In this article, we'll bust three of the most common myths about CBD and dogs. We'll also answer three of the most frequently asked questions from pup parents.
3 Myths About CBD for Dogs

Paws for a second while we bust these CBD myths.
Myths about CBD for dogs can lead to misinformation and confusion. Here are three of the most common myths about using cannabidiol with your pet:
Myth #1: CBD Is Dangerous for Dogs
Some people believe that CBD is dangerous for dogs. But the truth is that it's completely safe for your four-legged friend. CBD works with your dog's Endocannabinoid System (ECS)2, an internal communication network that's responsible for maintaining balance within the body and regulating important functions like appetite, sleep, mood, and memory.
The ECS is made up of receptors that are found throughout the brain and body. Cannabidiol interacts with this system in a variety of ways, resulting in a wide range of health benefits. When you give your dog CBD, you're providing them with a healthy, natural supplement that works with the body's existing systems.
Myth #2: CBD Will Get Your Dog High
Some pet parents worry that CBD will get their dog high. But thankfully, this is just another myth! CBD contains less than 0.3% tetrahydrocannabinol (THC), the psychoactive component in cannabis that produces the "high" many people associate with marijuana.
High-quality CBD products formulated for pets are made with broad-spectrum hemp extract. This means that during the manufacturing process, an extra step is taken to get the THC down to non-detectable levels while retaining all the beneficial compounds. So, you can be confident that your dog will get all the benefits of CBD without any of the psychoactive effects.
Myth #3: All CBD for Dogs Is the Same
Myth! Not all CBD for dogs is created equal. The quality of CBD products varies significantly from one company to another. So, you need to be careful when choosing a product for your pup. The potency, purity levels, and even the source of the cannabidiol can affect what kind of benefits it will provide for your dog. In addition, look at the active ingredients in the product. The best products will include functional ingredients to support the CBD, such as Ashwagandha, turmeric, MCT coconut oil, or lemon balm, to name a few.
As mentioned earlier, the best CBD products for pets are made with broad-spectrum hemp extracts. This means they contain most of the naturally-occurring beneficial compounds found in the hemp plant without any of the potentially harmful chemicals.
Now that we've debunked some of the most common myths about CBD for dogs, let's move on to some frequently asked questions from pup parents.
3 Frequently Asked Questions from Pup Parents
Understandably, many pet parents have questions about CBD for their furry friends. Here are three of the most frequently asked questions, along with our answers.

Check out these FAQs before you chews your pet's CBD products.
FAQ #1: What Dog Health Problems Can CBD Help With?
CBD is thought to offer a wide range of health benefits for dogs. It's believed to help relieve occasional, everyday stress, promote calmness and relaxation, support natural sleep, and even maintain a healthy immune system.
The natural supplement supports healthy joints and bones and is highly beneficial for senior dogs. It can also be given to help with muscle or joint soreness that results from exercise. In addition, CBD supports a positive, healthy mood and helps keep your dog feeling their best.
FAQ #2: How Much CBD Should I Give My Dog?
The amount of CBD you should give your dog will depend on their weight and size. Always check the product label to find the recommended serving size. CBD oils usually come with a dropper that makes it easy to measure out the correct amount, while CBD chews typically have a recommended serving size listed on the package.
As a general rule, start with a low serving and increase gradually until you see the desired results. You may need to experiment a little to find the right amount for your dog. CBD oil can be added directly to your dog's food or water, while CBD chews can be given as a tasty snack.
FAQ #3: How Long Does It Take for CBD to Work?
There's no one-size-fits-all answer to this question. The amount of time it takes for CBD to work will depend on several factors including the individual dog, the type of CBD product you're using, and the health problem in question.
Some pet parents report that they see positive results within minutes of giving their dog CBD. Others say it can take a few days or even weeks for full effects to be noticed. It's common for pet parents to keep a journal so they can record how their dog responds to CBD and the most effective serving size.
Elixinol's CBD Pet Collection
Looking for safe, effective CBD products for your pup? Check out Elixinol's CBD Pet Collection. They're made with broad-spectrum hemp extract and are specially formulated to support the everyday health of your canine companion.

Benny loves the bacon flavor of Elixinol's Everyday Dog Drops.
Elixinol's Everyday Dog Drops are tasty bacon flavor drops that support calmness and relaxation. Help your pup relax and combat occasional stress, nervousness, and overactivity with these safe and natural broad-spectrum CBD drops.
Looking for lip-licking CBD chews made with the same all-natural, broad-spectrum hemp extract? Try Elixinol's Calm Dog Chews. The delicious peanut butter liver dog chews are formulated with stress-supporting functional ingredients, including Ashwagandha, L-Theanine, Chamomile, and Lemon Balm. Help your dog enjoy life and relieve everyday stress with these tasty CBD chews.
Lastly, if you're the pup parent of a senior dog that needs a little extra support, try Elixinol's Mobility Dog Chews. They contain several active ingredients that are great for joint support and mobility, including turmeric, curcuminoids, and Anivestin™. Put the spring back in your pup's step and support their everyday wellness with these appetizing peanut butter cheddar CBD chews.
For a limited time, you can get 40% off the entire Elixinol CBD Pet Collection. Simply enter PP40 at checkout to get your paws on this special offer.
1 https://www.webmd.com/vitamins/ai/ingredientmono-1439/cannabidiol-cbd
2 https://www.healthline.com/health/endocannabinoid-system