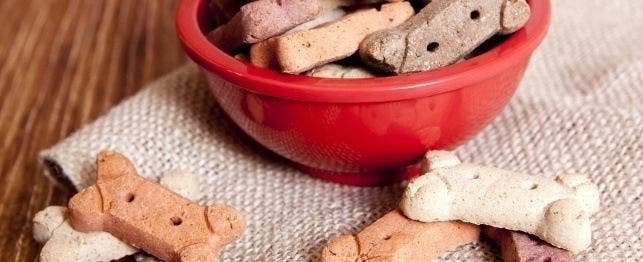 Healthy Treats – Peanut Butter Dog Biscuits & Pumpkin Dog Treats
Lucy makes these dog treats regularly and shares them in obedience class and trials. I tested these dog treats and they are fantastic! I love the fact they are common ingredients that you have in your kitchen.
These would make a great healthy treat or even a special gift. See what you think!
Peanut Butter Dog Biscuits
2 cups whole wheat flour
1 cup oatmeal
1 -1/4 cups peanut butter
3/4 cup water (may need a little more)
3 Tablespoons honey
Mix all ingriedents together until they form a ball. (May need to use your hands). Break into sections, roll out and cut with a cookie cutter. Be sure to flour the cutter and the work surface. If dough is too crumbly, add a bit more water.
Pumpkin Dog Cookies
2 cups whole wheat flour
1 cup oatmeal
1 cup pumpkin
1/2 cup water
3 tablespoons honey
1 tablespoon vegetable oil
Follow directions as above for peanut butter biscuits. Sometimes this recipe can be a bit sticky. If so, add a bit of flour. In both recipes, cookies should be baked at 375 on a sheet lined with foil for about 20 minutes. May take longer but watch that bottoms do not burn!
Thanks Lucy!