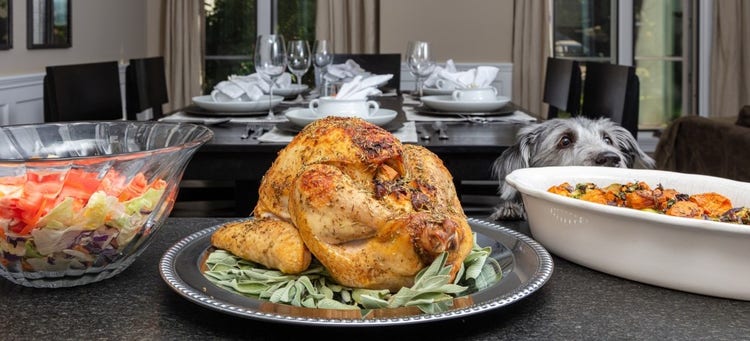 Healthy Turkey Treat Recipes for Pets
Thanksgiving wouldn't be Thanksgiving without a taste of turkey. Here are two recipes for pet-healthy meals worthy of the holiday.
Note: These recipes should be considered occasional treats, not as everyday replacements for your pet's regular diet. If your pet is on a special diet or has a history of pancreatitis or other digestive problems, check with your vet before changing their diet.
Lazy Turkey Loaf (for dogs)
Makes 6 servings
2 pounds ground turkey
1/2 cup cooked vegetables
1 egg
1/2 cup quick-cook barley
1 cup quick-cook oats
4 ounces canned no-fat gravy
Preheat oven to 350 degrees Fahrenheit. In a mixing bowl combine turkey, vegetables, egg, barley, and oats. Mix thoroughly. Spoon into a greased loaf pan and pat down meat mixture until level. Spread gravy on top of loaf and bake for 1 to 1 1/2 hours. Cool and cut into six even slices. Store unused portions in refrigerator.
Turkey Supreme (for cats)
Makes 4 servings
1 turkey breast, cooked and chopped fine
1/2 cup carrots, diced
1/4 cup spinach, diced
1/2 cups green beans, diced
3/4 cup cooked brown rice
No-salt chicken broth
Combine turkey, carrots, spinach, and green beans. Add rice and enough chicken broth to bind ingredients. Cool until mixture is lukewarm and serve.