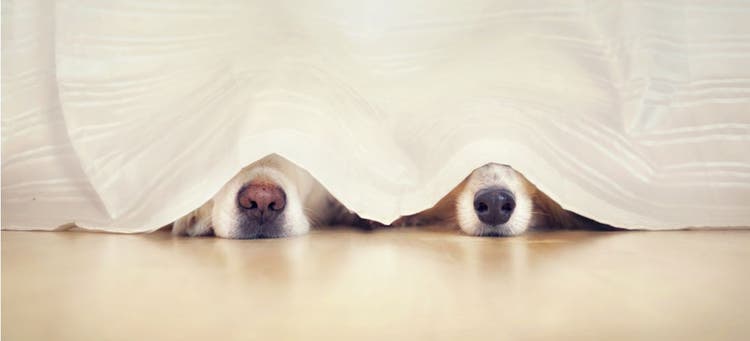 Managing Canine Fireworks Fear
Content Sponsored by King Kanine.
Festive fireworks displays aren't usually much fun for dogs. The strange sounds, sights, and smells of Fourth of July fireworks can lead to sensory overload for some dogs, while putting others into a state of total panic. Fearful pets can mean overwhelmed pet parents, as dogs may respond with vocalization, repetitive behaviors, going to the bathroom indoors, and even making a break for the exits. In fact, the American Kennel Club estimates that more dogs get lost on the Fourth of July than on any other day of the year.
While fireworks are practically a given this time of year, there's no reason that canine anxiousness has to be. There's plenty that savvy pup owners can do both before and during fireworks shows to keep nerves at bay and ensure their dogs stay calm and safe.
Managing Canine Fireworks Fear: Before
Stay at home: You can avoid a lot of trouble by simply keeping your dog away from fireworks displays. There's no need to keep your dog cooped up all day, but try to schedule walks and other outdoor activities for earlier in the day when you're less likely to see and hear fireworks. A good workout can also help reduce excess energy that might otherwise present itself in anxious or destructive behavior later on.
Get your pet tagged, microchipped, and registered: In spite of your proactivity and close attention, it's always possible that stress will lead dogs to run away from home. Maybe they'll try to squeeze through a backyard fence to escape the sound of explosives or suddenly bolt on a walk through the park. In either instance, a microchip and up-to-date identification tags can help. Remember that microchips won't do any good if your pet isn't listed in the appropriate database!
Try out desensitization training: The process of introducing a dog to the world is largely a process of gradual desensitization to new experiences and sensory stimuli. You may be able to help your dog learn to accept (or at least tolerate) fireworks by introducing them in a controlled setting. Play a video of fireworks for your dog to familiarize them with hearing and seeing displays — just be sure to keep the volume at an appropriate level.
Managing Canine Fireworks Fear: During
Create a comfortable space: As best you can, try to create a safe, comfortable space for your dog that includes familiar stimuli and muffles the sound of fireworks. For crate-trained dogs, a closed crate filled with toys and other familiar objects may be your best bet.
Offer care and comfort: Don't take an 'out of sight, out of mind' approach to addressing your dog's fear and anxiousness. Staying by their side as a calming presence can help remind them that there's nothing to worry about.
Keep your cool: Our dogs are remarkably perceptive creatures. They pick up on our emotions, including our feelings of frustration and stress. No matter how nervous they may make you, try not to let them know. Take special care not to rely on negative reinforcement or punishment, which could help to encourage unwanted behavior.
King Kanine: Soothing Products for Dogs
Whether you're celebrating the Fourth with a new puppy or looking for a novel way to address stress in an adult dog, King Kanine has a range of products that can help alleviate feelings of distress and discomfort.
CBD for Dogs
If you've been to a pharmacy, mall, or even a convenience store in the last several years, you've likely become familiar with a new acronym: CBD. Cannabidiol is a non-toxic, non-psychoactive compound found in the hemp plant. CBD's proponents and a growing body of research suggest that products containing the compound may provide a range of mental and physical benefits.
Some of these may make CBD especially appealing to pet parents with anxious dogs and cats. King Kanine produces a range of CBD-based oils to help soothe pets of any size and stripe. They're all produced in registered US-based facilities and lab tested by third-party evaluators to ensure both safety and quality. Not satisfied with your purchase? King Kanine has you covered with its 30-day money back guarantee.
CBD is a potentially useful resource all year round. If you're returning to the office or taking a vacation, for example, administering CBD could limit feelings of separation stress in both dogs and cats.
Want to learn more about administering CBD to your four-legged friend? King Kanine offers a user-friendly dosing chart for first-timers. They include a copy with each of their products, so you'll never puzzle over the appropriate dosage for your pet.
Dog lovers who aren't sure about administering oil can keep canines calm with other King Kalm products like moisturizing Paw Balm and Soothe Spray, formulated with aloe and chamomile in addition to CBD.
More Calming Products from King Kanine
King Kanine offers additional dog-soothing products, including its tasty King Kalm Crunch treats. These all-natural snacks come in popular flavors like blueberry, apple cinnamon, and honey oat to suit any puppy's palate. They're also packed with plenty of micro and macronutrients to provide for your pup's health, both inside and out. Check out the dozens of five-star reviews that dog owners have submitted on behalf of their hungry pups.
More King Kanine Products
The dog lovers at King Kanine offer more than just calming supplements. Got a shaggy dog on your hands? Take a look at the self-cleaning King Komb, the product that put King Kanine on the map. The standard size is perfect for large and mid-sized dogs, as well as horses, while the King Komb mini can help discourage shedding in cats and smaller dogs. Order one to help address shedding and stress alike this summer.