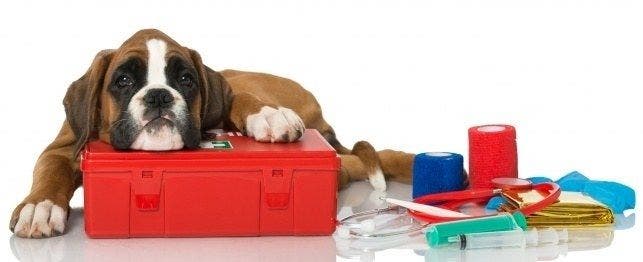 First Aid for Dogs – 10 Things You Should Know
What should you know about first aid that could possibly save your dog's life one day?
I spoke with several emergency veterinarians and we came up list of 10 things that every pet owner needs to know in an emergency.
Here they are.
1. Behavior – You need to know what to expect from an injured pet to prevent injury to yourself.
2. Vet phone numbers and address – Have this information close at hand because you will need it very quickly. The the link below to print your own template.
3. Phone number of an animal-loving friend – In some situations, like when a pet is lost or when you are trying to transport an injured pet, you will need a friend's help.
4. CPR – Cardiopulmonary rescusitation can help save your dog.
5. Heimlich maneuver- can help save a choking dog.
6. How to bandage – This can be easy to do and it is extremely important to protect a wound.
7. How to stop bleeding – Applying gentle pressure is the best way to stop bleeding.
8. Wound care – Towels and blankets can be used to cover a wound or to help you pick up an injured pet.
9. How to transport a pet – A strong blanket can be used to help you transport a pet.
10. How to pay for veterinary care – How would you pay for your pet's care if he was sick or injured? It is important to always have a plan so you will not find yourself in a difficult situation. Many clinics do not allow payment plans but do accept credit cards. Also, think about putting money aside on a regular basis to cover your pet's medical care, or consider pet insurance.
This article will give you more details CPR and other procedures you need to know. Go to First Aid – Top 10 Things to Know for Dogs.