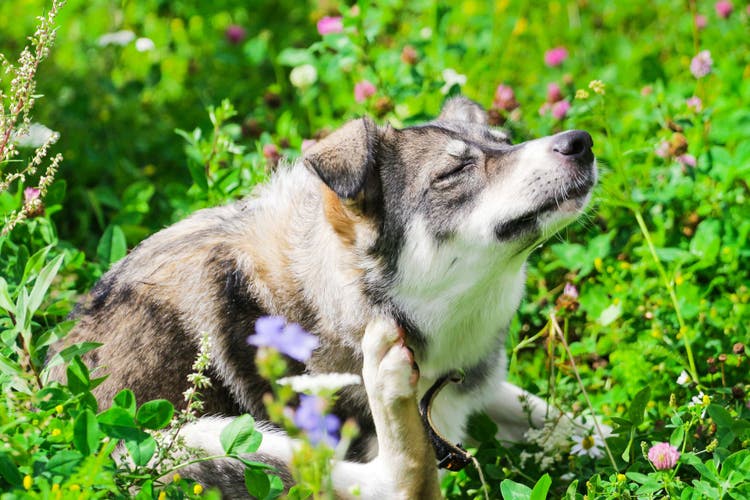 Cytopoint (Lokivetmab or CADI) for Dogs
Overview of Cytopoint for Dogs
Cytopoint®, also known by the names Lokivetmab and Canine Atopic Dermatitis Immunotherapeutic (commonly abbreviated as CADI), is a monoclonal antibody treatment that targets and deactivates canine IL-31.
Canine IL-31 is a cytokine involved in sending the itch signal to the brain. Therefore, Cytopoint® is effective at controlling pruritus (itching) in dogs with allergies. Because this drug focuses on canine IL-31 – it is a dog only product. Cytopoint® not effective in cats.
Cytopoint® is not considered a corticosteroid or an antihistamine but has effects that can be similar and has been shown to be a great drug alternative to antihistamine drugs and steroids such as prednisone, dexamethasone, depomedtrol, and triamcinolone. Cytopoint® has been very effective in controlling itching without the side effects.
Cytopoint® is a prescription drug and can only be obtained from a veterinarian or by prescription from a veterinarian.
Studies have shown that CYTOPOINT started controlling itch within 1 day of the injection and can keep the itching controlled for 4 to 8 weeks.
Cytopoint® has been specifically approved and labeled for use in dogs by the Food and Drug Administration (FDA).
Brand Names and Other Names of Cytopoint®
This drug is registered for use in dogs only.
Veterinary formulations: Cytopoint®. Cytopoint® is also known as Lokivetmab and Canine Atopic Dermatitis Immunotherapeutic and commonly abbreviated as CADI).
Uses of Cytopoint® for Dogs
Cytopoint® has been used in the treatment of allergies such as atopy (Allergic Dermatitis in Dogs) and those allergies caused by fleas, food or other contact substances.
Precautions and Side Effects of Cytopoint for Dogs
While generally safe and effective when prescribed by a veterinarian, Cytopoint® may cause side effects in some dogs.
Cytopoint® should not be used in dogs with known hypersensitivity or allergy to the drug.
Cytopoint has been shown to be safe if given with antibiotics, vaccines, nonsteroidal anti-inflammatory drugs and/or allergen immunotherapy.
There have been limited long-term studies to identify side effects. The most common side effect from Cytopoint® noted to date has been lethargy for the first 1 -2 days following an injection.
There is some evidence that some dogs may show a diminished response to Cytopoint® over time suggesting that they are developing antibodies to Cytopoint®.
How Cytopoint® Is Supplied
Cypoint® is available in in single-use 1-mL vials in four concentrations: 10, 20, 30 or 40 mg/vials. This drug is dosed by weight with some dogs getting a combination of vials to active the appropriate amount of medication.
Dosing Information of Cytopoint® for Dogs
Medication should never be administered without first consulting your veterinarian.
In dogs for an anti-itching effect, Cytopoint® is generally given once every 4 to 8 weeks as a subcutaneous injection.
Some dogs will need year-round continuous treatment and others seasonally and only during flare-ups.
Cytopoint® is most commonly dosed at 2 mg/kg body weight (0.9 mg/pound). For convenience, the manufacturer provides a dosing table by weight to be used as a guideline.
The duration of administration depends on the condition being treated, response to the medication, and the development of any adverse effects. Be certain to complete the prescription unless specifically directed otherwise by your veterinarian. Even if your pet appears to be feeling better, the entire treatment plan should be completed to prevent relapse.
Resources & References for Cytopoint
Plumb's Veterinary Handbook by Donald C. Plumb, 9th Edition
ASPCA Pet Poison Hotline
Current Veterinary Therapy XV, Bonagura and Twedt
Merck Sharp & Dohme Corp. Mometamax gentamicin sulfate, mometasone furoate monohydrate, and clotrimazole suspension [product information]. Madison, NJ, USA.
Pet Poison Helpline
Muller and Kirk's Small Animal Dermatology, Miller WH, Griffin CE, Campbell KL. 7th edition