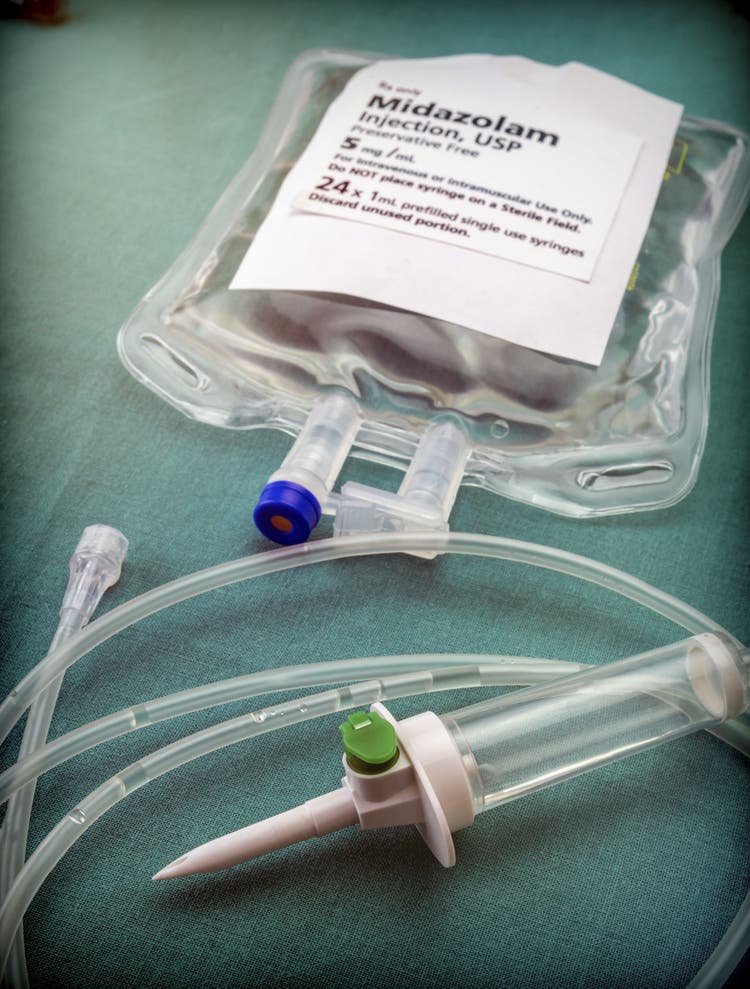 Midazolam (Versed®) for Dogs and Cats
Overview of Midazolam (Versed®) for Dogs and Cats
Midazolam, Versed®, is used for pets like dogs and cats, as a sedative.
Midazolam is a sedative that depresses the brain. Exactly how midazolam works is uncertain but it is thought to reduce serotonin levels and reduce acetylcholine levels.
Midazolam belongs to the general class of drugs known as benzodiazepines. Related drugs include diazepam, clonazepam, clorazepate and alprazolam.
Midazolam is a controlled substance and can only be prescribed by a veterinarian.
Midazolam is a prescription drug and can only be obtained from a veterinarian or by prescription from a veterinarian.
This drug is not approved for use in animals by the Food and Drug Administration but it is prescribed legally by veterinarians as an extra-label drug.
Brand Names and Other Names of Midazolam
This drug is registered for use in humans only.
Human formulations: Versed® (Roche)
Veterinary formulations: None
Uses of Midazolam for Dogs and Cats
In animals, midazolam is given as a sedative. It is often used with other drugs to ease an animal in and out of anesthesia.
Midazolam can be used to stop seizures.
Precautions and Side Effects
While generally safe and effective when prescribed by a veterinarian, midazolam can cause side effects in some animals.
Midazolam should not be used in animals with known hypersensitivity or allergy to the drug. Midazolam should be used with caution in pets with liver or kidney disease, glaucoma or those with respiratory depression.
Midazolam can cause sedation and disorientation in animals so they may become uncoordinated and weak.
Midazolam may interact with other medications. Consult with your veterinarian to determine if other drugs your pet is receiving could interact with midazolam. Such drugs include cimetidine, propranolol, narcotics, barbiturates, loperamide, digoxin, antifungal drugs, and certain antibiotics.
In some animals, however, midazolam causes the paradoxical drug reaction of excitement.
Midazolam is a controlled drug because it has high abuse potential in people. This drug, if prescribed for animals, should be carefully monitored and kept in a secure location.
How Midazolam Is Supplied
Midazolam is available in 1 mg/ml and 5 mg/ml injectable form.
Dosing Information of Midazolam for Dogs and Cats
Medication should never be administered without first consulting your veterinarian.
The typical dose administered to animals is 0.03 to 0.1 mg per pound (0.07 to 0.2 mg/kg) intramuscular or intravenous.
The duration of administration depends on the condition being treated, response to the medication and the development of any adverse effects. Midazolam is typically administered in a hospital setting and is rarely, if ever, prescribed for use at home.