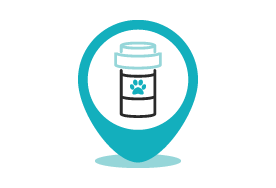 Psyllium (Metamucil®) for Dogs and Cats
Overview of Psyllium (Metamucil®) for Canines and Felines
Psyllium is a bulk-forming laxative, commonly known by the brand name Metamucil® as well as many other genetic names, used to treat sand colic in horses, profuse watery diarrhea in cats and dogs, and other gastrointestinal disturbances.
It is derived from the ripe seeds of Plantago species. The seed coating is rich in hemicellulose mucilage, which absorbs water and swells inside the intestine.
Increased bulk of the intestinal contents is thought to promote peristalsis and slow intestinal transit. Psyllium is not absorbed from the intestine. It may take up 12 to 72 hours to take effect.
Psyllium is a non prescription drug but should be used under the guidance of a veterinarian.
Brand Names and Other Names of Psyllium
This material is registered for use in humans, horses, and cats.
Human formulations: Metamucil® (Procter & Gamble), Fiberall Tropical Fruit Flavor® (Heritage Consumer), Fiberall Orange Flavor® (Heritage Consumer), Genfiber® (Goldline Consumer), Genfiber Orange Flavor® (Goldline Consumer), Hydrocil Instant® (Numark), Konsyl® (Konsyl Pharm), Konsyl Easy Mix Formula® (Konsyl Pharm).
Veterinary formulations: Vetasyl Fiber Tablets for Cats® (Virbac), Equi-Psyllium® (First Priority), Equi-Phar Sweet Psyllium® (Vedco), Sandclear 99® (Farnum).
Uses of Psyllium for Dogs and Cats
Psyllium is used in both dogs and cats to treat a variety of gastrointestinal problems, including:
Treatment of constipation resulting from too little fiber in the diet
Used to treat chronic watery diarrhea
Useful in irritable bowel syndome
Laxative of choice for treatment of sand colic in horses
Precautions and Side Effects
Psyllium is generally safe and its use is associated with few side effects.
It can sometimes cause esophageal and intestinal obstruction in animals not permitted free access to water. Therefore, water should always be available to any animal treated with psyllium.
Increased flatulence is another more minor potential complication of psyllium treatment.
Psyllium should not be used in patients with intestinal obstruction. Also, it should not be used in rabbits.
Drug Interactions with Psyllium
When psyllium is given at the same time as digoxin, salicylates, and nitrofurantoin, the absorption of these latter drugs may be impaired. At least 3 hours should elapse between the administration of psyllium and any of these drugs.
How Psyllium is Supplied
For cats, Psyllium is available as 500 mg and 1000 mg tablets (also contain barley malt extract, acacia, and thiamine)
Bulk psyllium is available, which is primarily used in hourses, in 28 oz, 56 oz, 1 lb, 10 lb, & 30 lb pails
Various human products are available including : 3.4-3.5 g of psyllium hydrophilic mucilloid per rounded teaspoonful; 0.52 g psyllium husk in capsule-form; 6 g psyllium per tsp. of liquid or packet.
Dosing Information of Psyllium for Dogs and Cats
Dosage varies based on the pet and situation. Consult your veterinarian to get the proper dosage for your pet.