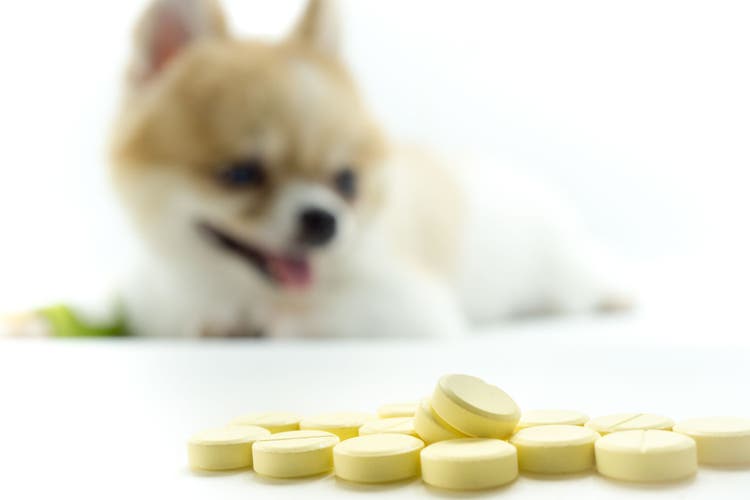 Traumeel by Heel – for Dogs and Cats (T-Relief)
Overview of Traumeel/T-Relief for Dogs and Cats
Traumeel, (also marketed as T-Relief) is an nonprescription over-the-counter homeopathic medication commonly used to treat acute musculoskeletal injuries, such as sprains and traumatic injuries, and as supportive therapy in pain and inflammation of the musculoskeletal system such as with arthritis in dogs and cats.
Traumeel has a fixed combination of diluted plant and mineral extracts was developed by the German physician, Dr Hans-Heinrich Reckeweg in the 1930's to create a natural medicine to treat musculoskeletal injuries and inflammation. Traumeel has been available over the counter in Germany for over 60 years and in Austria for over 40 years. It is currently available in 50 countries, including the USA.
It has gained popularity in the United States for pain therapy as an alternative to non-steroidal anti-inflammatory drugs (NASID) to treat pain and swelling. Some studies have suggested that Traumeel has shown comparable effectiveness to NSAIDs in terms of reducing symptoms of inflammation, accelerating recovery, and improving mobility. Traumeel has had good safety studies.
The effects of Traumeel results from the activity of the various components. For example, Aconitum napellus, Matricaria recutita, Hamamelis virginiana, and Hypericum may reduce pain associated with inflammation. Mercurius solubilis may be anti-inflammatory. Arnica montana, Calendula officinalis, Echinacea, and Symphytum may accelerate wound healing. Other components of Traumeel may decrease swelling including Arnica montana, Hamamelis virginiana, Achillea millefolium, Aconitum napellus, Atropa belladonna, and Mercurius solubilus.
Traumeel may also provide some action on cells of immune system (blood-borne leukocytes) and also on the first line of defense of the 'non-mobile' gut-associated immune system (gut epithelial cells).
However, it is thought that there is a synergistic effect of Traumeel as the overall effect appears to be greater than the 'sum' of the active components.
Traumeel is available in the forms of tablets, drops, injection solution, ointment, and gel.
The ingredients in Traumeel include the following with their purpose:
– for pain (Atropa belladonna, Aconitum Napellus, *Arnica Montana, Belladonna, *Bellis Perennis, Chamomilla, Echinacea purpurea, Hypericum Perforatum, Hepar Sulphuris Calcareum, Hamamelis Virginiana, Mercurius solubilis, Millefolium, Symphytum Officinale)
– Inflammation (Echinacea)
– bruising (Arnica montana)
– wound healing (Matricaria recutita, Calendula officinalis),
– bleeding (Achillea millefolium)
– edema (Mercurius solubilis)
– infections (Hepar sulfuris)
Brand Names and Other Names of Traumeel
This drug is registered for use in humans only.
Human formulations: Traumeel® by Heel (T-Relief)
Veterinary formulations: None
NOTE: Heel (the producers of Traumeel) recently indicated they are stopping production of Traumeel in the United States. MediNatura bought HEEL USA and will produce T-Relief to replace Traumeel.
Uses of Traumeel
Traumeel is used to treat pain and inflammation from a variety of causes. Possible uses include minor traumatic injuries, musculoskeletal injuries, joint pain and inflammation, arthritis, insect bites and stings, bruising, sprains and other soft tissue injuries.
Traumeel can be used in conjunction with other pain medications.
Traumeel ointment can be used topically on the knee or other joints in short haired dogs.
Precautions and Side Effects of Traumeel
While generally safe and effective when prescribed by a veterinarian, Traumeel can cause side effects in some animals.
Traumeel should not be used in animals with known hypersensitivity or allergy to the drug.
Traumeel has been given safely with other medications. Consult with your veterinarian to determine if other drugs your pet is receiving could interact with Traumeel.
Traumeel is sometimes used in conjunction with Zeel.
Traumeel can be used with pets of all ages.
How Traumeel is Supplied
Traumeel is available in the forms of tablets, drops, injection solution, ointment, and gel.
Tramueel should be stored at room temperature, away from light and moisture.
Dosing Information of Traumeel for Dogs and Cats
Medication should never be administered without first consulting your veterinarian. Traumeel is considered nontoxic and the dosing is not standardized like you would expect with other drugs.
The typical dose of the tablet form of Traumeel for newborn puppies is ½ tablets every 8 hours (3 times daily), weaned puppies at 1 tablet 3 times daily, adult dogs can range from 1 to 3 tablets 3 times daily depending on the dogs size.
The typical dose of the oral drop or oral vial form of Traumeel in dogs is 5 to 6 drops orally every 8 hours for small dogs, 6 to 7 drops orally every 8 hours for medium dogs, 8 to 10 drops orally every 8 hours for large dogs.
The typical dose of Traumeel tablets for cats is 1 tablet every 8 hours (three times daily). The typical dose for Traumeel oral drops in cats is 5 to 6 drops every 8 to 12 hours. It is often recommended to give every 8 hours for 3 to 5 days then every 12 hours.
Traumeel may be given by injection with fluids as a constant rate infusion to treat acute pain.
Traumeel can be mixed with water to administered or placed in food. Ideally Traumeel Tablets should be given between feedings.
The duration of administration depends on the condition being treated, response to the medication and the development of any adverse effects. Be certain to complete the prescription unless specifically directed by your veterinarian. Even if your pet feels better, the entire treatment plan should be completed to prevent relapse.
Reference
Traumeel – an emerging option to nonsteroidal anti-inflammatory drugs in the management of acute musculoskeletal injuries. Int J Gen Med. January 2011;4(0):225-34. Christian Schneider
Praxis für Ganzheitsmedizin, Herrsching, Germany; Schön Klinik München Harlaching, München, Germany.
I hope this gives you more information about using Traumeel in dogs and cats.