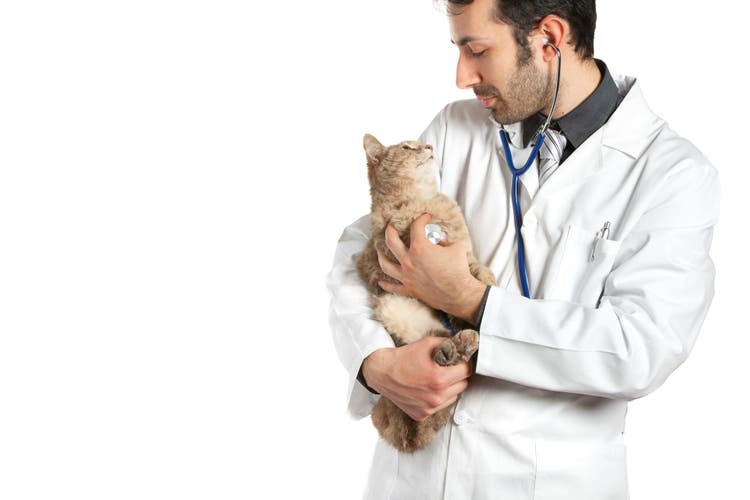 Mometamax (Mometasone; Gentamicin; Clotrimazole) Otic Suspension for Dogs and Cats
Overview of Mometamax for Dogs and Cats
Mometamax is a medication to treat ear infections in dogs and cats. Otitis externa (outer ear infections) commonly include infection with both bacteria and yeast organisms. Many medications designed to treat these infections will include multiple medications to treat all aspects of the infection. You can learn more about otitis externa in these articles from the Petplace library: go to Otitis Externa (Ear Infections) in Dogs and Otitis Externa (Ear Infections) in Cats.
Mometamax contains three medications to treat your pet's otitis:
Mometasone – a synthetic steroid that will help reduce inflammation in the ear canal. Inflammation is a large source of the pain associated with otitis, this will help your pet become comfortable more quickly.
Gentamicin – an aminoglycoside-type antibiotic that will treat a wide variety of bacteria types found in ear infections.
Clotrimazole – an antifungal medication used to treat infections caused by fungi (yeasts and molds). It is effective in the treatment of the common skin and ear yeast Malassezia pachydematitis and in control of the skin fungi (dermatophytes), Microsporum, Candida, and Trichophyton. The drug is also used occasionally for treatment of fungus infection of the nasal cavity.
Mometamax is specifically used to treat otitis externa caused by susceptible strains of yeast (Malassezia pachydermatis) and bacteria (Pseudomonas, coagulase-positive staphylococci, Enterococcus faecalis, Proteus mirabilis, and beta-hemolytic streptococci).
Brand Names of Mometamax for Dogs and Cats
Mometamax® – Merck
Similar multi-drug products include:

Otomax Ointment (Intervet-Schering-Plough) which includes Gentamicin sulfate, betamethasone valerate and clotrimazole
Posatex (Intervet/Schering-Plough Animal Health) which includes Orbifloxacin, posaconazole, mometasone furoate monohydrate
Tresaderm (Merial) which includes neomycin sulfate, dexamethasone, and thiabendazole
Surolan (Vetoquinol) which includes miconazole nitrate, polymyxin B sulfate, and prednisolone acetate
Claro® Suspension which includes florfenicol, terbinafine, and mometasone Furoate
Generic formulations which contain neomycin, polymyxin B, and hydrocortisone (generics)
Uses of Mometamax in Dogs and Cats
Mometamax is prescribed to treat or control infections caused by susceptible yeast and bacterial ear infections (otitis externa). The product is currently labeled for use in dogs only but has been used "off-label" in cats also. This means it is believed to be safe but has not been directly researched in cats.
Mometamax is not effective against infections caused by viruses or parasites (such as worms or mites).
Identification of the cause of an ear infection should be undertaken by your veterinarian.
For more information on ear infections, please read Otitis Externa in Cats.
Precautions and Adverse Side-Effects of Mometamax
The combination of clotrimazole, gentamicin, and mometasone found in Mometamax® is generally safe for use in dogs. It can also be used in cats but has not been labeled by the manufacturer for this usage at this time.
Your pet should be examined by your veterinarian before starting this medication, it should not be used in animals with a ruptured eardrum (tympanic membrane).
Signs of allergy to Mometamax® may include skin reactions, hives, and redness of the treated area.
Use of Mometamax® has been associated with partial hearing loss in a small number of geriatric dogs. It can be temporary in some dogs.
If you notice hearing loss, head tilt or dizziness in your pet undergoing treatment with Mometamax® stop the treatment and call your veterinarian immediately.
The steroid component of Mometamax®, mometasone has the advantage of having a lower risk of systemic corticosteroid signs than some other ear medications.
Do not use this drug in pregnant dogs.
How Mometamax® is Supplied
Mometamax® is available in various size bottles (7.5gm, 15 gm, 30 gm, and 215gm)
The ear canal should be cleaned and dried before the topical use of this product. It should be confirmed that the eardrum is intact prior to using this medication.
It is recommended to clip the excessive hair away from the area to be treated.
Dosing Information for Mometamax®
Mometamax® should only be used under the direction of a veterinarian. It may not be safe to administer the clotrimazole, gentamicin, and betamethasone combination to pets with certain medical problems.
The typical dose of Mometamax® ranges from 4 to 8 drops in the ear canal.
Administer 4 drops to dogs weighing less than 30 pounds once a day for 7 days, or as indicated by your veterinarian.
Apply 8 drops to dogs weighing more than 30 pounds once a day for 7 days.
Here is an article on How to Administer Ear Medication to Your Dog that may be helpful.
The duration of administration depends on the severity of the infection, response to the medication, and the presence of any adverse effects. Be certain to complete the prescription.
Resources & References
ASPCA Pet Poison Hotline
Current Veterinary Therapy XIV, Bonagura and Twedt
Current Veterinary Therapy XV, Bonagura and Twedt
Muller and Kirk's Small Animal Dermatology, Miller WH, Griffin CE, Campbell KL. 7th edition
Merck Sharp & Dohme Corp. Mometamax gentamicin sulfate, mometasone furoate monohydrate, and clotrimazole suspension [product information]. Madison, NJ, USA.
Pet Poison Helpline
Plumb's Veterinary Handbook by Donald C. Plumb, 9th Edition
Textbook of Veterinary Internal Medicine, Ettinger & Felman