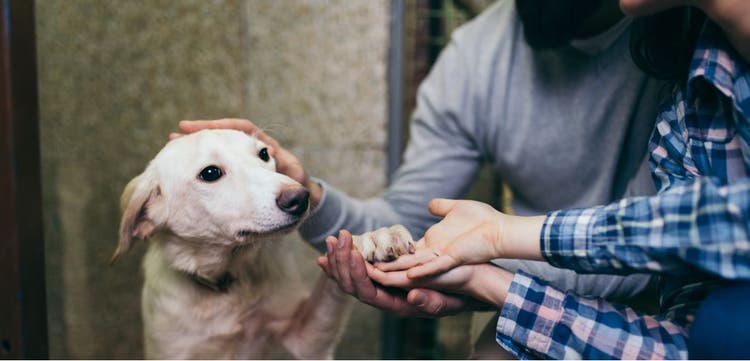 Fostering or Adopting a Pet During the COVID-19 Crisis
With stay-at-home orders in effect across the country, life has been turned upside down for many Americans. People are working from home, homeschooling children, and missing out on their favorite pastimes, such as watching professional sports or seeing their favorite musicians in concert.
There is, however, one significant upside to this situation for animal shelters and adoption agencies across the country: with more people home alone, adoption and fostering rates have increased significantly.
How COVID-19 Inspired a Foster & Adoption Boom
Melissa Levy, Executive Director of Philly PAWS in Philadelphia, Pennsylvania, has been working diligently (and carefully) to place animals in happy homes since the stay-at-home order went into effect on March 22nd.
"We have seen a tremendous outpouring of support from fosters, which has enabled us to place 205 animals (dogs, cats, and kittens) into foster homes since this crisis began," Levy said. "That is 3.5 times as many foster animals as during the same time period last year."
Levy has found that moving animals into foster homes at this rate has enabled the organization to maintain space in their shelters and continue to save stray and surrendered pets who are in need right now.
Best Friends Animal Society, a nonprofit organization, told NBC's The Today Show that, based on numbers analyzed from 1,200 animal welfare organizations across the country, there was an overall 93% increase in animals going to foster homes during the last week in March.
In fact, one Chicago organization has seen an especially dramatic uptick in adoption and fostering requests. With so many city residents stuck at home, One Tail at a Time received enough requests to crash its Facebook page.
Safer Ways to Foster & Adopt Pets
Additionally, PAWS Chicago, which has no relation to Philly PAWS, has also continued to field requests from animal lovers who want to foster or adopt pets during the COVID-19 crisis. "We are rescuing animals everyday," said Paige Barrish, the organization's Foster Program Coordinator. "I would like to encourage any interested Windy City residents to fill out a foster application today and keep an eye on PAWS Chicago's Facebook page for updates."
PAWS Chicago has published a comprehensive COVID-19 toolkit that offers information related to fostering pets, as well as general information related to the outbreak to help support new pet parents during this time. Like PAWS Chicago, the Best Friends Lifesaving Center in Los Angeles has shared an extensive resource guide for concerned pet owners. In addition to addressing common COVID-19 questions, the guide provides a number of resources for learning more about adoption and fostering. Although many organizations have had to shutter their operations due to logistical concerns, there is still a good chance that you can find a way to foster or adopt a pet in your hometown during this crisis. Some organizations, like The Arizona Humane Society (AHS), have even started drive-thru foster or adoption services. AHS representative Bretta Nelson told The Today Show that anyone interested in fostering a pet can simply send a text message to AHS staff upon their arrival. The staff members even minimize human-to-human contact by carrying both paperwork and pets out to the parking lot.
Supporting the Cause Without Fostering or Adopting
Other organizations, like Philly PAWS, need financial help now more than ever.
"We have launched the Emergency Fund for PAWS, to help us weather this storm and ensure we can continue saving lives throughout this crisis," Levy said. "Any help we can get, will go towards supporting our sweet furry friends during this challenging time."