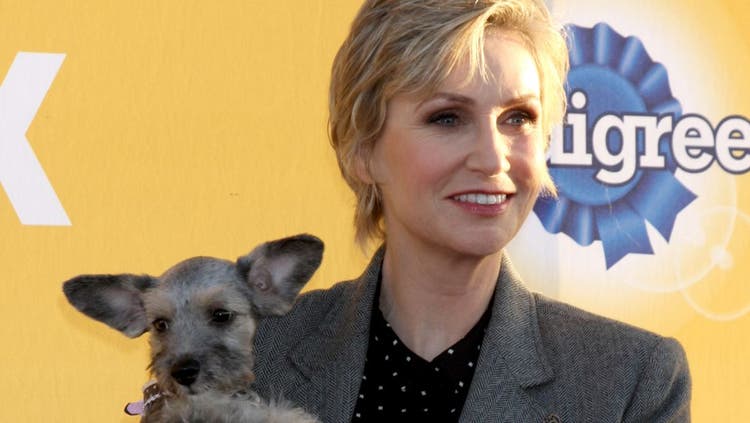 12 Celebs Who Love Their Pets
If there's one thing that truly makes celebrities "just like us," it's the love they have for their furry friends. Here are 12 of our favorite celebs and their beloved (and undoubtedly pampered) pets.
Jennifer Aniston. Although Jennifer Aniston is new to Instagram, she has been a noted dog lover for many years. After 15 years of friendship, her beloved Welsh corgi-terrier, Norman, passed away in 2011. Aniston got a tattoo to honor his memory, as she considered Norman to be a family member. Since Norman's passing, Aniston went on to adopt other pups, some of which she shares with ex-husband Justin Theroux. She recently shared a pic of her Terrier mix, Clyde, coming into work with her, noting that he's "girl's best friend."
Kristen Bell. Kristen Bell is truly a triple threat: she sings, she acts, and she loves to foster dogs in need. In fact, Bell has gone on to adopt two shelter dogs who needed loving families. Lola, a Welsh Corgi Chow-Chow, joined the Bell-Shepherd family 16-years-ago from a local shelter in Los Angeles, and Taffy "Barbara Biscuit," an elderly dog who is missing an eye and nearly blind, was recently welcomed into their home. Bell, who is a major advocate for dog adoption, has said she's so pro-adoption because "It should be less about the purchase and more about connecting with someone who also needs some companionship. I think a lot about all the animals that are in the pounds right now that don't have homes that are put down because people don't rescue enough. And I wanted to save a life."
Ashley Tisdale. Actress Ashley Tisdale was crushed when her beloved Maltipoo, Maui, died this past June. The High School Musical star's heartfelt message to her pup on Instagram recognized the feelings that so many of us experience when we lose a beloved pet: "This pain is the worst pain I've ever felt. Maui was my soulmate, the connection was unlike any other. She didn't care who I was and what I did, she just loved me unconditionally." Although no one will ever replace Maui, Tisdale adopted another dog named Ziggy, a Yorkie, who has taken over her Instagram feed.
Hilary Duff. Like Tisdale, actress Hilary Duff also shared her heartbreak about the death of Dubois, a Bernese Mountain dog, with her fans on Instagram. Duff wrote that Dubois has "been with me though true pain, true happiness and joy, true confusion and disappointment and all over again. You are more than I could have ever dreamt up on my own. I haven't taken a step without you beside me for 10 years. You are my protector my comfort, my shadow, my understanding of all things good and warm and fierce. I can't imagine this house without your noise, your love, your energy, your smile and wagging tail ?." Shortly after Dubois passed away, Duff and her boyfriend Matthew Kona adopted a senior dog named Lucy from the Los Angeles-based non-profit Love Leo Rescue. Lucy is in good company, getting to share a home with Duff's two other rescue dogs, Momo and Peaches.
Chelsea Handler. Comedian Chelsea Handler has famously said that having children "is just not the best use of my time," deciding to be a pet parent instead. Handler's love of her dogs is no surprise; her rescue dog Chunk, a German Shepherd-Chow mix, made frequent appearances on her late night talk show and even had his own Twitter account with over 100,000 followers. Like Chunk, his "stepsister" Tammy was also rescued from a shelter and held a big place in Handler's heart. When both of her pups passed away within 6 months of each other, Handler was heartbroken, but vowed to adopt more pets in their honor. Today, Bert and Bernice, also Chow rescues, live in Hollywood with their funny mom.
Jane Lynch. Comedic actress Jane Lynch is as passionate about adopting rescue dogs as she is about entertaining people. Lynch currently has three rescue dogs, Millie, a pitbull shepherd mix, and Rumi and Bernice, both black cocker spaniels. Over the years, Lynch also adopted a Lhasa Apso named Olivia, who passed away in 2017, and "Fatty" Arbuckle, a mutt who weighed 116-pounds from a thyroid condition when Lynch adopted him. Arbuckle went on to become famous on social media as fans tracked his weight loss journey. After two years in Lynch's care, Arbuckle had lost 50 pounds and was a very happy pup.
Rachael Ray. It seems pretty safe to assume that Rachael Ray is an animal lover given the fact that she launched her own pet food company called Nutrish. While Ray and her husband, John Cusimano, don't have any human children, they have been pitbull parents for many years. The first pitbull rescue that they adopted, Boo, passed away in 2005 at the age of 12. Shortly thereafter, they adopted Isaboo, another red-nosed pitbull, who recently celebrated her 14th birthday with the couple.
Ellen DeGeneres. Comedian and daytime talk show host Ellen DeGeneres has said that if she hadn't been able to make it in Hollywood, she would have been a veterinarian. The animal lover shares three dogs and three cats with her wife, actress Portia de Rossi. Portia is also an avid equestrian, aiming to ride her horse every morning. DeGeneres also has a line of pet items, is an investor in a pet food company, and was named Woman of the Year by PETA in 2009.
Justin Bieber. Newlywed and popstar Justin Bieber has gotten into some very public arguments about his love of exotic pets. From a snake named Johnson, to a Capuchin monkey that he was forced to hand over to customs officials in Germany, to his exotic Savannah cats Sushi and Tuna, Bieber has stirred up controversy about his love of atypical house pets. It should be noted, however, that Bieber and his wife, Hailey Baldwin, also are proud pet parents to an orange Persian cat named Tuts, and two Yorkshire Terriers named Esther and Oscar.
Jenny Mollen. This author, Instagram star, and wife to actor Jason Biggs, is also a dog lover. After giving birth to their first child in 2014, Mollen had their beloved poodle, Teets, come snuggle with her in the hospital. When Teets passed away in 2016, she penned a love letter to her dog in the online magazine Lenny Letter. Although Teets is no longer with the Mollen-Biggs family, their pup Gina still graces the pages of their social media accounts.
Beth Stern. Beth Stern is a former model and now-wife to shock jock Howard Stern, but her true claim to fame is in her love of animals and her advocacy of pet adoption. In January 2019, Stern told the Today Show that she and her husband have fostered over 900 cats in need. In addition to the cats they foster until they get adopted, the Sterns also have 4 cats who are permanent members of their family: Bella, Yoda, Walter, and Pebble. Stern is also the National Spokesperson for North Shore Animal League, helping spread the word for animals in need of adoption.
Michelle Obama. In addition to being passionate about health and wellness, former first lady Michelle Obama is also passionate about her pups, Sunny and Bo. The Portugese Water Dogs were both adopted by the Obama family, first Bo in 2009 and then Sunny in 2013. Although they both "grew up" in the White House, Obama reports that the presidential pups are acclimating well to civilian life. The one thing that still freaks them out? The sound of a doorbell, which is not something they ever had to deal with in the West Wing.