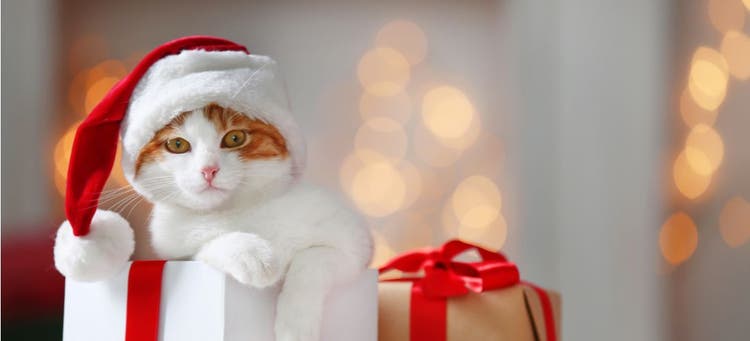 2021 Holiday Shopping Guide for Pets and Pet Lovers
Content Sponsored by Native Pet, Grounds & Hounds, King Kanine, Hollypet, West & Willow, American Kennel Club, Furhaven, WOPET, PETPMEEE, Wobble Wag Giggle Store, Embark, Veken, Temptations, and PetPartners.
Deck the halls and ring in the new year with our annual curated list of wag worthy howliday gifts for dogs and cats.
Native Pet: Beat Winter Weather with Native Pet Omega Oil
Native Pet's all-natural Omega Oil uses a targeted formula that promotes healthy skin and coat with added mobility & heart-health benefits. It's a super delicious food topper to keep your pup healthy and happy! The wild-caught fish oil blend helps address irritation, reduces itching and scratching, and alleviates joint pain. Grab a bottle for 15% off for a limited time only and get your pup winter-ready!
Grounds & Hounds: Shop good deals for a good cause!
Calling all coffee lovers! 20% of all Grounds & Hounds profits help fund rescue initiatives. Grounds & Hounds is committed to using the sale of the best organic and eco-friendly specialty coffees to support rescue organizations providing safe-havens for pups between homes. Shop for a good cause now.
King Kanine: Help your pet's overall wellness with King Kanine!
King Kalm CBD for pets combines high-quality cannabidiol with natural Copaiba oil and DHA to deliver a more potent and soothing effect. Owners have used King Kanine products to aid pets that are experiencing symptoms related to anxiousness, physical discomfort, noise discomfort, and more. Get a 10% discount through the end of the year with code: PETPLACE10.
Hollypet: Triangle Cat Bed Tent
This self-warming 2-in-1 foldable pet bed is made from durable materials and features a small, enclosed space that will make your cat feel warm and cozy. Our cute and timeless classic tent comes in a variety of patterns that your cat will love!
West & Willow: Pet Portrait
West & Willow pet portraits are the perfect minimalist decor to start your gallery wall, design a statement shelf, or give as a gift to your pet loving friends and family.
American Kennel Club: The Ultimate Holiday Gift Box!
Whether you're buying this bundle of must-have goodies for your pup OR shopping for a loved one, the AKC Shop Holiday Gift Box is the perfect collection of our favorite products to celebrate the upcoming Holiday season!

https://shop.akc.org/pages/search-results?q=holiday%20gifts
Furhaven: Orthopedic Pet Bed for Dogs and Cats
The classic bolstered sofa design promotes ultimate comfort and security, providing high-loft orthopedic cushion support as well as a super cozy nestling and burrowing space for dogs and cats.
WOPET: Smart Pet Feeder for Cats and Dogs
Control your pet's mealtime from anywhere using your smartphone; Program up to 15 meals to feed on your pet's schedule.
PETPMEEE: Cat Ball Toy with Bell
This cute cat toy ball features 4 bells, which will attract your cat's interest and stimulate their hunting instinct. Your cat can exercise and stay healthy while chasing and playing with this ball.
American Kennel Club: Dog Breed Oven Mitt and Pot Holder
These adorable, dog breed-specific kitchen accessories will add a personal touch to any home. With a quilted heat-resistant back and hanging loop, not only are these items great for display, they're also the perfect companion for any chef!
Wobble Wag Giggle Store: Interactive Dog Toy
This Amazon best seller is great for dogs of all ages and sizes! The 6 clutch pockets on the toy make it easy for your dog to pick up during playtime! With just the nudge of a nose, off the ball goes! Wobble Wag Giggle does not require batteries – the secret is the internal tube noisemaker inside of the ball. The enticing "play-with-me" sounds are sure to engage your pup as the toy rolls around!
Embark: Breed & Health Kit
Embark screens for over 350 dog breeds, types, and varieties. Using a research-grade genotyping platform developed in partnership with Cornell University College of Veterinary Medicine, Embark offers the most accurate breed breakdown on the market. Normally $199, Now $149!
Veken: Pet Fountain
This Amazon best seller is great for small- to medium-sized pets. The circulation system helps provide healthy and hygienic water for beloved pets all day long. The fountain even comes equipped with 3 replacement filters!
Temptations: Cat Treats
These treats make the perfect holiday stocking stuffer that will keep your cat purring! Plus, there are under 2 calories per cat treat, so you can feel good about rewarding your cat every day, not just during the Holiday season!
PetPartners Pet Insurance: Put Pet Insurance at the Top of Your Holiday Wish List
You've crossed plenty of pet essentials off your list, but there's something you're forgetting. A pet insurance policy offered by PetPartners, underwritten by Independence American Insurance Company, can provide reimbursement for eligible vet bills and peace of mind throughout your pet's life. Get a quote for a custom plan today and start the new year off on the right paw!