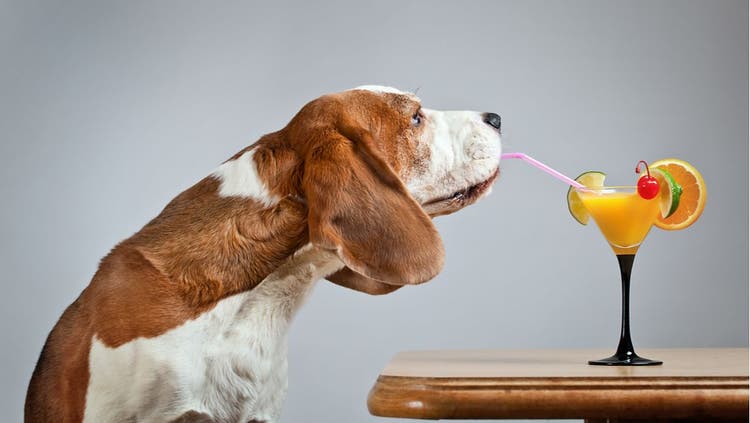 Yappy Hour: The Best Dog-Friendly Bars in America
As a dog parent, the thought of keeping your pup at home while you go out to happy hour can leave you riddled with guilt and have you second guessing your evening out. Well, second guess no more. These dog-friendly bars and restaurants around the country will provide you with the best of both worlds: a night out on the town and quality time spent with your furry friend.
CALIFORNIA
This dog-friendly pub takes happy hour to the next level by not only encouraging you to bring your dog, but also by providing them with their own special dog menu.
Fred's in Huntington Beach not only has great margaritas and guacamole, but they also host "Doggy Date Night" every Monday, as well as a variety of other pet-friendly events throughout the year.
COLORADO
Between the enclosed pavilion where pups can hang out on-leash, and the outdoor biergarten where they can play off-leash, Romero's is an ideal restaurant and bar for pet parents.
This family-friendly tavern boasts a whopping 7,000 sqft. of fenced in outdoor space for your dog to run around. There are also two fully stocked bars, and a patio where your tired pup can join you for a beer after their playtime is over.
FLORIDA
The Dog Bar is an off-leash dog park and a full-service bar that requires dog parents to purchase a membership for regular use. As long as your furry friend is up to date on their vaccinations and neutered or spayed, they can join in on the happy-hour festivities.
GEORGIA
Fetch Park
Atlanta, Georgia
https://fetchparkatl.com/
Listed as Atlanta's first-ever dog park bar, Fetch Park features "outdoor TVs, wifi throughout the park, cooling stations, a dog bath area" and Bark Rangers to make sure all the dogs play nicely while their parents unwind with a cold brew or cocktail.
ILLINOIS
This upscale Mexican restaurant's dog-friendly area is limited to the outdoor patio, making it ideal for dog happy hours in the warmer months only. This hotspot also offers a canine menu which features skirt steak, burger patties, grilled chicken, and dairy-free "woof-cream" for dessert, and donates a portion of its proceeds to PAWS Chicago.
MASSACHUSETTS
In the warmer months, Night Shift Brewing opens up their outdoor patio and welcomes patrons to bring their pups. With 60+ seats, there is plenty of room for dog lovers to enjoy a beer from their taproom.
MISSOURI
Built out of 17 repurposed shipping containers, this cool Kansas City spot includes a stage, doggy jungle gym, a bottle-shaped splash pool, and the world's first doggy rock-climbing wall. Those who want to come with their canine pals, however, must either have a membership or purchase a day pass to enjoy the endless fun.
NEW YORK
Located in Manhattan's East Village neighborhood, Boris and Horton is NYC's first Department of Health-approved, dog- friendly coffee shop and event space. This cafe also doubles as a vegetarian restaurant and has a selection of craft beer and wine.
When Buffalo isn't buried under feet of snow during the winter months, Ballyhoo has an open-air patio that welcomes patrons with pups to sit and enjoy a meal and a cocktail.
NORTH CAROLINA
With three different locations in North Carolina, Lucky Dog Bark & Brew is part doggy daycare, part bar. If you want more than just a cocktail while hanging with or waiting for your pup, they have food trucks set up outside on the weekends and also welcome bringing outside food to the establishment.
OHIO
Town Hall promotes healthy living in all that it does—from the mostly organic menu, to keeping a nutritionist on staff, to the green indoor moss wall. It also promotes the added health benefits of dog ownership through the dog-friendly outdoor patio.
PENNSYLVANIA
Based in the Fishtown neighborhood of Philadelphia, Evil Genius Beer Company is more than just a brewery. They have a full food menu and their outdoor beer garden is dog-friendly.
SOUTH CAROLINA
A family-friendly joint that has 33 taps featuring local and regional craft beers, The Barrel also has a large, gated area where well-behaved dogs can run around while being supervised by their owner. With a variety of food trucks and lots of live entertainment, this is a great way to spend an afternoon with your best dog friend.
TEXAS
Yard Bar is a restaurant and bar with an adjacent dog park that's staffed with "Bark Rangers" to ensure your pups safety while you enjoy brunch. Access to the off-leash dog park requires you to purchase a day pass or membership, but it is well worth the fun.
Mutts is a growing franchise in Texas that touts itself as a "dog-friendly restaurant and off-leash dog park that loves your furry friends as much as you do." Purchase a membership to let your pup run around off-leash and play with their pals while you enjoy food and drinks with your own best buds.
WASHINGTON
Unlike many other pet-friendly establishments, Norm's actually allows patrons to bring their pets inside the restaurant. They do, however, follow a strict set of rules "so the Health Department turns a blind eye with our favorite sidekicks in the restaurant."
As Bellingham's "first and only dog-friendly tavern," Paws for a Beer is a bar and restaurant that requires membership to let your dog roam freely, both inside and outside. Membership also gains you access to free training classes, networking events with local rescue organizations, and access to a tight-knit, dog-based community.
WASHINGTON, D.C.
The Brig promotes itself as a secret beer garden located in the Capitol Hill neighborhood of D.C. The year-round outdoor bar (which has heat lamps in the colder months), is both kid-friendly and dog-friendly, encouraging community fun no matter the season.
This indoor/outdoor space was created in honor of Lilly Sophia, a Golden Retriever who passed away suddenly due to a rare disease called Immune Mediated Hemolytic Anemia (IMHA). The Tavern not only serves as a special place for the community to gather with their dogs, but also raises funds for nonprofits like the Human Rescue Alliance and Central Union Mission.