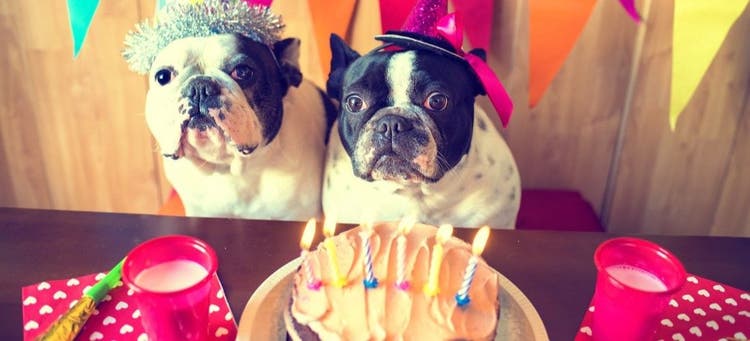 How to Celebrate Your Pet's Birthday in Style
I can't speak for everyone, but I am loving the Millennial trend of celebrating pet birthdays with extravagance. As a matter of fact, 63% of Americans celebrate their pet's birthdays in some capacity. Some simply acknowledge the day with their pet, while others go all out and host pet birthday parties.
In my house, we're somewhere in between. We celebrate our pet's birthdays with a special treat and a new toy or chew. Do my dogs and cat understand what's going on? Probably not, but they love when they put on their party clothes, because they know something special is coming.
I scoured the internet and Instagram for inspiration on how to celebrate a pet's birthday. Here are some of my favorite ideas to make your pet's day special. But don't limit yourself. These ideas are the perfect way to celebrate your furry friends for any reason (or no reason at all).
Bake a Pet-Friendly Birthday Cake
What's a birthday without cake? Make the day extra special for your pet with a birthday cake made from pet-friendly ingredients. We like the use of carob as a chocolate alternative.
Check out this recipe for a peanut butter and pumpkin cake for dogs from Love from the Oven:
Ingredients:
For the Cake:
• 1 Cup Flour
• ½ Teaspoon Baking Soda
• 2 Tablespoons Vegetable Oil
• ¼ Cup Natural Peanut Butter (without Xylitol)
• ½ Cup Plain, Unsweetened Apple Sauce
• ½ Cup Pumpkin Puree
• 1 Whole Egg
For the Frosting:
• ½ Cup Plain Greek Yogurt
• ¼ Cup Peanut Butter (without Xylitol)
Instructions:
For the Cake:
• Preheat oven to 350 degrees F.
• Combine flour and baking soda.
• Mix wet ingredients (vegetable oil, peanut butter, apple sauce, pumpkin puree, and egg) until combined.
• Stir wet ingredients into dry ingredients until combined.
• Pour mixture into an 8-inch greased cake pan and bake for 25-30 minutes or until a toothpick can be inserted into the center and it comes out clean.
• Allow to cool thoroughly.
For the Frosting:
• Thoroughly mix peanut butter and Greek yogurt and chill in refrigerator.
• Apply a thick layer of frosting over the cooled cake.
Not interested in baking? Turn your pet's favorite food into a cake by topping it with their favorite treats. This will be a fantastic surprise for your pet on their special day.
Throw a Birthday Party for Your Pets
Invite your pet's favorite friends and family members (and their furry friends) over for a fun gathering. You get to hang out with your human friends while celebrating your animal friends. There's never a bad reason to throw a party.
Get Dressed up for Their Special Day
Nothing makes someone feel more special than getting all dolled up. In our family, we mark special occasions by dressing up. Even if we are staying home as a family, there's something fun about putting on our best clothes. This sentiment is echoed by our dogs, who recognize their special-occasion bow ties and get excited whenever they come out of the drawer.
Shower Your Pet with Gifts for Their Birthday
Make the day special by giving your pet gifts of new toys and their favorite treats. While the party decorations and photo shoot are optional, it's definitely a 'Gram-worthy event.
No matter how you celebrate your pet's birthday, they will know they're loved. Even if you just let them nap in their favorite space, they're sure to have fun.
Take photos to share with friends and family, so they can congratulate your pet too.