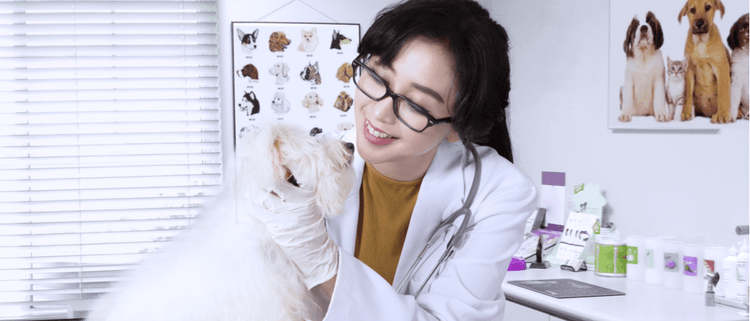 Why I Chose A Veterinary Career
Some pet health professionals are born for their careers. Nurturing an affection for animals from a young age, they've always had an answer when asked, "What do you want to be when you grow up?" Others learn later (sometimes much later) that they're suited to the field. In speaking to a handful of veterinary professionals, we learned that there's no one path toward a career in veterinary medicine. We were also reminded that — for all the vocation's challenges — caring for pets and providing pet parents with peace of mind is an endlessly rewarding career for those who pursue it.
3 Pet Pros Discuss Their Careers
Dr. Jamie Richardson
For Dr. Richardson, choosing a career was a no-brainer. Working with pets and the people who love them represents the culmination of a lifelong journey for this veteran medical professional. Here's what she had to say about her work and why it's still rewarding after all these years:
I have known that I wanted to be a vet for as long as I can remember. My parents tell me I was 6 or 7 when I first declared my future profession! As a kid, I loved every animal and did whatever I could do to be around them – from milking cows at a local dairy to spending summers at the horse barn to hanging out with my local vet watching procedures… I couldn't get enough. When you are young and choose this profession, it is generally out of a love for science, medicine, and helping animals. As I have progressed through my career, however, I've realized it is so much more. I love how every day is different. Medicine is a constantly evolving puzzle, and veterinary medicine is just as much about helping people as it is about helping pets.
While figuring out a tough case or saving a patient from the brink are always highlights, it is the little things that happen on a daily basis that remind me this is the right career for me. Getting to know patients and their owners and developing a strong bond and trust over a lifetime – that's why I love being a General Practitioner, despite the inherent stresses and occasional sadness that can be part of this job. Our pets are our best friends, confidantes, emotional support systems, exercise buddies, quarantine companions, and so much more.
Helping pet owners decipher how seemingly small changes they notice at home can be impacting the health of their pets, coaching them through important decisions, providing support and care for chronic conditions, and just helping calm the nerves of a new pet parent are all small things that remind me why we do this job and why it's so important.
Dr. Rachel Barrack
Dr. Barrack's career path was also formed by a lifelong affection for all things scaled, furry, and feathered. Today, she blends Western and Eastern veterinary medicine for the benefit of pets and those who love them. She describes her journey and present-day work:
I've loved animals for as long as I can remember. I started horseback riding at the age of seven and shortly thereafter declared to anyone who would listen, "I'm going to be a horse doctor someday!" I begged my parents for a dog for years and finally got my beloved Dalmatian, Bentley, when I turned sixteen. Over the years my love of animals only intensified and I never forgot my dream to become a veterinarian, sticking with it through many years of schooling and hard work.
Today, I treat horses as well as dogs and cats. My practice incorporates both my Western veterinary knowledge with techniques from Eastern medicine, such as acupuncture, Chinese herbology, and food therapy, in order to provide animals with the best and most comprehensive medical care. I am so glad I stuck with my childhood dream as it is so rewarding to help better the lives of animals and people by caring for their furry family members.
Ludivine Poux
Though she's a lifelong pet lover, Ludivine Poux never thought she'd work with them professionally. That changed after a fateful trip to the vet's office and a conversation with an informed and helpful nurse. Ludivine describes the encounter, as well as the seven years she's spent as a registered veterinary nurse:
Becoming a veterinary nurse was not a childhood dream or a part of an elaborate masterplan. In fact, I initially studied literature because I wasn't sure I'd feel comfortable in a scientific field. I took my dog to the vet one day and had a long conversation with a veterinary nurse. Her extensive veterinary knowledge was impressive, as was her ability to support the veterinarian, pets, and pet parents all at once. I knew I wanted to be like her.
Fast-forward to today. I'm now a veterinary nurse myself who looks forward to each new day on the job. Whether I'm working with puppies or kittens or aging pets, I feel grateful to be in a role where I can cater to their needs and show them affection.
This job isn't something you can handle without passion and perseverance. It's full of pain, anger, and death, but it's also full of hope. I love my job and I hope I can continue to serve animals and animal lovers for as long as possible.
More Information on Veterinary Careers
Interested in becoming a veterinary pro? Check out these guides to help you chart the appropriate career path and prepare yourself for a life of providing pet care: