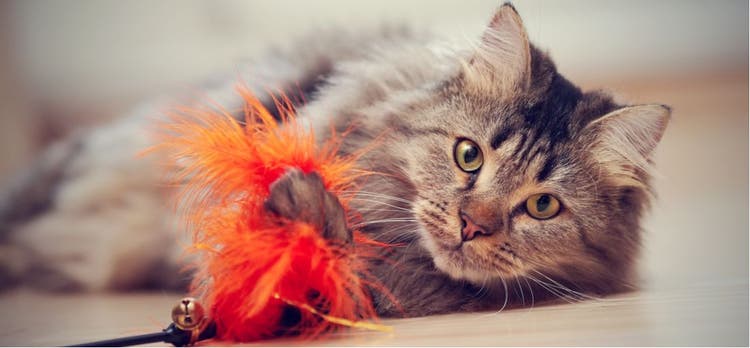 These Frisco Summer Toys are Fun All Year Round
Content Sponsored by Chewy, Inc.

Make the summer months more fun for your pet with help from Frisco and Chewy. Chewy's pet care marketplace offers a huge selection of high-quality Frisco toys for fun-loving dogs and cats of all ages.
Check out a few summer-themed toys that your pet will enjoy even when temperatures cool down.
Frisco Dog Toys for Summer
Plush Squeaking Hot Dog
This fun plush dog toy is perfect for backyard barbecues, trips to the beach, and tailgates. Durable enough for fetch and soft enough for cuddling, it will be a favorite of breeds from the Dachshund to the Dalmation.
Plush Squeaking American Flag Bear
Celebrate the Fourth of July with this cute, squeaking bear. Patriotic pups will love cuddling in the shade with this toy and playing long games of fetch in the sun.
2-in-1 Watermelon Toy
Frisco's watermelon dog toy provides a taste of two different textures. Inside the plush exterior, your dog will find a durable rubber ball. Both toys feature squeakers for hours and hours of engaging play.
Plush Squeaking Tear-Away BBQ Rib 3-Pack
With three "ribs" for the price of one, this squeaking plush is a fun and engaging treat. Bring this toy along to your next barbeque — your dog may not even notice the real meats!
Plush and Rope Cactus
Play fetch and tug-of-war with this crinkling, squeaker-free dog toy. Minimal stuffing means worry-free play and soft nylon rope ensures the toy is easy on your dog's gums and teeth.
Frisco Cat Toys for Summer
Summer Fun Surfboard Kicker
Stuffed with crinkling paper and enticing catnip, this bright, summer toy will keep your cat happy and engaged throughout the dog days. The durable fabric is built to withstand hours of chewing, biting, and clawing.
Seashell Cat Toy with Catnip
Bring the beach to your cat (minus the scorching sun and sand) with this three-pack of fun, colorful toys. Felines of all ages will love batting and clawing at all three "stuffed shells."
Americana Popsicle Teaser
Your cat will jump for joy when they see this fun, patriotic teaser toy. Whip and toss the plush popsicle for hours of interactive play. It's an especially great way to celebrate Independence Day.
Plush Ice Cream Cone
Serve your cat two scoops of fun with this pair of durable, colorful toys. Frisco even includes catnip as a not-so secret ingredient. That should definitely keep pets coming back for more.
Palm Tree Kicker
Catnip, feathers, and crinkling paper all make this tropical cat toy a treat. Its soft polyester is equally suited for both cuddling and clawing.
More Frisco Toys from Chewy
Chewy's online pet care marketplace has hundreds and hundreds of Frisco toys for every season. Shoppers can save all year round, too. Orders over $49 qualify for free shipping and many pet necessities are available through Autoship. This handy feature helps pet lovers save cash and trips to the pet store by scheduling shipments in advance.
Don't forget to select Autoship during checkout for 30% off your first Chewy purchase.
Content Sponsored by Chewy, Inc.