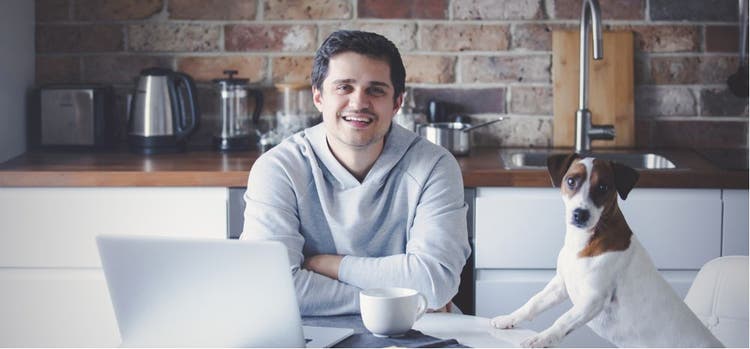 The Future of Pets in the Workplace
COVID-19 all but eliminated office life just as many businesses were beginning to adopt pet-friendly policies. Four months into the pandemic, millions of American homes are still functioning as pet-friendly offices while employees work remotely.
It's not clear when America will return to business as usual, but it's abundantly clear that "business as usual" will look different when it finally does. Anyone who works in an office should expect new precautions and policies. Will a new focus on hygiene mean no more pets at work?
We reached out to PetPlace visitors who manage pet-friendly businesses to get their thoughts. Nearly every respondent agrees that, whenever we finally return to work, our dogs are coming with us.
Policy Changes
Even pet-loving offices have had to update their policies over the last few months. Kate Diaz, an interior designer and blogger, used to love welcoming dogs into work. Pets, she writes, "have positively influenced the work of my employees" by promoting a happier, friendlier workplace. For now, she and her employees are erring on the side of caution and keeping pets at home.
She expects pets to return eventually, but not without a few new precautions. Before the pandemic, owners needed to prove that their pets were trained, vaccinated, and properly socialized. Now, they'll need to provide an additional certification from a veterinarian, use leashes, and wash their hands after handling pets.
Pet-Friendly Offices: A Reason to Return to Work
Most offices don't permit pets, but studies suggest that more offices should. Mark Cushing, CEO of the Animal Policy Group, noted this in his response. "Our policy won't change," he says, "the evidence is overwhelming . . . that employees strongly prefer pet-friendly workplaces." He adds that this is true even for employees who don't have pets of their own.
Cushing contends that eliminating pet-friendly policies would only discourage employees from returning to the office. It would amount to a "disincentive" that could have negative effects on workplace culture as well as the daily office experience. It might even lead some employees to jump ship. "COVID-19 strengthened bonds between pet owners and their pets," he concludes, "we're not going backwards."
Pets Will Be Back — Like It or Not
Research suggests that pet-friendly offices promote engagement, happiness, and a positive work-life balance, but they're not for everyone. Nelson Sherwin, Manager of PEO Companies, acknowledges that "[he's] never been a fan of bringing pets into the office." He has recognized, however, that his team enjoys the privilege and (rather than be a "buzzkill") operates with an unofficial pro-pet policy.
The COVID-19 pandemic has put a temporary pause on that privilege. "Offices," Sherwin notes, "are absolutely not the place for pets right now." In an effort to keep the workplace as hygienic as possible, pets will be off limits for the foreseeable future. While Sherwin would prefer a future without pets in the office, he expects they'll return.
Returning to Work
A growing number of Americans hope remote work will become the norm, but you'll probably be back in the office sooner than you think. Transitioning back to office life will take some getting used to — for us and for our pets. In the pre-COVID days, pets enjoyed trips to the office and, throughout the pandemic, they've had hours of extra attention during the week. Heading back to work without them could cause them to suffer from separation anxiety. Make sure to gradually reaccustom your pet to a traditional workday, spending time apart and establishing a new routine. You'll both benefit from the extra preparation.
Has your office changed its dog-friendly policy? You might still encounter some canines at work. Researchers at the University of Pennsylvania are currently carrying out a study to determine whether or not dogs can smell COVID-19. If so, the scientists are hopeful that dogs can play a vital role in helping offices return to normal operations.