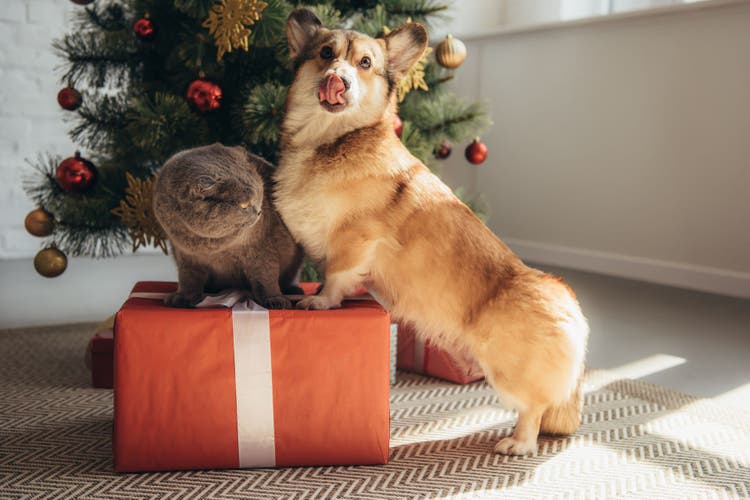 Holiday Gifts for Dogs and Cats
Make Sure Everyone On Your List is Taken Care of With Our Pet Gift Guide
The holidays are here again, and if you're like us, you want to include your pet in all the fun. Why leave them out while everyone is opening gifts? Give your dog or cat something special this holiday season to show them how much you care. Whether it's a new bone for your dog or a fun toy for your cat, our list of holiday gifts for dogs and cats is sure to have something for the pets in your life.
1. The Gift That Keeps on Giving
Subscription services are all the rage right now, and your dog and cat can get in on the trend too with monthly boxes that are curated just for them. Barkbox is an extremely popular subscription for dogs that includes toys, treats, and fun surprises that your dog will love. For your felines, meowbox is a similar option with toys, treats, and every cat's favorite — a box.
2. A New Place to Snooze
If your dog appreciates a good nap, maybe a new bed is the perfect gift! From plush pillows to heated cushions, you can find dog beds that fit any canine's fancy while also giving him his own special place in the house.
3. A Fresh Place to Climb
Cats will sleep anywhere, but you can make your cat's day by giving her the purr-fect perch to see out the window. If your cat is royal, or you have more than one, there are elaborate options that offer plenty of enrichment as well as places to sit. If you just want to give your cat access to see the tree in the front window, a simple tower might do the trick.
4. A Snazzy New Outfit
The cold isn't going anywhere just yet, so winter dog boots or coats are ideal for making sure your dog stays warm and safe on cold, windy walks. And if you live in an area that doesn't get snow, how about a rain jacket to help brave the gloomy weather?
5. A Warm Sweater
We don't recommend letting your cat out in the harsh winter weather, but if you have a cat that will allow you to dress it, a fun sweater for the holidays could add to the fun of opening presents and having everyone over for dinner.
6. Did Someone Say Treats?
You can't go wrong with your dog by offering a new bag of treats or a fresh bone. Whether it's a recipe you made just for them, a big bag of their favorite bacon-flavored chews, or the jumbo-size bone that will keep them entertained for hours, you'll be the best human ever with a pretty easy gift.
7. The Fresh Scent of Catnip
Cats go crazy for catnip, and a fun catnip toy is an easy way to hit your gift out of the park. Give your cat something fun to do in the home when everything is quiet in the winter and give your family something to enjoy by watching her have fun.
8. A DNA Test
This one might be a little more for your benefit than your pet, but getting a DNA test for your dog or cat can help give you some fun insight into who your pet is by identifying what breeds are in their bloodline. It'll help you bond with your pet by understanding who they are, and might even help you learn something new about them.
9. A New Collar
Here's an easy way to make your pet feel special and help them stand out no matter where they go. A new collar that fits their personality! You can get a collar in just about any design you want, so your options are almost limitless!
10. Quality Time
At the end of the day, the holidays are about spending time with your family — and that's exactly what your pets are. Sometimes the best gift is just taking the time to show your pet how much you care, and just spending time with them is all you need to do.