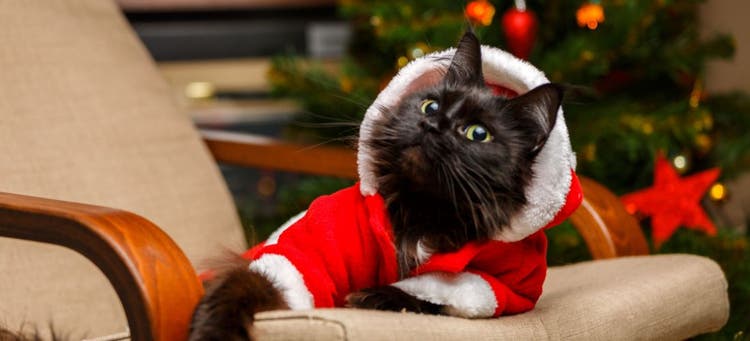 Pass the Time Before the Holidays with Our Top 10 Pet TikToks
While you're waiting to celebrate with family and friends, get in the holiday spirit with these 10 amazing holiday pet TikToks.
Koji knows how to make an entrance with his magnificent strut, stunning cape, and Nutcracker theme music.
We've all been there… trying to get our pets involved in the holiday festivities has mixed results. These photos turned out beautifully though.
The magic of the holiday season should not be limited to humans. Watch Juice the cat fall in love with the Christmas tree. If your cat already loves the tree, get ideas to help keep kitty and your tree safe during the holidays.
There's something about a Corgi in a costume that makes every day brighter. This Santa Paws is delivering holiday cheer; no need to wait 'til Christmas Eve.
This patient pooch is determined to make the nice list as his human prepares him for their holiday guests. All kidding aside, knowing your pet's limits with guests is an important safety measure. Always put your pets first and separate them if they don't like the attention of strangers.
Every pet knows what you really want for the holidays – they're the only gift you need no matter what you celebrate.
Don't leave your pets out of the joy of caroling. If this video doesn't get you in the mood for the holidays, we don't know what else will.
Send a stylish holiday card featuring your fur baby! Hopefully, this TikTok will inspire you to have an adorable holiday photoshoot with your pet.
Watching these Chinchillas get festive and ready for Santa's visit will surely put you in the holiday spirit. How would you rate these fuzzy babies in their holiday antlers?
This pup is ready for Hanukkah, and we absolutely love their style. But you may want to slow down, you've got 8 nights of celebrating ahead!
How are you spending the time leading up to the holidays? Hopefully, no matter what you're doing, you're involving your furry friends in the festivities.