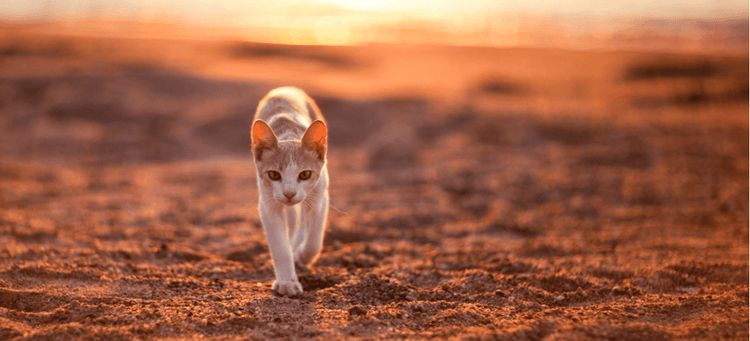 Is This the World's Oldest Pet Cemetery?
Stephen King described the most famous pet cemetery (or "sematary") in history nearly 40 years ago, but the tradition of laying four-legged friends to rest may predate the novelist by more than a millennium. A recent archaeological dig has uncovered the remains of cats, dogs, monkeys, and other animals from as early as the first and second centuries AD. Whereas previously unearthed animals were often the victims of ritual sacrifice, evidence indicates that these critters were beloved pets who died of natural causes. The scientists who've explored the site believe it is the oldest pet cemetery on Earth and proof that pets were man's best friend in antiquity.
An Ancient Burial Ground for Pets?
Once a port city of both the Egyptian and Roman empires, Berenike has hosted a number of archaeological expeditions since a team from the University of Delaware broke ground in 1994. Researchers first uncovered buried animals there unexpectedly in 2011. Since then, Marta Osypinska and her colleagues from the Polish Academy of Sciences have dug up nearly 600 animals (about 90% cats) and analyzed their bones.
While some were buried in coffins and entombed with shrouds or treasures like jewelry, there is nothing to indicate that any of the animals were mummified or sacrificed. This makes the Berenike burial ground distinct from similar dig sites like Israel's Ashkelon dog cemetery. The archaea-zoologists published the results of their findings online in World Archaeology earlier this year.
Pet Parenthood in Antiquity
The cemetery dates back to a time when Berenike was a bustling Roman metropolis, populated by traders from throughout what are now Europe, Africa, and Asia. Though nearly all goods had to come from abroad, the recent research suggests that many pets lived as pampered members of their families. Their careful burials, in particular, are unusual. Notable discoveries include necklaces, textiles, and shards of pottery arranged into "a kind of sarcophagus."
Some of the pets show signs of chronic conditions and injuries sustained well before their deaths. "Such animals," Osypinska notes, "had to be fed to survive, sometimes with special foods in the case of the almost-toothless animals." This suggests that dog and cat owners were willing to adapt their pet care routines and sacrifice on behalf of their companion animals.
Bea De Cupere, an archaeologist from the Royal Belgian Institute for Natural Sciences, remarks that it's possible some of these animals served a role beyond companionship. After all, Berenike was a port city and would've seen its fair share of rats. Even if they were regarded as domestic companions, cats may have also served in a vital pest control role. De Cupere acknowledges, however, that this pet cemetery is "completely different" from similar ancient sites, even ones found elsewhere in Egypt.
More Research to Come
Osypinska hopes that her team's findings will inspire more excavation and more research into the historic relationship between people and companion animals. "At first," she said to Science, "some very experienced archaeologists discouraged me from this research." These naysayers contended that pets were not a relevant area of archaeological study, but the Polish scientists are confident that their efforts have paid off and paved the way for more research.