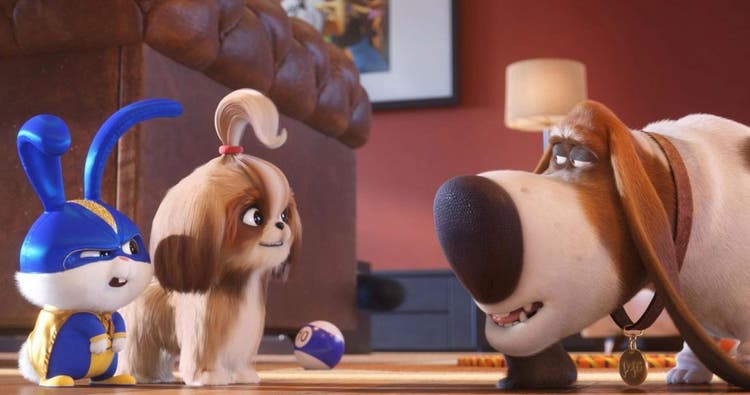 A Pet Lover's Quarantine Streaming Guide
The COVID-19 outbreak has pet owners and their families settling in for some quality time. After only a few days, many parents and pet parents are already wondering how to avoid going stir crazy. Luckily, various streaming services offer a library of pet and kid-friendly choices.
Check out some highlights:
Netflix
Bolt (2008). One of the only Disney films still available on Netflix, Bolt's got something for cat and dog lovers alike.
Benji (2018). This family flick is a reboot of the 1974 classic that made a star out of its heroic stray.
The Secret Life of Pets 2 (2019, pictured above). The sequel to the 2017 box office smash should appeal to pet lovers of all ages.
Hulu
Dog Days (2018). This breezy comedy explores the lives of several LA residents and their dogs.
Pick of the Litter (2019). A recent documentary, this film follows a group of puppies as they train to serve as guide dogs for the blind.
Amazon Prime
Benji (1974). If you liked the Netflix reboot, why not check out the original? You can even stream several of its sequels on Prime.
Hotel for Dogs (2009). Prime subscribers can stream this recent family favorite featuring Emma Roberts, Lisa Kudrow, and Don Cheadle.
Disney+
Lady and the Tramp (1955). Stuck inside with the kids? This could be the perfect time to introduce them to this Disney classic. Check out last year's reimagining as well, if the first one's a hit.
Oliver & Company (1988). This loose adaptation of Oliver Twist follows an orphaned cat on the streets of 1980s New York.
Togo (2019). Togo looks back to 1925 to tell the Iditarod National Sled Dog Race's exciting origin story.
Plenty of Streaming Options
No one knows how long we'll be stuck in our homes. On the bright side, pet lovers, their pets, and their families have plenty of entertainment options to pass the time. What's in your queue?