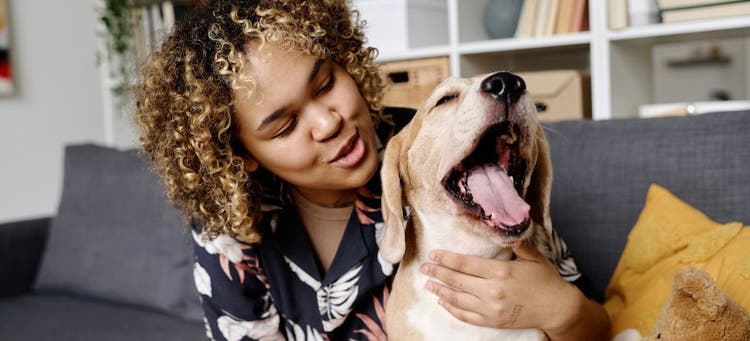 Professional Pet Sitters Week: What it is and How to Celebrate
The first full week of March each year is Professional Pet Sitters Week, a week-long observation created by Pet Sitters International (PSI) in 1995. Observed on March 5-11, 2023, this celebration recognizes the care, compassion, and hard work it takes to be a professional pet care provider.
Professional Pet Sitters Week is also an opportunity to educate pet parents and their communities about the benefits of working with pet care professionals, as well as help entrepreneurs turn their love for pets into a professional career.
Read on to learn more about what a professional pet sitter is, why they're important, and how you can get involved with Professional Pet Sitters Week 2023.
What Is a Professional Pet Sitter?
A professional pet sitter provides in-home care for pets while their owners are away. This care can range from providing a mid-day walk for a dog whose parent is at work to caring for the pet in their home while owners are on a week-long vacation.
What sets a pet sitter apart from a doggy daycare or boarding facility is that these professionals care for your pet inside your home.
Because the pet sitters are professionals instead of simply hobbyists, they also offer the benefits that come with working with a reputable business – trustworthy pet care, excellent customer services, insurance and bonding, contracts, and more.
What Does a Pet Sitter Do?
In-home pet care is a broad category of service, and what your pet sitter offers will differ from business to business. In most cases, your pet sitter will either visit your home 2-3 times per day or they may offer overnight stays as well.
When they visit your home, they're likely to:
Feed your pet and provide fresh water
Clean litter boxes
Provide appropriate playtime
Take your dog for a walk or provide other exercise
Offer enrichment activities
Administer medications, if needed
Provide your pet with plenty of love, care, and attention
Why Should You Use a Pet Sitter?
Hiring a professional pet sitter instead of opting for a boarding service or relying on family or friends to check on your pet offers a variety of benefits for both you and your pets:
1. Minimize Your Pet's Stress Levels
For many pets, having their owners away for extended lengths of time can be stressful. With a pet sitter, your pet gets to stay in the comfort of their own home, helping to minimize stress.
Pet sitters also help keep your pet's regular diet, exercise, and sleep routines in place. Sticking to a routine helps your pets feel more confident in uncertain situations because they offer a sense of familiarity and predictability, even when you're not there.
2. Limit Exposure to Illness
Taking your pet to an unfamiliar environment, especially one with other animals around, opens them up to potential illnesses, especially respiratory-related illnesses. Kennel cough, for example, is common in boarding facilities and daycares where large amounts of animals congregate together.
With a professional pet sitter, your pets can stay in your home in a comfortable environment without any worry about outside influences on their health.
3. Get Peace of Mind
Professional pet sitters are reliable, experienced, and well-trained in how to properly care for your pet. They're likely pet first aid and CPR trained, as well as more well-versed in pet body language and the signs of illness.
While you could have a friend or family member come over to your home to check on your pet daily, a pet sitter offers next-level care that helps keep your pet safe, enriched, and happy while you're away, so you never have to worry about them during your vacation.
You can rest assured that your pet is in the safest, most competent hands until you return. This way, you can take a stress-free vacation and truly relax while knowing they're safe and sound!
How to Get Involved in Professional Pet Sitters Week
There are many ways you can get involved in Professional Pet Sitters Week, and what you do will depend on whether you're a pet parent, a fellow pet sitter, or an aspiring pet care entrepreneur.
Pet Parents
If you have pets at home, you know how stressful it can be to go on vacation when you have to leave them behind. If you know you have a trip coming up in the near future, take this time to research professional pet sitters in your area, review their qualifications, and reach out to confirm their availability.
Professional Pet Sitters Week is also a great opportunity to show appreciation for the pet sitters you've already worked with by leaving them a positive review on their business website or referring them to your friends and family.
Current Professional Pet Sitters
As a current pet professional, this week is a great opportunity to further market yourself to pet parents in your community and show them why your work is important.
Through social media, local events, or word-of-mouth marketing, you can highlight the importance of using a professional pet sitter, as well as what makes you uniquely qualified for your position.
This is also a great time to consider adding a new discount or special offer for your pet-sitting services in celebration of the week. This can help bring in new customers and increase your brand awareness.
If you know of other professional pet sitters in your community, consider collaborating on an event like a local pet fair or celebration lunch where you can network and learn from one another.
Aspiring Pet Professional
If you're interested in a career as a pet sitter or other pet care professional, now is the perfect time to do some research. Learn more about what kind of experience is required of you to become a pet sitter, as well as local businesses in your area that may be hiring.
If you're not already pet first aid and CPR certified, consider signing up for a certification class, or look for dog training classes in your area.
Celebrate with the Professional Pet Sitters in Your Life
Pet sitters provide a much-needed service that makes a difference in the lives of the animals they work with, and they should be celebrated for the love and compassion they have for all of the pets in their care.
This Professional Pet Sitters Week, take time to recognize the impact that pet professionals have on your pet's overall health and happiness. Send a thank-you note or gift, leave them a kind review online, and give your pet sitter the appreciation they deserve!