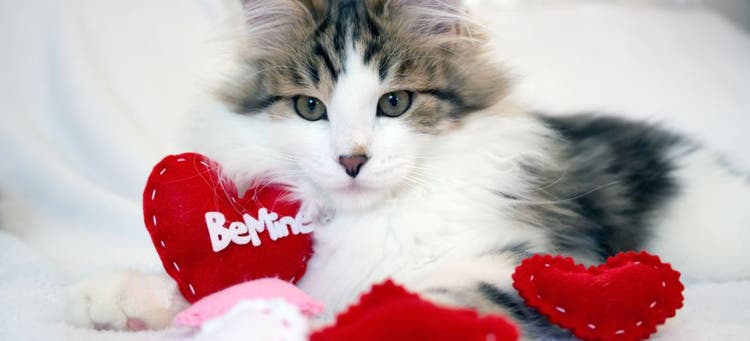 How to Make Valentine's Day Special for Your Pet
Love is in the air and Valentine's Day is near.
Having a day dedicated to sharing love with those who mean the most to you is one of my favorite annual traditions. Growing up, Valentine's Day was the unofficial birthday of the family pets, since we didn't have official birth dates for them. This year, I've decided to up my game and pull out all the stops to celebrate Valentine's Day with my dogs and cat.
Here are 7 ideas to make this the best Valentine's Day ever:
Make Dinner for Your Pets
If you're like me, you aren't the kind of pet parent who makes homemade food for your pets regularly, so this is a great treat for them. Make sure you pick a recipe that is nutritious and filled with their favorite foods. My dogs and cat are big fans of chicken and turkey, so I like this recipe from Damn Delicious:
Have a Movie Night & Cuddle Together
Going out on Valentine's Day can be a lot of pressure, so why not relax a little in front of the T.V. and watch a movie together. It's good for your blood pressure, and pets love it too.
Dogs start cuddling when they are just pups. Not only does it help them maintain their body temperature, but it also helps them bond with their mother and litter mates. Much like humans, dogs get a boost of oxytocin, the hormone that makes you feel happy, when they snuggle up to someone they love, and Valentine's Day is the perfect day for extra snuggles. So, pick a movie you love, grab a cozy blanket, and snuggle up. May we suggest Must Love Dogs for a fun pet-adjacent rom-com?
Bake Up Some Pet Treats
Nothing says, "I love you," like a sweet treat, or in the case of your pet, any treat. If you're not into baking, these Valentine's Day treats for dogs and cats are easy to order online and will still make your pet feel extra special.
If you are into baking, check out this recipe for pet treats from Skaya Siberian:
Go on a Romantic Walk Together
Spending one-on-one time with your pets is the perfect way to celebrate Valentine's Day. It's a low-pressure, and you get the added bonus of a little exercise for you and your furry friend.
Dogs have a natural desire for activity. It not only keeps them physically healthy, but also engages their mind, so it keeps them mentally active as well. Did you know that walking your dog helps them bond with you and view you as the pack leader? Walking your dog can even help relieve some of their stress or anxiety, so if you aren't in the habit of taking a walk together, start now and strengthen your bond with your pet.
Give Your Pet "Chocolates"
Ok, you obviously shouldn't give your pet actual cocoa-based chocolates, but did you know that carob is a pet-safe chocolate alternative? It doesn't have theobromine (the compound in chocolate that is toxic to dogs), added sugar, or fats, so it's perfectly safe for your pets.
You can easily find meltable carob chips online for fun recipes like this one from Gone to the Snow Dogs:
Get Dressed Up for a Date
No matter what you do with your pet, make sure to make it special by getting all dolled up. These hoodies are coordinated for you and your pet to express your affection for each other in matching outfits. This doggy dress is swoon worthy, but these Valentine's Day themed bandanas are great for dogs who aren't fans of clothes.
Don't leave your cat out of the fun by getting them one of these super-cute headbands and bow ties. Not all animals enjoy wearing clothes, so don't push your pet to wear something they aren't comfortable in.
Give Your Pet a New Toy
Play is an important part of your pet's daily life. It engages their mind and body and can help with their social skills. Pets learn how to interact with others through play, and can even bond with their humans during play, so a new toy is a great Valentine's Day gift.
I found these cute toy roses for dogs that have a hidden compartment for treats, so you can engage with your dog by playing fetch, or encourage individual play by hiding treats in the pocket for your pooch to puzzle out.
These cat teaser toys are a great way to interact with your cat and have a fun Valentine's Day theme. But, if you have a few minutes on your hands, make these fun catnip plush toys from Lucky Ferals:
No matter how you celebrate this Valentine's Day, your pets are sure to feel loved, and ultimately that's the best gift you can give them. Don't let the date stop you, use these ideas to show your love to your pets all year round.