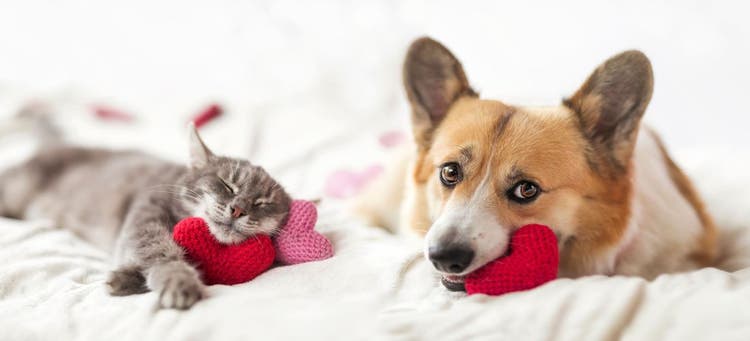 Valentine's Day Gifts from Your Pet
Happy Valentine's Day! Your pet may have no concept of the holiday, but they certainly understand love, and they love you more than anything else. Though they don't need a day to celebrate their love for you, they'd probably have fun being your Valentine if they understood what it was.
Here's what we think your pets would do if they could send you a Valentine:
Star in a Kissing Booth
There's nothing better than doggy kisses on Valentine's Day!
Take You on a Date
You'll probably have to drive and pay, but a sweet date night with your pet would be the perfect way to celebrate Valentine's Day.
Craft Something Lovely
Sometimes. the gift is the time spent on creating one, and if your pet had thumbs, they'd probably craft up something wonderful for you.
Send You a Custom Card
The thought behind this card is what's important. Plus, it stars your favorite Valentine, your pet!
Support You When You're Down
Single on Valentine's Day? Not to worry, your pet will always be there to remind you that you have to kiss a lot of frogs before finding the perfect Valentine.
Dress Up and Bring Flowers
Nothing makes date night more special than getting flowers.
Make a Lifelong Commitment
Your pet is there for you for life, and what better day than Valentine's Day to express that devotion?
Share Their Favorite Treats with You
Love comes with sacrifice, and for your pet that may mean sacrificing some of their treats.
Write You Poetry
Your pet may not be able to see colors, but they can certainly see you.
Bring You a Present
Luckily, this is just a toy mouse.
Make You Laugh
There's something about someone who can make you laugh that just makes you fall right in love with them.
Sing You a Song
It was written just for you.
Have a Couple's Photoshoot
A fun experience with pictures to share; it's the perfect date night!
Don't forget to celebrate Valentine's Day with your pets, because we're sure they'd love to share it with you.