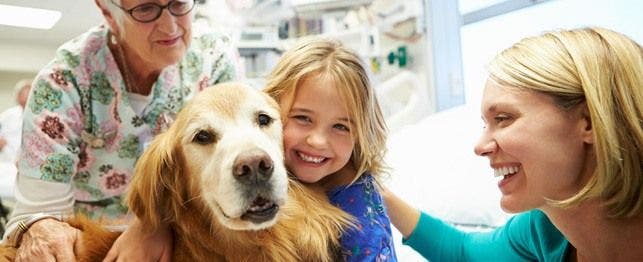 Honoring the Amazing Work of Therapy Animals
There's no doubt about it. On those days when you're ill, depressed, and/or just not feeling like yourself, there's nothing quite like spending some time with a special animal.
As pet owners, we know this is true. But don't take our word for it — just take a look at all the incredible therapy animals out there, who bring joy to people of all ages on a daily basis.
According to the American Humane Association, animal-assisted therapy has been shown to help children who have experienced abuse or neglect, patients undergoing chemotherapy or other difficult medical treatments, and veterans and their families who are struggling to cope with the effects of wartime military service.
Therapy animal can also provide affection and comfort to people in retirement or nursing homes, schools, hospices, disaster areas, and to those with learning difficulties.
Let's take a look at the amazing work of therapy animals, and salute all that they have accomplished.
A Rich History
Animals and humans have had a symbiotic relationship for thousands of years, and people have been tapping into the therapeutic nature of animals for almost as long.
Here are some highlights of therapy animal history:
All Shapes and Sizes
Generally, smaller animals, such as dogs, cats, guinea pigs, rabbits, and birds, are used as therapy animals, but virtually any animal can be a helper.
The Helen Woodward Animal Center has a staff of ten trained horses to help people with disabilities. Patients range in age from four to over 70 and may even be wheelchair-bound (there's a special mounting ramp for those in wheelchairs). The Center utilizes horses to help their riders develop balance, muscle tone, posture, and learning skills such as hand-eye coordination, concentration, and short-term memory. There are also the added benefits of increased self-esteem, independence, and control.
Other unique therapy animals include pot-bellied pigs, monkeys, alpacas, and snakes.
How They Help
Studies show that stroking a pet can lower blood pressure and reduce stress hormone production. The limbic system releases the feel-good hormone oxytocin in both dogs and humans when they interact. Stroking an animal also releases pain-suppressing endorphins and calming neurotransmitters like dopamine.
But, while therapy animals are known for bringing cheer to the elderly and the sick, their work goes far beyond that.
For example, dogs help autistic children develop socialization skills, while horses help them with their communication skills. Therapies of all kinds seem much less intimidating when the therapist is 'assisted' by an animal.
And, hundreds of children are now better readers because they've worked with Zoe the Reading Rottweiler!