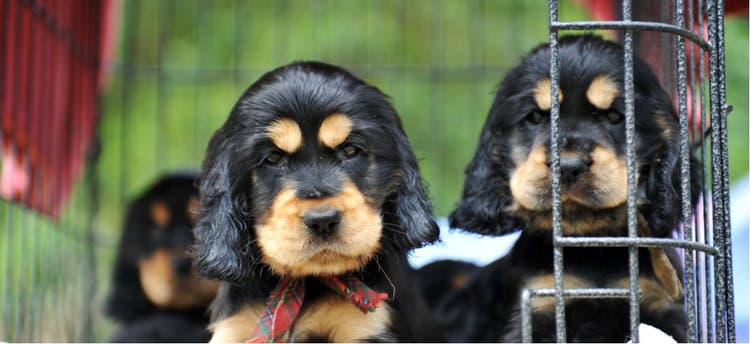 Will New York Ban Retail Pet Sales?
On July 21st, the New York State Senate took a major step toward banning the sale of dogs, cats, and rabbits in pet stores. The Puppy Mill Pipeline Bill, first proposed by State Senator Michael Gianaris, passed by a vote of 48 – 12. Now, advocates are hopeful that the State Assembly will pass the accompanying bill and that Governor Andrew Cuomo will soon sign these pet-protecting bills into law.
Pet Stores and Puppy Mills
Puppy mills are known for reckless breeding and inhumane treatment.
We've all smiled at the sight of a puppy in a pet store window, but dog and cat retailers have long been a lightning rod for controversy. Animal advocacy groups like the Association for the Prevention of Cruelty to Animals (ASPCA) and the Humane Society of the United States contend that a number, even a majority, of pet stores are little more than pipelines to and from "animal mills." These mills feature inhumane conditions and serve as the hubs of a veritable pet industry.
ASPCA President and CEO Matt Bershadker elaborates, noting that pet stores often "rely on a recklessly inhumane system… importing potentially sick animals from out-of-state puppy mills." Once they've reached the point of sale, these dogs are offered to shoppers as "healthy pets from responsible breeders." While some pet stores offer adoptions through rescue agencies and accredited breeders, the size and scope of the "so-called puppy mill pipeline" is vast.
Retail Pet Bans
There's a lot of precedent for the New York Senate's recent move. According to the ASPCA, around 300 cities and counties have already introduced bans on retail pet sales. In 2017, California became the first state to introduce a state-wide ban on in-store dog, cat, and rabbit sales. Maryland joined them a year later when Governor Larry Hogan signed the No More Puppy and Kitten Mills Act. The bill, which went into effect this January, limits pet retailers to selling animals obtained from certain animal rights organizations, animal control entities, and licensed breeders. Maine's House of Representatives also introduced similar legislation last year.
While popular among animal rights advocates, retail pet bans have inspired opposition from pet store owners. When Maryland passed its bill, four different proprietors filed suit on Day 1. Hogan dismissed their arguments, saying, "There are about seven pet stores in Maryland that might be affected, but there are thousands of puppies."
The Puppy Mill Pipeline Bill
Governor Andrew Cuomo will be integral in making this pet-saving bill law.
The news out of New York has resulted in similar disagreements. David Jacoby, owner of Manhattan's two Citipups locations, expressed his displeasure to the Wall Street Journal. Maintaining that he works only with reputable breeders and that he depends on revenue from dog sales, he lamented, "Here goes another brick-and-mortar store out of business to satisfy the activists." Others argue that the bill will only hurt small businesses without actually addressing the puppy mill pipeline on a national level. Mike Bober, President and CEO of the Pet Industry Advisory Council, believes it would be more effective to focus on new federal standards for the industry.
In total, the bill would affect around 80 retailers across the state. Notably, these will not include any of PetSmart's 62 New York locations. Rather than selling pets, PetSmart partners with local organizations to host regular adoption events.
A spokesperson for Cuomo, who last year made it illegal to declaw cats in New York, joked that the Governor would discuss the legislation with his own Northern Inuit dog. Pet lovers can join in the fight against puppy mills and help take a stand for pets by spreading the word, signing petitions, and speaking to their state and local legislators.