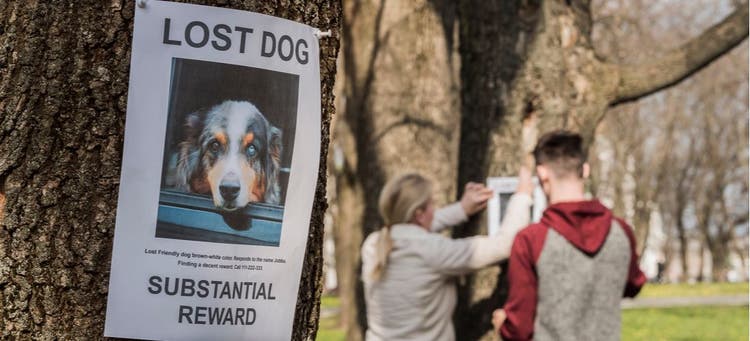 The First 7 Things You Should Do When Your Pet Is Missing
Losing a pet is a terrifying situation that no pet parent ever wants to experience. While it's natural to panic, it's important to remain calm and act as quickly as possible. To have the best chance at finding your lost pet, these are the first 7 things you should do when your pet is missing.
1. Search the Neighborhood
Before your pet has time to get too far away from home, you should get out into your neighborhood and search. Bring a recent photo with you to show neighbors, friends, and passersby. It's also a good idea to carry your pet's favorite treats or a toy to get their attention.
Your search tactics will differ based on your pet's temperament. If you have a shy, skittish dog, they may have hidden somewhere close to home, so quietly check in bushes, under decks, or other places they might be hiding.
Cats are often scared when they're outside, especially if they're indoor-only cats. So, there's a good chance that they're hiding. Ask your neighbors to check in their garages and sheds, as cats can be creative with their hiding spots.
More confident pets may have traveled a greater distance, so don't be afraid to expand your search beyond your neighborhood borders. Even though it sounds counterintuitive, while you're searching, don't call out to your pet. Calling for them can scare them and make them run from you even further.
2. Contact Animal Control and Local Shelters
Be sure to file a lost pet report with nearby animal shelters and animal control as quickly as possible. Give them vital information like your name, phone number, pet's description, and current photo if possible.
You can find a list of all the animal shelters within a 25-mile radius of you with The Shelter Pet Project.
When many people find a lost or seemingly stray animal, their first thought is to take them to the local shelter, so they can get immediate attention. This is especially helpful if your pet went missing without a tag or a microchip.
Call or visit the shelters daily to see if any new animals were brought in, as sometimes pets can be tough to describe over the phone or they may look different after an injury.
3. Call Local Veterinary Clinics
Just like animal shelters, you should call all local veterinary clinics to leave your name, number, and a description of your pet. If your pet has been hurt, someone may try to take them to the vet for medical assistance.
Veterinarians can also check your pet's microchip, so many people will bring a stray pet to the vet first to see if they have a registered owner. Even if your pet doesn't have a microchip, leaving information about your lost pet will help the staff keep an eye out for them.
4. Spread the Word Online
Social media is the fastest way to spread the word about your missing pet. Post a recent photo of your pet to all of your social media accounts with any details that may be helpful for someone to identify them and get in contact with you.
If your neighborhood also has a Facebook Group or Nextdoor group, make sure you post your pet's information and picture there as well. The more people you can have looking for your pet, the more likely they are to be found.
There are also missing-pet-specific Facebook pages that can be helpful for your search. Organizations like Lost Dogs of America have Facebook groups for nearly every state, and many cities will have their own designated lost pets pages as well.
In addition, websites like Petco Love Lost allow you to report your pet as missing and use facial recognition technology to search for their photo in their lost pet database. The more places you can post your pet's photo, the better.
5. Make 'Lost Pet' Flyers to Post in Your Neighborhood
Once you've posted online, the next step is to make physical flyers to display around your neighborhood. You should also post flyers in places like your local post office, veterinary offices, grocery stores, and anywhere else that they're likely to catch people's attention.
These flyers should be big, bold, and brightly colored so they're as eye-catching as possible. Include a clear photo of your pet, along with their description and your contact information in legible print. Hang them in as many places as possible at eye level, so more people are likely to see them.
6. Stay Near Your Phone
Once you've spread the word about your missing pet to everyone in your local community, it's important to stay close to your phone. Someone might be contacting you about your missing pet any minute – especially if they have a tag or a microchip.
Even though it's a scary situation, stay optimistic. With so many ways of spreading the word and so many more people looking for your pet, the odds of finding them are good. Just make sure you're able to answer that phone call as quickly as possible when it comes.
7. Be Wary of Pet Recovery Scams
When you're anxiously awaiting the return of your furry family member, you're eager to accept any phone call or message in the hopes of hearing good news. However, it's important to be cautious. Unscrupulous individuals may claim to have found your pet in an attempt to extort money from you. Unfortunately, this is quite common, especially if your flyers mention a reward.
As a precaution, leave out a key detail about your pet's description on the flyer and all social media posts. If someone calls, ask them to describe the pet they've found. If they leave out this key detail, it's likely that they don't have your pet. It's also a good idea to have them take a picture of the pet they found and send it to you, so you can confirm the pet is yours.
If You've Lost Your Pet, Don't Give Up
When it comes to finding a missing pet, persistence is key. Call or visit your local animal shelters and do a search of your neighborhood daily. Expand your search by posting in other neighboring towns about your lost pet.
Don't give up hope that your pet will be found. With so many new ways to locate lost pets, there's an excellent chance that your furry friend will be back in your home before you know it.