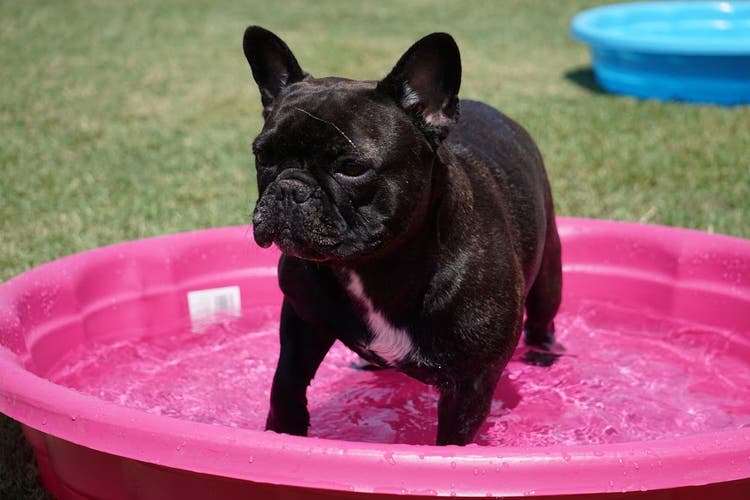 Keep Your Dog Cool With a Doggy Pool This Summer
The summer months can be hot and humid for you but also for your dog. Many dogs love the water and one way to keep your dog cool is to create a pool just for dogs.
How to Make a Doggy Pool
Here are several commercially made pools created for dogs that you can buy in stores and online or you can make your own doggy pool by modifying a children's pool.
When shopping for a doggy pool, consider the following:
Size – Many commercial dog pools come in sizes from 3 feet to about 6 feet in diameter. When you consider the size, consider also the depth (see below). The size you select may also be determined by how many dogs you have and expect to be in the pool at the same time. For example, if you have three Labrador retrievers, they can take up a lot of room.
Depth – Consider the best water depth for your dog. The common ranges can vary from 4 inches to about 12 inches. It should be shallow enough that your dog's head can be above water when he is laying down in the pool.
Exit – The pool should be very easy for your dog to step out of, without jumping.
Durability – The dog pool should be durable and able to deal with dogs that jump in and out with sharp nails.
Portability – Consider if you want a pool you can fold up, store and/or take with you when on vacation or at a friend's house. Some inflatable models are portable.
Slip Resistant – The base of the pool should be slip-resistant to prevent falls.
Easy to Drain – Some pools have drains to make it easy to empty. This can be important if you move it or plan to change the water frequently.
Other –If you choose an inflatable pool, be sure that you have an inflator to be able to blow it up.
Some brands that make doggy pools that have good ratings at the time of this writing include:
Jasonwell Foldable Dog Pet Bath Pool Collapsible Dog Pet Pool Bathing Tub Kiddie Pool for Dogs Cats and Kids
KOPEKS Outdoor Portable Dog Swimming Pool
PAWSROAD Large Dog Pet Swimming Pool
KOPEKS Outdoor Portable Rectangular Dog Swimming Pool
Doggy Pool Safety Tips
If you create a doggy pool to keep your dog cool this summer, it is important to consider these safety tips:
Consider placing the pool in the shade or partial shade. Even though the water can help cool dogs, it can still be very hot in the sun and dogs can become dehydrated or suffer from heat exhaustion or heat stroke.
Make sure your dog knows how to get OUT of the pool and has a ramp to do so. Some dogs can fall or become exhausted. If you are using a child's pool, you can make or purchase some simple steps. The steps should be both in and out of the pool. You can paint wood steps with slip-resistant paint or apply treads that allow wet feet to get traction.
Never allow your dog in the pool unsupervised. This is especially true for dogs with underlying health problems such as heart disease, lung disease, arthritis, mobility issues, and/or seizure disorders.
Change the water often to ensure the quality is good. Bacteria and molds can grow in pools and be toxic to dogs.
Clean the pool well every week by scrubbing it with a mild soap such as Dawn® dishwashing soap and a brush. Rinse well, allow to dry, and refill with fresh clean water.
Dog Water Safety Tips
Below are additional tips to help keep your dog safe when around water.
If you have a deep pool, consider fitting your dog with a life vest. They make them for every shape and size of dog. If you put one on your dog, stay with your dog so he or she is supervised just in case he or she gets caught on something. Learn more about Swimming With Dogs Can Be Fun If You're Being Safe.
Check the water temperature and ensure it is neither too hot nor too cold for your dog. Some of the small pools can get very hot when in the sun.
Monitor your pool for any type of algae or debris. The water should be clean and clear. If not, change out the water.
Prevent your dog from drinking pool water. Make sure you have plenty of fresh clean water in a few locations in your yard. It can be more refreshing by placing ice cubes in the water. You can also freeze a plastic container of water, such as a cottage cheese carton, and place the large chunk of ice in the water to keep it cool for hours. Why You Should Keep Your Dog From Drinking Too Much Water.
Dry your dog's ears after swimming to prevent infections.
Look around the pool and yard for other dangers. It is common for dogs to acquire lacerations out in the yard from trash, metal fencing, loose boards or other objects in the yard. Periodically check your yard to ensure gates are closed and there aren't any unnoticed dangers.
We hope these tips help to keep your dog cool.
Additional Articles that May be of Interest About How to Keep Your Dog Cool With a Doggy Pool This Summer