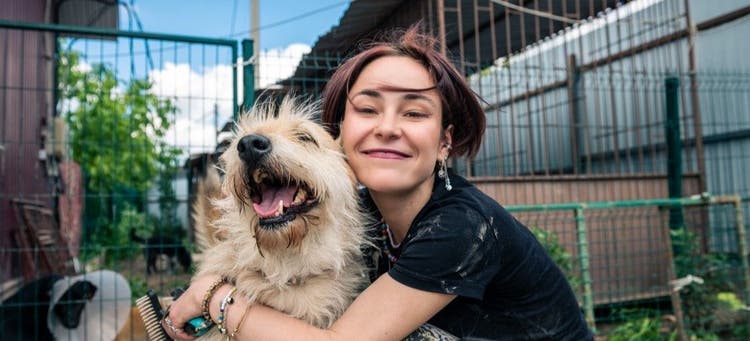 Featured Pet Rescue: Lost Our Home Pet Rescue
For many families, having to surrender a pet due to life's circumstances is a heartbreaking affair. There are many reasons a family may need to part with a beloved pet and, for some, it is a last resort. That is where Lost Our Home Pet Rescue steps in. This rescue group from Tempe, AZ takes a uniquely holistic view on pet rescue, adoption, and surrenders, not only supporting the pet, but the human family as well.
What Makes Lost Our Home Pet Rescue Unique?
All animal rescues work to improve the lives of the animals in their care. It is the foundation of why they do what they do. However, Lost Our Home Pet Rescue takes their commitment to pets to another level by supporting the families of those pets as well. "At Lost Our Home, our mission is to provide compassionate services to pets and people in crisis." Their care for the human-side of the pet relationship shows an empathy that makes them stand out amongst animal rescues.
Lost Our Home works with families who are surrendering animals to find the best solution to each unique situation. Not all families need a permanent surrender, and some are left with no other option, so Lost Our Home strives to get the animal cared for no matter what.
Lost Our Home is a no-kill pet rescue, and they are often the last hope for a family in need. Additionally, they work in close partnership with the Tempe Police Department, who have 24/7 access to the shelter to ensure pets have a safe place to go no matter the time.
Lost Our Home Fills in the Gaps of Pet Surrender
In 2008, Jodi Polanski, Lost Our Home founder and Executive Director, was working as a mortgage banker during the housing crisis and resulting economic downturn that cost many families their homes. She witnessed pets being left in foreclosed homes or stuffed into over-filled shelters as families were losing everything. There was no service available to help these animals and families get through an already devasting time, so Jodi organized a handful of volunteers to help abandoned pets.
Over time, as their efforts became more organized, Jodi and her team realized there was a greater need than they anticipated. Families from around the area were facing hardships, and their pets would often suffer for it. So, they began to expand their support efforts to help these families and pets stay together when times were getting tough.
Specialized Programs Offered by Lost Our Home
Lost Our Home provides many programs throughout their organization to keep pets happy and healthy and to ease the burden faced by families in times of need. Their efforts to comfort struggling families and keep the focus on putting animals in safe, loving homes is obvious in the variety of programs they offer.
Temporary Care Program
Their Temporary Care Program is designed to take in pets during times of tumult in their owner's lives, including eviction, financial hardship, medical emergencies, and even domestic violence situations. By providing a temporary home for an animal in need, they help each family deal with their changing circumstances without having to worry about their cherished pet.
Pet Food Bank
Also called Animeals on Wheels, Lost Our Home's pet food bank provides pet food and necessary supplies to pet owners who are facing financial hardships. Many families just need some temporary relief, so they are not forced to choose between starving themselves or their pets, or in extreme cases, surrendering their pets all together.
Lifetime of Care Program
Do you have a plan in place if your pet should outlive you? In many cases, the death of the owner results in a pet being placed in a shelter. This could lead to the pet being euthanized if a new home cannot be found.
Lost Our Home's Lifetime of Care Program takes this burden off the shoulders of pet owners by guaranteeing pet care and placement in the event of the owner's death. You never know if or when the unthinkable may strike, so programs like this offer an additional support system if a pet owner does not have alternative care set up for their pets.
Pet Rescue and Adoption
At its core, Lost Our Home is an animal rescue organization. So, they do offer animal intake services and adoptions. If you are considering adding a new furry friend to your family, adoption is a great way to support animals in need, as well as the ongoing charitable efforts of groups like Lost Our Home.
Resource Programs
Lost Our Home understands that not every rescue story needs to end in surrender. Sometimes, a family just needs some additional or temporary support. They've partnered with other groups and programs including the Sojourner Pet Companion Shelter and the Arizona Humane Society to offer low-cost options for animal care. Lost Our Home also provides a list of pet-friendly rentals in their area, so a family can easily find a new home if they should need to move for any reason. These resources are important to keep families and pets together.
Whether you can adopt a new pet into your home, or simply want to help, Lost Our Home Pet Rescue's unique contribution to pet care is a great cause.