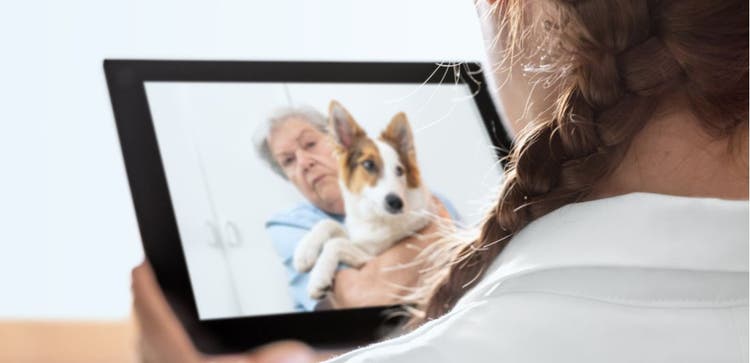 Telemedicine for Dogs and Cats
We are all facing extraordinary challenges during the COVID-19 outbreak. Pet owners are struggling to obtain routine and emergency healthcare for their pets, and veterinarians are struggling to provide these services.
The challenges that veterinarians face involve state-mandated shutdowns, infected or quarantined staff, protocol changes to minimize staff exposure, and the stress of keeping a small business alive.
Pet owners may even see their veterinarians decrease appointment hours, reduce the number of individuals in exam rooms, enforce a client-free lobby, provide curbside service, or eliminate service all together.
Dr. Roger Fingland, Executive Director and Chief Medical Officer at The Ohio State University College of Veterinary Medicine, suggests that telemedicine is a viable solution for some veterinarians and pet owners.
Below we will review the benefits, use, cost, and limitations of veterinary telemedicine.
What is Telemedicine?
The American Veterinary Medical Association (AVMA) defines telemedicine as "the use of medical information exchanged from one site to another via electronic communications regarding a patient's clinical health status."
The terms telemedicine and telehealth are commonly used interchangeably, however there are differences (see the AVMA telehealth basics guide for definitions). Another word you may hear is "virtual health," which is an overarching term that includes telehealth, telemedicine, teleconsulting, telemonitoring, teletriage, E-prescribing, and mobile health. For the purpose of this article, we will use the term telemedicine to describe the ability of a pet owner to obtain veterinary health-related services using electronic or telecommunication services.
Telemedicine was introduced in the 1970s in human healthcare to reach patients in remote locations or in areas with shortages of medical professionals. It conveniently provides access to immediate care for minor, but urgent, problems and follow-up care. Virtual care is evolving quickly with new technologies that allow for video chat, such as Skype® and Facetime®. These tools require access to a computer or mobile device, such as a smartphone or iPad, that allow for virtual real-time visits with a veterinarian.
The idea of telemedicine has been a hotly debated topic in the veterinary field. While the veterinary industry wants to provide the benefits and convenience of telemedicine, they also want to ensure consistent, quality, and professional care. To date, the AVMA's stance on telemedicine has been that "veterinary telemedicine should only be conducted within an existing Veterinarian-Client-Patient Relationship (VCPR), with the exception for advice given in an emergency until that patient can be seen by a veterinarian."
A VCPR is required by most states for a vet to diagnose or treat an animal. The VCPR also requires the veterinarian to take responsibility for the diagnosis, treatment, and follow-up care. The AVMA has opposed telemedicine in the absences of a VCPR with only a few exceptions, such as those related to emergency triage or poison control services. However, in light of the COVID-19 pandemic, some states have modified this rule to ensure that, while providing care, veterinarians, staff, and clients are safe.
How is Telemedicine Used for Dogs and Cats?
Telemedicine can be especially useful during weather extremes (such as when roads are not accessible), on weekends or nights (when veterinarians are closed), during pandemic outbreaks, due to limitations in personal health or mobility, or from remote locations.
Veterinarians are using telemedicine to talk to clients, obtain histories, and even look at a pet virtually to diagnose and treat medical problems.
While some may be skeptical of telemedicine, research in human telemedicine has been very positive. In fact, a survey following human health telemedicine visits indicated that the majority (76%) felt their access to healthcare was actually better with the virtual visit than it would have been with an in-person appointment.
What Symptoms Can Be Diagnosed Using Telemedicine?
Telemedicine works well for urgent and important, but not life-threatening, problems.
Diagnosable symptoms include:
Allergies
Back pain
Behavioral problems
Bladder infections
Bronchitis
Conjunctivitis
Diarrhea
Diet consultations
Ear infections
Flea and tick infestations
Hospice care
Insect bites
Itching
Minor cough
Obesity management
Post-surgical care and follow-up
Rashes
Skin inflammation or infections
Sprains and soft tissue injuries
Upper respiratory infections
Vomiting
Wellness recommendations
Telemedicine can also allow for a second opinion or consultation with a specialist, provided that you have a referral from your primary care veterinarian.
What Are the Limitations of Telemedicine?
The limitations of telemedicine include:
Training and Equipment. Technical equipment and training for the veterinary healthcare provider are needed for appointments.
Accessibility. A computer or mobile device with internet access are required for telemedicine visits.
Lack of hands-on care. Telemedicine is not a replacement for a hands-on examination or emergency care! For example, there may be times when care is needed to suture a wound, feel a mass, or express an anal gland.
IMPORTANT: Any pet with a life-threatening emergency should proceed to the closest veterinarian or veterinary emergency clinic.
How Does Telemedicine Work?
Some hospitals offer telemedicine 24/7, while others offer it during normal business hours. Depending on the hospital, it may be possible to access emergency veterinarians, as well as a wide range of specialty doctors including cardiologists, dermatologists, internal medicine specialists, and oncologists virtually.
To access telemedicine, go to your vet's website or call and follow their instructions. Some systems are sophisticated, featuring dedicated network connections, while others use internet tools such as Skype® and Facetime®. It is possible for telemedicine to be delivered via phone, SMS (text), email, or smartphone App connections.
What to Expect During a Telemedicine Consultation
This is usually the chain of events during a virtual veterinarian visit:
Access service. This may be via Skype®, Facetime®, a custom service, or an online chat.
Explanation of what to expect. It is important that the person providing telemedicine services inform you of what to expect. They should explain how telemedicine works, what happens if technical failure occurs, cost for the virtual visit and payment options, prescribing policies, medical record availability, and coordination of care with other veterinary professions (such as referral to emergency clinics).
Informed consent. It is best practice for the provider to obtain an "informed consent" from you before initiating consultation.
History. The veterinary team will ask you questions about your pet's problem(s), including how long issues have been occuring, frequency, severity, and associated signs. They will also ask questions about your pet's medical history, allergies, and medication.
Directed examination. The veterinarian may ask you to look at (and direct the camera on) certain parts of your dog or cat. This will vary depending on the underlying problem, but may include gum color, eye reflexes, your pet's respiratory effort, ability to stand and walk, as well as any wounds or skin lesions.
Diagnosis. Based on the history and directed examination, your vet will discuss a list of possible diagnoses, tests, and procedures. There is a wide range of possibilities here depending on the underlying problem.
Treatment recommendations. Recommendations can range from diet instructions, therapeutic baths, exercise modifications, and/or prescription medications. The veterinary team may direct you to pick up prescriptions at your clinic, email you a script, or call in a prescription to your local pharmacy.
Follow-up care recommendations. Recommendations may include a follow-up with a veterinarian, especially if the problem does not resolve or the condition worsens. This could either be a virtual visit or an appointment at a veterinary hospital.
Addition of appointment to medical record. The appointment will be documented and entered into your pet's medical record.
Discharge instructions. You will receive a post-appointment email, featuring information about the diagnosis, treatment, follow-up care recommendations, and who to call if additional problems arise.
How Much Does a Virtual Visit Cost?
Cost of a consultation depends on the individual hospital and type of appointment. They typically range from $35 to $150 per visit.
How to Get the Most Out of Your Telemedicine Visit
To get the most out of your virtual visit, it is ideal to have a stable internet connection with access to video and a good microphone. Direct the video and microphone at head or shoulder height (with flexibility for directing it toward any location on your pet's body). This will allow your vet to see and hear you. Make sure the room is quiet and conducive to having a private conversation. Have your pet with you in the room and available so that you can complete any directed examinations.