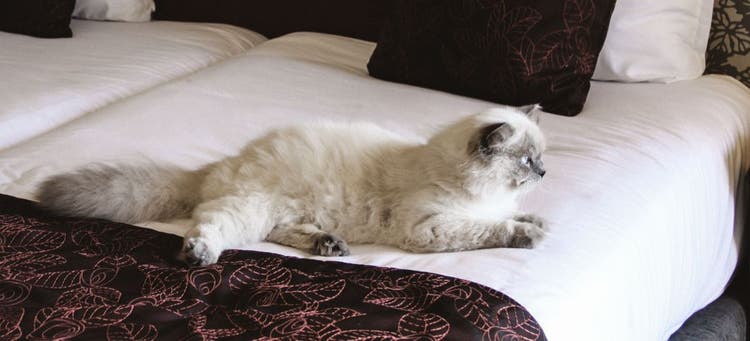 Traveling with Pets: 4 Tips for Staying in Pet-Friendly Hotels
Are you one of the 78% of pet parents who travel with their furry friends? Some trips are a no-brainer when it comes to bringing pets along, like camping or visiting family or friends who know and love your dog, but what if you want to go somewhere new with your furry family? While more vacation rentals are banning pets, hotels are welcoming animals as a benefit to entice pet-owners to book a stay.
Despite the warm welcome, there are still rules to be followed, even in the friendliest of pet-friendly places. Unlike bringing your pup to grandma's house over the holidays, hotels must cater to hundreds if not thousands of guests at one time, so here are 4 easy-to-follow tips to help you and your pet be gracious visitors while staying in a hotel.
Let the Hotel Know You're Bringing a Pet in Advance
Pet-friendly hotels often have rooms designated for pets. This makes them easier to clean and keeps pet allergens away from other guests. Some hotels require you tell them at the time of booking, and others only require it at check in, but either way, letting them know earlier in your booking process will make sure both parties are on the same page.
Despite being pet-friendly, some hotels have rules and regulations for accepting pet guests. There may be additional fees added to your stay or rules about leaving pets alone in the room. So, by communicating early, you won't be hit with any last-minute surprises that could ruin your travel plans or affect your budget.
Make Your Pet Comfortable
Even the most well-traveled pet will need to adjust to a new environment when staying in a hotel, especially if you're on a road trip and staying in different places each night. So, do small things to make sure your pet is comfy and secure. Bring their favorite toy from home, set up their bed, and be prepared to bunk in for a bit while they adjust to their new space. If your pet is accustomed to traveling and being in different hotels, you may only need to hang out in the room for a short period of time before they doze off and are comfortable on their own.
If your pet is nervous, don't leave them alone, not only for the well-being of your pet, but also as a courtesy to the guests and staff around you. Nervous dogs may bark or get destructive, and if you're not there to manage your pet that becomes everyone else's problem. Some hotels even have strict policies about noise, and you may find yourself and your pet evicted if their nerves make them noisy, so put your pet's comfort first and ensure they're settled and comfortable before you leave them alone in a new place.
Stick to Your Pet's Routine as Much as Possible
Traveling is obviously going to change your pet's routine a bit. Do your best to keep to their schedule as much as possible, so they at least get food and potty breaks at their accustomed times.
Though you'll probably be traveling with a housebroken pet, even normally well-trained animals can slip up when stressed or when their schedules change. Make sure you're taking breaks and giving your pet ample time to do their business. Adding in dedicated play and exercise time is also a great way to burn off the added energy they have from lying around all day in a car or hotel room.
Come Prepared
Make sure you know a bit about your travel location before the day of your stay. When it comes to your pet, you'll want to know where the nearest 24/7 emergency vet clinic is, their contact information, and the contact information for the local poison control agency. Before you leave for your trip, get this information, and add it to your travel packet.
Your travel packet should include your pet's medical records, a list of any medications they take, contact information for your primary vet, and proof of vaccination. Put these documents in a folder with your research and keep it accessible so you're prepared in the event of an emergency.
You'll also want to pack the necessities like food, bowls for food and water, medication, toys, beds, chew toys, and their crate. Make sure you have enough food and medication for the length of your trip plus a few extra days. That way, if the unexpected happens, you don't have to make an emergency pit stop to refill supplies.
Being prepared means more than just having your pet's favorite treats on hand. Preparing for the unexpected is an important part of any pet parent's life, and one of the easiest ways to be prepared for anything is with pet insurance.
Traveling with your pet will make your vacation even more memorable and, as the world becomes more welcoming to pets outside of the home, easier to do. But don't let that fool you. You'll still want your pet on their best behavior, so this trend of welcoming pets grows rather than diminishes. Safe travels, and don't forget to tag us (@PetPlace) in your travel photos with your pet on Instagram!