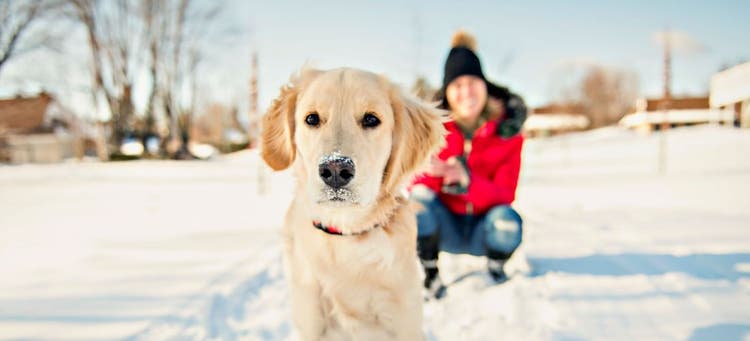 7 Winter Pet Grooming Tips
As the cold air moves in, many pet parents change their pet's grooming routines, especially coat care. While a long coat does help keep them warm in the cold, keeping up with your pet's grooming needs in the winter is just as important as during the summertime, if not more so.
Putting off good grooming habits like haircuts and nail trims until the spring can have consequences for your pet's overall health and well-being. That's why it's important to stay on top of their winter grooming routine. Here are seven tips to help keep your pet clean and healthy this winter.
1. Brush Your Pet Regularly
Your pet's fur helps to regulate their body temperature. In the winter, when their coat is thicker, it helps hold the warmth in, but it can only do that if your pet's coat is healthy.
If you don't brush your pet's coat in the winter, you risk shed fur building up, leading to mats and tangles which can cause your furry friend to overheat.
Regular brushing removes this dead hair. It also helps distribute your pet's natural oils, keeping their coat clean and skin moisturized. Brush your pet's fur every couple of days, regardless of how long their coat is.
2. Protect Your Pet's Paws
Your pet's paws need extra care in the winter, especially if they spend time outside. The cold weather and icy sidewalks can leave paws dry, cracked, and uncomfortable. Snow and ice can also build up between your pet's paw pads, leading to irritation and even frostbite.
Many people use salt and other chemicals to prevent ice from building up on sidewalks, but these chemicals are dangerous to your pet. When they get stuck inside their paw pads, they can cause chemical burns, and they're toxic if your pet tries to lick them off.
Always wipe your pet's paws off as soon as you come inside. Use paw wipes or a clean towel to thoroughly remove any residue, including in-between the paw pads and hard-to-reach areas.
Applying paw balm before your walk is also a great way to protect your pet's paws and keep them hydrated. But you'll still need to wipe their paws when they come back inside. Trimming the fur in-between your pet's paw pads is another great way to keep the snow and ice from building up.
3. Keep Your Pet's Nails Trimmed
Your pet's nails still need to be trimmed on a regular basis in the winter. In the summer, active pets keep their nails shorter by scraping them on the ground during their walks or outdoor playtimes. If your pet is less active in the colder months, they may need a nail trim more often.
The cold weather can also cause dry, brittle nails that can break easily when they get too long. Broken brittle nails may bleed and be painful for your pet to manage.
Keep your pet's nails trimmed short throughout the winter. If their nails are able to touch the ground when they walk, it's time for another trim.
4. Use Moisturizing Shampoo or Conditioner
The cold winter air can leave your pet's skin and coat feeling dry and flaky, and it can even make your pet more prone to static electricity. To keep them looking and feeling their best, consider a moisturizing pet shampoo or conditioner during bath time.
An oatmeal-based shampoo is a great option because oatmeal has natural moisturizing properties, and it can also help soothe sensitive, flaky skin.
Always use a pet-specific shampoo and conditioner, and never one made for humans. Pets have a different pH balance than humans do, and shampoos for people can leave your pet's skin dry and vulnerable to bacteria.
5. Keep Up with Your Pet's Regular Haircuts
Even though it may seem counterintuitive, you should keep up with your pet's regular haircuts even throughout winter. While a thick coat can help keep your pet warm, a coat that's too long can easily become unmanageable for a pet parent, leading to knotted, matted fur.
Long-haired breeds, especially, should keep their regularly scheduled grooming appointments to keep their coat looking and feeling healthy and shiny. If you're concerned about your pet getting cold, consider a sweater or jacket for your pet when you go for walks.
6. Bathe Your Pet or Use Pet Wipes Regularly
Just like your pet's paws need to be wiped every time you come inside, the rest of their fur needs to be cleaned regularly. That's because sidewalk salt and other chemicals can build up in other areas of your pet's fur, as can snow and ice.
If left on your pet's fur, the moisture from the snow and ice can lead to irritating hot spots on your pet's skin, and the toxic chemicals can be deadly if ingested by your pet.
Bathing your pet regularly is a great way to make sure their fur is always clean and chemical-free. If your pet has sensitive skin or if regular bath times aren't feasible for you, wiping them thoroughly with a moisturizing wipe and then drying thoroughly is also a good option.
7. Keep Your Pet's Ears Dry and Clean
While you may associate ear infections with the summer and days spent with your pet by the pool, ear infections can happen at any time of the year. If your pet has been outside in the snow, moisture can get inside their ears and lead to infection if not thoroughly cleaned and dried quickly.
When your pet comes inside, use a clean, soft towel or cotton ball to gently wipe around their ears, soaking up the excess moisture from the snow.
Cleaning your pet's ears regularly is also important, especially if they have floppy ears. Because the ear canal isn't exposed as often to the air in dogs with floppy ears, it's harder for the ear to completely dry out.
Are You and Your Pet Ready for Winter?
While winter may not offer the best weather for outdoor activities, there's still plenty of fun to be had and memories to be made with your best furry friends. As long as you keep up with important grooming habits, your pet will be safe, happy, and healthy all winter long.