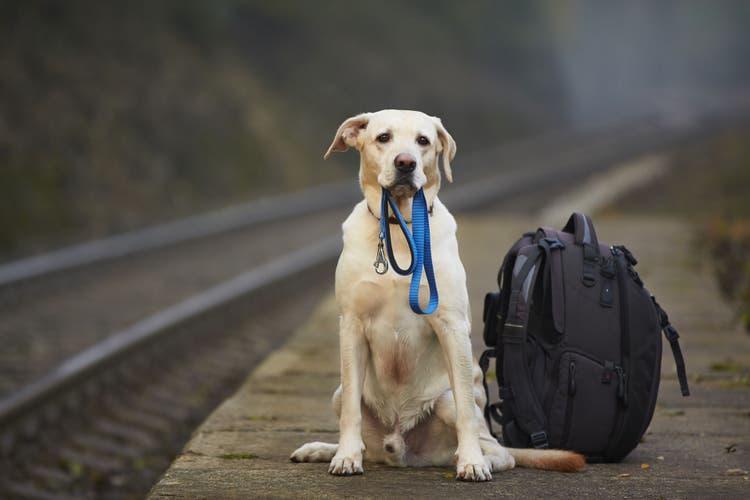 A Guide to Traveling with vs. Boarding Your Pet
If you're like many of us, you long to get away.
You've been working hard while budgeting responsibly, and it's finally time to plan your long-awaited trip. You've had your sights set, after all, on that ocean-front cottage, that cross-country roadtrip, or that secluded cabin in the woods for quite some time now. In the words of Dr. Seuss, "Oh, the places you'll go!"
But before you seek a travel agent or start booking that well-deserved vacation, you have an important determination to make. Your furry family member's well-being during your trip represents a top consideration, and your options range from boarding him at a kennel to hiring a pet-sitter to bringing your beloved pet along on your adventure.
Although it's tempting to have your dog or cat accompany you on vacation, some pets are better suited for traveling than others. Consequently, you must take your canine or feline's health, temperament, and emotional needs into account. Ultimately, it's worth asking yourself: "What outcome would make my pet happiest?"
If you have any doubts about whether your pet should travel, it's time to consult your veterinarian. But we're here to assist with the "stay or go" conundrum as well. Here's our guide to traveling with or boarding your beloved pet.
Kenneling Your Pet
When travel needs arise, many pet owners in need of substitute pet care rely on the services offered by a professional boarding kennel. Provided you can locate a trusted facility with a strong reputation, kennels represent a safe, convenient way to ensure your companion is cared for in your absence. It's estimated that more than 30 million pet owners utilize kennels within the United States and Canada annually.
While kennels range from bare-bone to ultra-fancy, keep in mind that the frills are meant mainly for pet owners. Your dog or cat really doesn't care whether Chopin plays softly in his sleeping quarters. What's important is your pet's general safety and the friendliness and competence of the staff.
In selecting a kennel for your furry friend, you should conduct a visit beforehand and observe the following:
The kennel should practice proper sanitation in order to prevent the spread of contagious diseases.
The kennel should enable each animal to have the ability to receive periodic exercise.
The kennel should have adequate cage and run sizes, with larger cages for bigger dogs.
The kennel should have associations with specific veterinarians either on the premises or working nearby.
How to Find a Good Pet Sitter
A good professional pet sitter is a true find. In addition to taking proper care of your furry family member, a knowledgeable pet sitter should be able to spot medical problems and handle emergencies. Unlike relying on a well-meaning yet untrained friend or neighbor to care for your dog or cat while you're gone, you can relax with a pet sitter, knowing your pet is in capable hands.
With a trained pet sitter, the advantages can be numerous. Your dog or cat gets to remain in his own environment, being fed his own food and sleeping in his own bed. It's hard to overestimate the value of your pet's existing comfort level. Plus, when you arrive home following your travels, your beloved companion is already there to greet you.
Here are some guidelines to follow when selecting a pet sitter for your canine or feline:
Ask fellow pet owners or your veterinarian, groomer, or pet-supply store for referrals.
Do your homework regarding your pet sitter's training background.
Have the sitter meet your pet in advance and observe how the sitter interacts with your companion.
Airline Rules for Travel
Hoping to take to the skies with your pooch? Getting a plane ticket for yourself is easy, but getting one for your pet requires a little more planning. Each airline has separate rules pertaining to pet travel. Some have pet embargo rules, resulting in times during the year when pet travel isn't allowed. Other airlines no longer accept pets and rely on special pet carrier or animal transport companies.
Make sure you check with the airline well in advance regarding their pet travel rules, as these policies can change without notice. While certain airlines allow small dogs or cats to travel in the aircraft cabin as part of your carry-on luggage, others stipulate that pets travel in the cargo area.
All airlines require a health certificate issued within 10 days of your departure date, whether you're traveling domestically or abroad. Your veterinarian will have to examine your pet and certify that he's free of disease and healthy enough to travel. Dog and cats must travel in manufactured pet carriers. Label the carrier with "Live Animal," mark "Up" arrows on all sides of the crate, and be sure to write your home address and telephone number clearly.
Driving with Your Pet
Mention the word "car" to your average canine and he'll likely express visible joy. Many dogs quickly associate "car" with that wonderful sensation of being carried at great speeds, with the wind blowing through their fur. But before hitting the road, take note of the following tips to keep your pooch safe in the car:
Open the window, but not all the way.
Secure your dog with a carrier or a restraining harness.
Never leave your dog unattended in the car, even in cool weather.
Conversely, mention the word "car" to your average cat and howling and meowing may occur. Most cats don't enjoy the open road, and the safest place to keep your cat during a car ride is in a carrier. By confining your cat, you eliminate the risk of his escape, and reduce his chances of injury in the event of an accident or sudden stop.
Hotel Etiquette for Pets
Nowadays hotels are more pet-friendly than ever before, welcoming guests' furry companions with open arms. Lodging options of all varieties – from cheap motels to four-star boutique hotels – are inclined to allow your dog or cat to accompany you, provided your pet can adhere to basic hotel etiquette.
It goes without saying that all vacationing pets must be well-trained. If your cat tends to have accidents when he's nervous or if your dog barks when left alone, do everyone a favor and reconsider taking him on vacation. Additionally, it's important to keep in mind that housekeeping will need access to your room, thus you'll need to confine your pet to a carrier or make special arrangements to clean the room.
When proper preparations are undertaken, vacationing with your canine or feline companion has the potential to serve as a thrill your pet enjoys and you remember fondly for years to come. But should your dog or cat be better served staying at a kennel or with a pet sitter, then you can look forward to a warm greeting following the conclusion of your trip.
Resources for traveling with or boarding your pet
Want more useful advice regarding determining what to do with your beloved canine or feline during travel? Check out our featured articles: