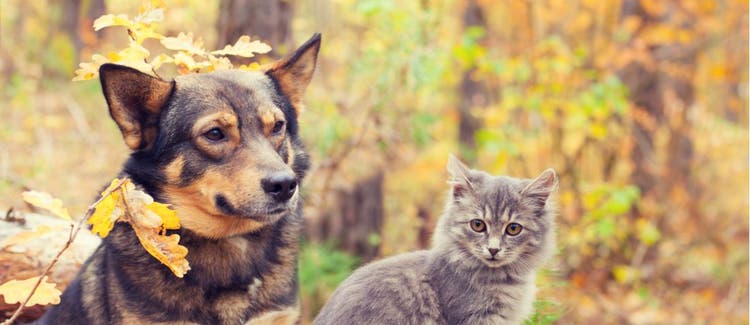 Autumn Awareness: Our Favorite Fall Pet Care Tips
Fall is finally here, and what better time than to brush up on some fall pet care tips!
The tiring heat of summer has faded and the kids are back in school. From colder weather to holiday decorations, there are many hazards that you need to be aware of to keep your pets safe.
Get your pets ready for the changing of the seasons with our best fall pet care tips.
Antifreeze
Many people will put antifreeze in their cars in preparation for the coming winter. Be sure to keep this hazardous chemical off the ground and away from pets whenever you're using it. Antifreeze has a sweet taste that your pets will love but their bodies will not. Less than one tablespoon of the sweet poison can be lethal to your pets. Antifreeze causes serious nervous system damage and kidney failure but it can easily be avoided. Make an effort to keep from splashing and always keep the cap on the container when it's not in use.
Hunting Season
Seeing the colors change on the trees is one of the best parts of the autumn, which makes a hike in the forest with a pet a great activity for a weekend afternoon. However autumn also brings the start of hunting season. Wearing bright colors and staying in safe, open areas are simple solutions to stay out of harm's way. Make sure to always have your pets on leashes when walking, and keep them within a fenced area when you're playing outside.
Wild Mushrooms
Fall is the season for wild mushrooms to be popping up in your yard and the woods. Many varieties of mushrooms can be poisonous and even deadly to your pets, but it's best to consider all mushrooms something your pets should stay away from when they're outside. If your pet does end up ingesting a mushroom, seek veterinary help immediately.
Grape Season
If you live near vineyards, keep in mind that fall is when grapes are ready for harvest. Grapes are a big hazard for dogs as they cause renal failure if ingested. One of the best fall pet care tips is to keep your dog on a leash if going for a walk near vineyards or wild grape vines. Only a few ounces of grapes can do serious harm to your dog, so make sure to pay attention to the plants near your home.
Holiday Decorations
With the holiday season fast approaching, it's always fun to decorate your home to get everyone in the spirit. However, pets can be quick to take a bite out of your holiday plans. Keep small decorations or ornaments out of their reach to avoid pets eating something toxic or choking.
Back to School
With kids coming and going from school it's easy to forget about how their supplies can be a hazard to pets. Pencils and crayons aren't typically toxic if consumed in small amounts, but sometimes our pets don't exhibit the best self-control. Keep backpacks on a shelf or hook to keep nosy investigators from getting into things they shouldn't.
Candles
Candles are a great addition to the fall theme of your home. However curious pets are notorious for making big problems, and a knocked over candle can cause a much larger issue for your home and family. If you're going to have candles lit, place them in an area where they can't be reached, and keep an eye on your pet so they don't burn themselves.
Do you have any fall pet care tips you'd like to share? Post them in the comments below or on our Facebook page!