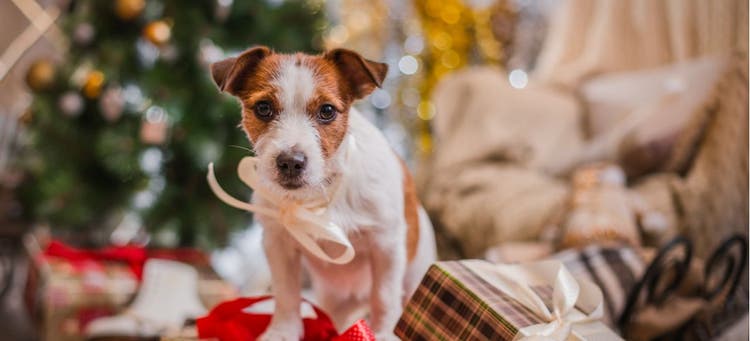 'Tis the Season: Great Ways to Contribute to Pet Welfare
In this season of festivity, it's easy to get caught up in gift-giving and good cheer. It's fun to shop, bake, and wrap gifts for our loved ones.
Wouldn't it be wonderful to share a little of that cheer with the dogs and cats waiting for their furever homes at shelters around the country? You can bring the holiday spirit to these furry friends with a bit of imagination. Which one of these ideas inspires you?
10 Ideas for Supporting Pet Welfare This Holiday Season
Of course, the furry ones don't know it's the holidays. But they can sense a change in people's schedules and energy. Shelter workers may be taking vacation time, and the shelter may be on reduced hours. With that in mind, it's always a good idea to give the shelter a call and make sure they can accommodate your plans.
Hopefully, you'll feel inspired by one or more of these ideas.
1. Walk Your Dog and Raise Money
With the ResQWalk app, you can raise money for your favorite animal welfare organization by doing something you already do… walk your dog. Why not download the app today and see how you can use it to raise funds for animals in need?
2. Foster a Dog or Cat
Got a quiet holiday planned? Maybe you'd like to foster a shelter pet. Shelters often have "top candidates," those dogs and cats they're actively promoting for forever homes. Sometimes these fur friends stay with volunteer foster families. You can check with your local shelter to see what's involved and what animals are available.
3. Feed the Wildlife
Suburban developments have encroached on the native habitats of deer, squirrels, birds, and other animals, pushing them into densely populated neighborhoods. You can put dried corn and other goodies out and watch the show from your window.
4. Volunteer at the Shelter
If you can spare a couple of hours and want to give the pups some love, reach out to your local shelter. They often need volunteer dog walkers to help the pups get out in the fresh air and get some exercise. You could even enlist a friend or two for an added social element.
5. Collect Old Linens
Old towels and bedding are great for lining kennels. The dogs and cats appreciate having something soft to cuddle up in. Clean out your closets and invite your neighbors/friends to join in. Once you have a big pile of soft cloth, drop it off at the shelter. The animals won't mind raggedy edges or ripped sheets.
6. Play
As you know, pups just want to have fun. You can press "pause" on your busy day and spend a little extra time with yours. Even better, invite an overworked friend's dog over for a play date. The pups get exercise and interaction, and you and your friend get a little time for quiet conversation.
7. Be a Shelter Santa
Every shelter has a list of needs. Some are sizeable, like new computer systems or a building addition. You can help with things on the smaller side, like food and toys for the animals. Look at your local shelter's website. Do they have a published wish list? If not, call them up and ask if they have specific needs.
Then, you can put the word out by publishing their wish list on your social media and offering a contribution.
8. Show Appreciation Toward the Shelter Staff
Working with shelter animals is rewarding, but it can also be exhausting. Those who work with them are generous spirits. They may be fitting shelter hours around school, work, and other obligations. You can drop off a couple of pizzas or a basket of fresh muffins to show your appreciation.
9. Organize a Toy Drive
You've probably seen those large, gift-wrapped boxes in lobbies during the holidays. These containers collect children's toys for needy families. You can do something similar, but on a smaller scale. For example, if you're hosting a holiday gathering, you can invite people to bring pet toys or food as a contribution.
After the event, you can drop everything off at the shelter.
You could even partner with a local pet store or groomer to enlist their help. (Hint: Why not run it through the New Year and brighten up January for the animals? King's Day is Jan. 6, which is a traditional gift-giving day in many cultures.)
10. Bake Pet-Safe Treats
In a twist on holiday cookie baking, you can bake treats for the pups (and even the cats.) Why not make it a baking party with your kids or friends? Then, share the goodies with the neighborhood pets or drop them off at the shelter. You'll certainly delight the furry ones.
Which of these ideas sounds the most enticing? From putting out dried corn to feed the squirrels to fostering a pet, there are many ways to share your goodwill toward animals. How will you show your holiday spirit?