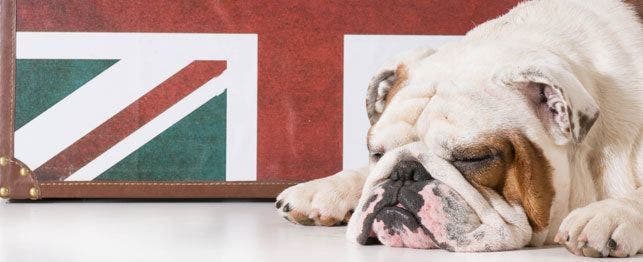 How Brexit is Affecting Pets
One of the biggest news stories of the summer of 2016 was "Brexit" — the UK voting to leave the European Union.
Brexit has created uncertainty about Britain's relationship with the rest of the European Union, and it's affecting pets as well, especially when it comes to international travel.
While pets and their people previously enjoyed uncomplicated travel across the countries in the European Union, new international rules could add complications — or return to previous standards — to traveling with pets.
Although pet owners are expressing concern about the potential of new Brexit-related regulations for pet travel to and from Britain, there isn't any official information about how they will affect British and European Union pets yet.
Here's what you need to know about Brexit and its affect on pets.
European Union Passports
As a part of European Union regulations, pets can get a passport to travel to and from the member countries. Because international travel requires complex regulations for vaccinations, quarantine, and health tests, the passport allows easy travel throughout Europe. However, British pets will no longer benefit from the European Union passport, and those who have enjoyed traveling with their pets are subject to new travel rules.
The current system requires nothing more than microchips, current rabies vaccinations, and the European Union passport, which documents each pet's health and vaccination history. International travel rules for pets are generally based on the threat of rabies and its existence in each country. As a country that does have documented cases of rabies, Britain sits in the middle of the regulatory process, and regulations for entering countries with no history of rabies infection in the animal population typically include lengthy quarantines for pets.
Although British pet owners are worried about the pending changes, it's possible that the pet travel requirements will remain the same, and British pet owners will simply need to provide different documentation independent of the European Union passport. At the moment, it is the uncertainty of change that is driving pet-related travel concerns, but it's possible that pet travel within Europe will remain largely unaffected for British pets.
Incoming Rescue and Farmed Dogs
Depending on travel rule changes, Brexit could also affect the import of rescue and farmed — also known as puppy mill — dogs from Eastern Europe. With a rabies endemic in wild bats, foxes, and raccoon dogs in Eastern Europe, the disease is easily transmitted to domestic pets. Although Britain is not a rabies-free country, there is a high risk of bringing more disease into the country by importing Eastern European dogs. It is possible that new British rules will have restrictions for dogs and puppies from countries where rabies infections are so active, preventing the import of marketable puppies.
Strict import rules could benefit British pets, their owners, and the veterinary industry with a lower incidence of rabies. It reduces the potential heartbreak of purchasing or adopting a dog only to have him or her succumb to a frightening zoonotic disease. Rabies also presents a huge risk for veterinarians and their staff, as exposure to pets with rabies infections has increased due to the relaxation in travel requirements.
Previous Rules: Better or Worse?
Prior to 2012, pet travel throughout Britain and the European Union was less relaxed, and there is talk of a possible return to these rules with the passing of Brexit. This means a potential return to quarantines, six-month waiting periods, and blood testing when entering Britain. It also means puppies under six months of age could not legally enter Britain. Quarantine is a concern for pet owners, as it means long waiting periods that are difficult for pets who are kenneled with a lack of social interaction. Additionally, quarantine is expensive for pet owners, as they must take responsibility for the costs.
Although there are potential disadvantages to changes in pet travel throughout Britain and the European Union, there are potential advantages as well, especially when it comes to the spread of rabies. New Brexit-related rules that are not too restrictive to travelers, but offer increased protection from disease may have a positive impact on pets, their owners, and the veterinary community.