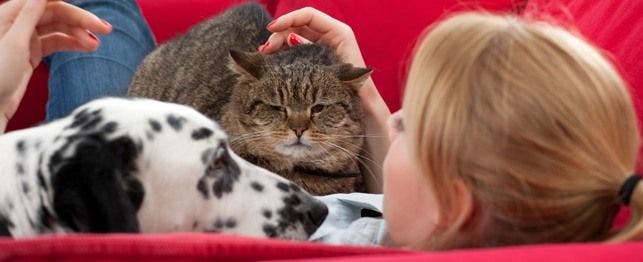 It's Time For a Night Out: Finding the Right Pet Sitter for Your Companion
Going on vacation? Got a long work trip coming up? Or do you just want to get out of the house for one night?
If you have pets, sometimes getting away is a difficult endeavor. You basically have two options when you have to leave your house for an extended period of time. The first is to kennel your pets, and the second is to have a pet sitter watch them.
Both options have their advantages (and disadvantages), and there really is no right or wrong answer — it all depends on your individual pet's attitude, personality, and temperament.
Still, a lot of people prefer pet sitters. With a pet sitter, your pets will be in their own environments, eating their own food, and maintaining their own routines. And a pet sitter is sure to give your pets plenty of attention! Not only that, you have someone checking your house, getting your mail, and making your home looked "lived in" while you're gone.
However, you have to find the right person, and the right person will vary based on what type of pets you have.
Here's how to find the right pet sitter for your specific pet.
Dogs
First and foremost, ask questions! Is the dog sitter bonded? Does he or she carry commercial liability insurance? Ask for documentation. Is the sitter a member of a professional association? How long has he or she been in business? Does the sitter provide references? A service contract?
What is the sitter's training background? How extensive is his or her knowledge of medical problems? Has the sitter taken canine health care seminars or had any training through a pet sitters' group, humane society, or other organization? Does the sitter have a backup plan if he or she is unable to make it to your house?
Be ready to answer questions too. The best dog sitters will want to know all about your dog, his eating habits, toilet habits, grooming needs, exercise routines, medications, etc. The sitter should also ask for important telephone numbers.
Inform the sitter of your dog's special habits — favorite hiding places or phobias, for example, and be sure to have plenty of supplies on hand. Give the pet sitter detailed, but simple, instructions in writing. Leave a measuring cup, for instance, and indicate exactly how much Rover should be fed. A "handful" or "bowlful" doesn't mean the same thing to everyone.
Finally, be sure to have the sitter meet your dog in advance and watch how he or she interacts with your dog.
Cats
Cats are finicky, and finding a cat sitter that you like and trust may take some time, so begin looking well in advance of your departure. If your cat has special needs, such as insulin injections, find a sitter who can give shots or attend to your cat's unique requirements.
To find a sitter, ask your veterinarian, favorite pet store, or pet-owning friends for a referral. If you cannot get a referral, check the locator lines of the two major professional pet sitting organizations, Pet Sitters International and the National Association of Professional Pet Sitters, for a list of member pet sitters in your area.
Again, the interview with the pet sitter is vital. Cover everything about your cat's care including feeding, cleaning up, disposing of wastes, special needs, and games your cat likes to play. Show her where you keep the cat food and where the litter box is. A sitter should clean the litter box daily, but don't expect her to clean a week's worth of wastes that you neglected to clean prior to her arrival!
Inform the sitter of any illnesses or idiosyncrasies that your cat has. For example, does your cat hide from strangers? Where are your cat's favorite spots? The sitter will want to see the cat on each visit; simply seeing an empty food bowl is not enough. If you free feed, the sitter may not be able to tell if your cat has eaten or not. A sitter should also visit your cat at least once every day. Visiting less often may save you money, but is risky for your pet's well-being.
Other Pets
A good pet sitter can even tend to reptiles, birds, and fish, but when you have these types of pets, special considerations must be taken.
For reptiles, environment and feeding are key things to focus on. Make sure the pet sitter understand your reptile's environment and how to keep his cage, aquarium, or terrarium at the right temperature and humidity levels. And always have the right food on hand. It's easy for a pet sitter to run to the store for a bag of dog food or a can of cat food, but finding crickets, mealworms, and rodents isn't quite the same thing.
For birds, making sure the pet sitter understands the specific type of bird you have is essential. For instance, canaries and finches do not require a lot of time for socialization, but parakeets, cockatiels, and lovebirds need daily attention and some time out from their cages. Parrots are very demanding birds; they need daily interaction or they will become bored.
For fish, overfeeding is the biggest thing to focus on. Overfeeding of fish is a common cause of death, so make sure the sitter understands how devastating overfeeding can be. And, of course, show them exactly how much and how often to feed your fish.
Other Considerations
The sitter will ask you to sign a contract that itemizes dates of coverage, the cost, and liabilities. Discuss the terms of payment and whether payment is required upfront.
The sitter may charge you extra for going to the store to get needed supplies, so make sure you stock up on everything your pet needs.
You will need to give the sitter the key to your home. Occasionally, travelers are delayed returning, so if no one else has a key, you may want the sitter to hang onto it until you've returned from your trip.
Give the sitter the phone number of where you will be and the name and phone number of your veterinarian and the nearest emergency vet. Occasionally, sitters must deal with house-related emergencies that have nothing to do with pets, so provide the phone number of someone locally to notify if something unusual crops up.
Give your veterinarian a letter to keep on file that says while you are away, the sitter will have the authority to seek treatment for your pet if necessary, and you will be responsible for any fees.
The sitter should give you a business card to take with you so that you can call them if you need to for any reason. If your return is going to be delayed, contact the sitter to take care of your pet for the additional time you will be away. Call the sitter when you return to let her know you are home.