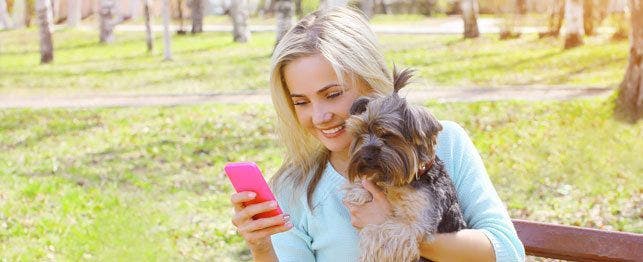 Our 5 Favorite Apps for Pet Owners
Did you know that you can use your smartphone or tablet for more than just posting pictures and videos of your adorable pets?
Shocking, we know, but it's true — in many ways these devices are like having a veterinarian right there in your pocket or bag, especially when you take advantage of the right apps.
Educational, informative, and even fun, these apps can make the joys of pet ownership that much sweeter.
Here are five of our favorite mobile apps for pets (and their owners).
Pet Diary
It's vital to keep comprehensive records on your pets, and track their vaccination and medication history. You also want to track all those great memories you make with your pets on a daily basis. Pet Diary by Chirag Software allows you to create diary entires for multiple pets and share photos on Facebook, Twitter, or via email. You can also monitor your pets' weights, diet changes, and exercise routines, and store their vaccination and medication histories. Reminders, notes. and contact info can be synched as well, and all diaries automatically sync to the cloud, so they're safe and secure.
PetCoach
When you take your pet to your veterinarian for a check-up, problem, or vaccines, there are some critical questions that you really should ask. But then there's those questions that come up in between veterinarian visits, oftentimes when you're not be able to get to your veterinarian's office or reach them by phone. In these instances, PetCoach by Notorious gives you access to verified vets and trainers, so you can ask questions about your pets and obtain brief answers for free, or chat with a veterinarian privately about your pets. You can also link your PetCoach account to your veterinarian's practice (if they join the site).
Pet First Aid
It's always smart to be prepared for any pet emergency, and knowing how — and when — to do things like CPR, the Heimlich Maneuver, or applying bandages is vital. If you need a little help, Pet First Aid by American Red Cross gives you veterinary advice for everyday emergencies, and step-by-step instructions for several common pet situations presented via text, video, and images.
DoggyDatez
It's no secret: exercise is as important for your dog as it is for you. But sometimes the daily walk around the same neighborhood can become tedious — for both you and your dog. DoggyDatez By Appetite Lab Inc. is a location-based app that helps dogs and their humans find new friends, while gamifying everyday walks. When using the app, you can "mark your territory," which means you take ownership of an area (200m radius) and you can see who else "visits" your spot. You can search for users by gender, age, dog gender, dog age, and/or dog breed, and sync up with them to play, compete, and share content.
Cat Relax
Cats, just like humans and all other living things, get stressed. Generally speaking, cats dislike change, but cats show their stress in a number of ways, and if you know how to identify and alleviate those stresses, your kitty will live a much happier and healthier life. Cat Relax by Clement DECROCK gives you an easy way to put your cat at ease via three categories: Appease (to relax her), Reassure (for use after a stressful situation), and Stimulate (for when you have to leave your cat alone). Once you choose a category, you just set the duration of the session (up to 180 minutes), and place your device in the same room as your cat.