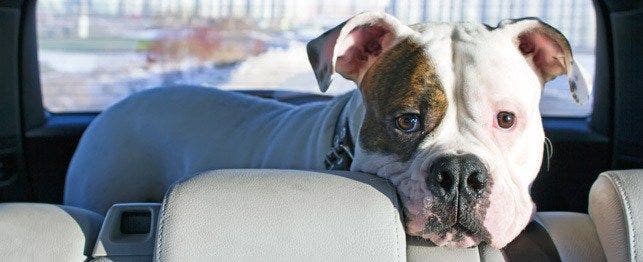 Our 5 Favorite Travel Tools for Pets
Summer time means travel time.
For many, it's a tradition to load up the old "family truckster" and head out on the road like the Griswolds in National Lampoon's Vacation.
But when pet owners hit the "holiday road," they've got a difficult decision on their hands — whether to board their pets or take them along.
The jet-setting crowd will simply put their pets on the plane with them and whisk off to one of the country's best pet-friendly hotels.
Travel is a bit easier (and quicker) when you have top-flight amenities, but if you're one of those families who will be setting out on the highway with your furry friend in tow, travel can be pretty rough. But, these great travel tools for pets will help make your journey a little smoother.
Sturdi Products Pet Shelter
Ask a dog if he wants to go for a ride in the car, and he'll likely jump at the opportunity. Trying to get a cat to ride in a car is a whole different story. But, dogs can get motion sickness, so no matter what type of pet you have, you have to find ways to minimize the stress of traveling. One of the best ways to do this is with a good pet carrier. Pet Carriers from Sturdi Products makes it easy to bring your pet's home with you while traveling. The CarGO is designed to fit on the back seat of most cars and SUVs, it's light-weight and durable, and no assembly is required. It comes in single, double, and triple sizes, so you can comfortably travel with multiple pets.
Petmate Silicone Travel Bowl Duo
One of the problems of life on the road is that it can be difficult to eat healthy. The highways are lined with fast food restaurants and convenience stores, and sometimes the only option is a greasy burger or a sandwich from a gas station. But you're not feeding that to your pets! You're bringing their food along with you, so you can maintain their nutrition. Nevertheless, pet bowls in the car can be a messy endeavor. Travel Bowl Duo Portable Pet Bowls from Petmate can help keep your pet properly fed and hydrated during travel. They feature hook and loop fasteners that secure bowls onto the included carrying case that doubles as a mini place mat, and the silicone bowls can be easily removed and cleaned.
The Green Pet Shop Kat Pak
When traveling with pets (or kids, for that matter), potty breaks are a frequent necessity. It's easy for a dog to jump out of a car, find a patch of grass, and do his business. Cats, on the other hand, are different. You need to bring along a litter box — and a bag of litter, a scoop, and bags to dispose of the scooped waste. Needless to say, it's a lot to deal with. The Kat Pak from The Green Pet Shop is a great solution to this issue. It is made from recycled paper and is 100% biodegradable. Simply unfold the Kat Pak and fill the tray with litter. When finished with use, you can simply fold it up and discard it. It's also water-resistant, lightweight, compact, and resists litter scattering.
Kurgo Backseat Bridge
If you have a cat or a smaller dog, it can be easy to put them in a carrier and drive along, but if you have a larger animal, a pet carrier might not be an option. And while most dogs enjoy riding in cars, they may struggle with where they should sit. On the seat? On the floor? What's a dog to do? The Backseat Bridge from Kurgo makes that decision easy. With a few simple attachments, it bridges the gap between your front and rear seats, providing the extra comfortable space that dogs need to have a happy ride. Falling to the floor is never a problem. There's also a fold down center barrier that acts as a wall just in case you stop short, and a built in cup holder and pocket for organization.
JoJo Modern Pets Essential Pet First Aid Kit
An essential for any vacation is a good first aid kit — for you and for your pets. This kit should include your name, address, and telephone number (as well as the numbers for your veterinarian and the National Animal Poison Control Center) in case you misplace it during your travels, and it's a good idea to also include a photo of your pet as well as name, age, breed, sex, and any health problems. You'll need to pack any medications your pet may be taking, and, of course, you need first aid supplies. The Essential Pet First Aid Kit from JoJo Modern Pets has everything you need to treat minor injuries or stabilize serious wounds, all in a durable and water-resistant bag. It also features reflective piping for assisted visibility in the dark, and added zipper extenders for ease of access when wearing gloves.