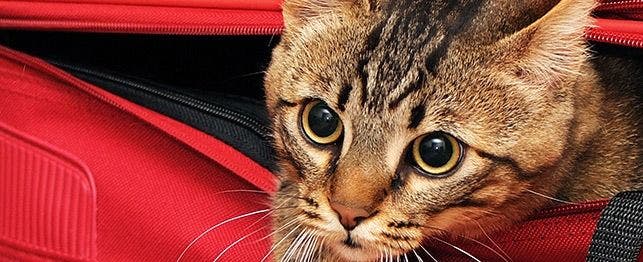 Pet Friendly Airports Are Taking Comfort to a New Level
Pet friendly airports are a breath of fresh air for travelers who bring their pets along for the ride.
Flying with your pet can be stressful and confusing, especially if it's your first time doing so, or you're flying on an airline whose pet policies you're not familiar with.
You typically need to be at the airport hours before your flight, but your pet will need to be there even earlier. The level of difficulty can lead to people leaving their pets at home or at the kennel rather than bringing them along to enjoy the trip.
Adding to the level of stress are all the things you don't know, like where your pet is while you wait to board, what your pet's situation is like during the flight, and if the people in charge of your pet are actually following proper pet care instructions. The truth is, pets are often just moved from one area to the next, and if they need something (food, medication, etc.) at a specific time, they may not get it. The tales of dogs arriving from long flights malnourished and frightened can make flying quite unappealing.
Pet Friendly Airports to the Rescue
The horror stories of lost and neglected pets are enough to make many pet owners say, "no way" to flying with their pets. Some airports, however, are changing the game when it comes to pets earning their wings. For example, the John F. Kennedy International Airport is taking pets from cargo to first class with their new luxurious pet lounge.
The ARK at JFK is specifically designed for pets, and is worlds above any pet relief area that you may find in another airport. It features the ARK Pet Oasis, which is where your pets can relax and get proper care as you (and they) wait to board the plane. If you have a long layover, this is definitely the place for your pet to be. The ARK is open 24/7, so it won't matter what time your flight is, your pet will have somewhere to go.
The ARK also includes kennels with plenty of space to give your pets a place to be if they're looking at a longer stay. There's even a small yard to give your pets a place to relieve themselves in an environment that's safe and comfortable.
Is your pet in need of some medical attention? The lounge has a veterinary area, as well as a vet technician on staff. No matter what your pets are in need of during their stay, the ARK has just about everything your pet could desire, including a room fully stocked with food.
Pet Friendly Airports Are For More Than Just Dogs and Cats
Traveling with pets isn't just for cats and dogs, people also travel with horses, birds, and more. The ARK is designed to accommodate all of them. Horses get their own stainless steel stall complete with a fresh bed of wood chips, a rubber mat, and a soothing playlist of opera music. Horse owners can also request specific items — blankets, oats, etc. — when they check in.
Birds can also find their own little haven at the ARK. While their area isn't as luxurious due to the potential spreading of diseases, they have access to a concrete pool and a room with quarantine features. The USDA also uses this area to examine water animals to make sure they're in good enough health to enter the country.
The ARK is also equipped to hold livestock and even zoo animals. However, each have their own special areas, and exotic animals will stay within their pens during their stays.
The ARK truly sets JFK a step above any other pet friendly airport in the country. It also features a fancy hotel just for pets called Paradise 4 Paws. Each guest will receive their own suite complete with a television to FaceTime with owners, a tuck-in service at night, and, of course, a little art to dress up the room. You can even request anything else your pet might need while they stay at the resort and it will be taken care of. From extra feedings to a walk around the complex, your pets will be treated like the kings and queens that they are.
From big to small, the ARK at JFK is designed to give every animal equal treatment before they board their flight, where unfortunately the special treatment stops. No matter where you fly with your pet, they're still going to have to travel in the cargo hold, but that doesn't stop you from giving them a little pampering before or after the flight.