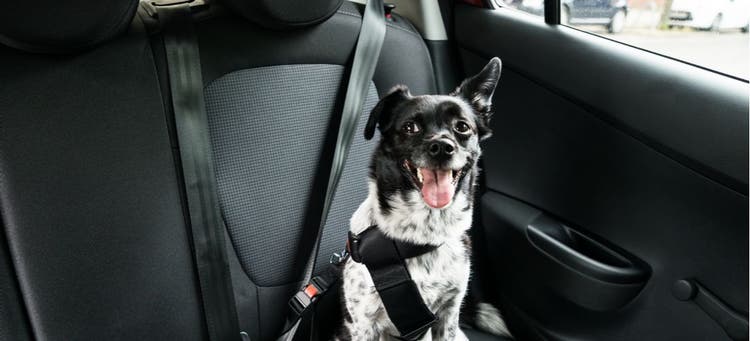 Pet-Friendly Road Trips: Tips and Top Destinations
Content Sponsored by King Kanine.
Embarking on a road trip with your four-legged friend is a great way to bond and explore the country together. But before you hit the road, it's important to plan ahead to ensure a safe and fun trip. In this post, we'll share some tips for safe driving with pets, as well as a guide to pet-friendly destinations across the USA.
Our Top Tips for Safe Road Trips with Pets
In part 1 of this post, we explained why it's vital to gradually introduce your pet to car travel before taking them on a long road trip.
Even after your pet has adjusted to traveling by car, ensuring their safety and comfort is always a great first step when planning a lengthy journey.
Here are our top tips for keeping your pet safe and secure while on the road:
Keep pets in the backseat of the car: Keep your pet in the backseat and secure them with a seat belt and harness. Always keep pets off the front seats of the car, so they don't distract you or cause a driving hazard.
Make sure to bring plenty of fresh water: Pets get thirsty on long road trips just like you do. Bring extra water for them to drink so they don't overheat or dehydrate.
Plan out rest stops: Long car rides can be very nerve-racking. Make sure your pet gets plenty of exercise by taking frequent breaks and allowing them time to stretch their legs, run around, and relieve themselves.
Pack an emergency pet kit: Always pack an emergency pet kit when traveling with your furry friend. Fill the kit with essentials like your pet's regular medications, light bandage material and roll gauze, medical tape, topical triple antibiotic ointment, eyewash, and allergy medication.
Bring along treats and CBD products: Keep your pet happy and calm on long journeys by packing a supply of their favorite treats and soothing CBD products.
Travel-Friendly CBD Products
No matter how well you prepare for your journey, it's impossible to predict how your pet will react to a long road trip. Some pets suffer from travel-related anxiousness, which can lead to problems like vomiting, diarrhea, trembling, and excessive panting.
Some of the suggestions we mentioned above, such as giving your pet fresh water and taking frequent breaks, can assist with these symptoms. If that's not enough, CBD products are another great way to help your pet relax and unwind.
Products from King Kanine are formulated to help your pet stay calm, cool, and collected when you head out on the road. CBD is a non-psychoactive ingredient found in hemp that's thought to provide a wide range of mental and physical benefits. Giving your pet CBD can help manage anxiousness during travel, making car rides more enjoyable and manageable.
Pets who are especially uncomfortable will benefit from products made with high-quality CBD oil, which acts as a calming, soothing, and restorative solution while traveling. These products can also promote overall health and address feelings of anxiousness.
5 Pet-Friendly Destinations Across the USA
So, you've brushed up on our tips for driving safely with your pet and stocked up on CBD products to calm their nerves while you travel. Now all that's left to do is choose your destination!
Here are five of the pet-friendliest destinations across America to consider for road trips with your best buddy:
New York City, NY: Central Park has lots of pet-friendly areas that are ideal for walking your dog. Check out the Dog Owner's Guide to Central Park for useful information about visiting with your canine companion.
San Francisco, CA: Golden Gate Park has four off-leash areas where dogs can run around freely. With more than 1,000 acres of public space, there's plenty of room to roam and explore with your pup.
Austin, TX: This hip locale consistently ranks as one of the most dog-friendly cities in the US, featuring highlights like McKinney Falls State Park and Red Bud Isle. Why not pack a picnic and go on a Texan adventure with your pet?
Los Angeles, CA: Griffith Park is a beautiful location with plenty of space for pets. It's also the location of the famous Griffith Park Observatory, where you can enjoy panoramic views of the city.
Chicago, IL: Lincoln Park has several trails that are perfect for walking or running with your pooch. It also has an off-leash dog park where your pup can meet new friends and run free.
Wrapping Up
Make sure to travel safely with your four-legged friend and have lots of fun enjoying the great outdoors! Don't forget to check out King Kanine's range of CBD products to help your pet relax and enjoy their trip.