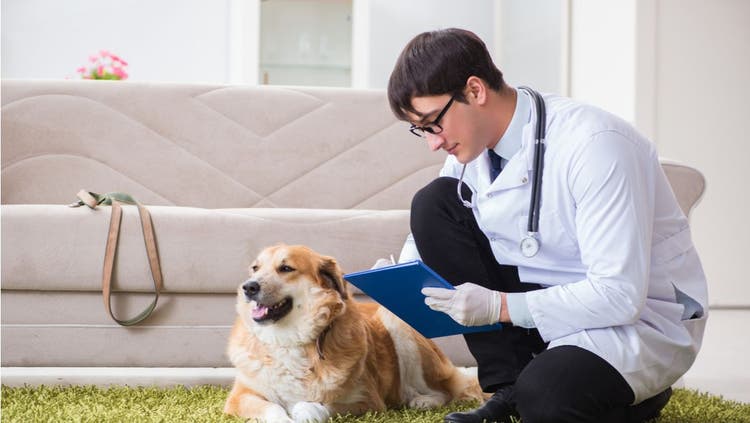 Vets Offer Curbside Service and House Calls in Response to COVID-19
With the worldwide threat of the coronavirus impacting every aspect of our daily lives, veterinarians have adapted their treatment methods for a period of isolation. Some veterinary clinics are still open to the public, but most have seen a significant decrease in business due to social distancing. Many of these clinics remain operational with a skeleton crew, and veterinarians have opted to cancel nonessential appointments for the time being.
Curbside Veterinary Care
The American Veterinary Medical Association (AVMA) has recommended that veterinary clinics postpone elective surgeries, preserve medical supplies, and practice curbside service. During curbside check-in, a client will pull up outside of their veterinary clinic with a pet in tow and await service. A veterinarian will then assess the pet from outside of the car and determine if the pet's condition warrants in-patient care. If that's the case, the vet will bring the pet inside for treatment while the client waits in their car or returns home.
Another cutting-edge treatment option is telemedicine, which allows for emergency triaging, visual examination, and general questioning with your vet through FaceTime or Skype.
In-Home Veterinary Care
In-home veterinary services have long been available from a select number of veterinarians, providing a convenient, stress-free way for our pets to get the care they need. During these uncertain times, many vets have decided to expand their services and provide in-home visits for concerned pet parents. Typically, the veterinarian will compile a pet's medical information over the phone, followed by an in-home examination and treatment measures, if necessary.
Multiple health organizations have confirmed that pets and animals are unlikely to contract coronavirus or spread it to their owners. However, just to be safe, veterinarians who make house calls must continue to practice social distancing, staying at least six feet away from pet owners. They will also safeguard themselves with the necessary personal protective equipment (PPE).
What to Do Before Scheduling an Appointment
Before scheduling a home visit, a pet owner should first answer the following screening questions:
Does anyone in my household have a fever, cough, or shortness of breath?
Have any residents been in contact with a person who has tested positive for COVID-19?
Is anyone in my home under quarantine?
If the answer is "yes" to any of these questions, there may be an increased risk for COVID-19 infection.
Your veterinarian will likely take the following precautionary measures:
Rescheduling of elective procedures.
Recommendation of an appointment through telemedicine.
Treatment at a veterinary hospital, if the pet's condition is in need of immediate treatment.
In-home veterinary visits and curbside service are new ways that the world is adapting to the spread of COVID-19. This is certainly a trying time for all of us, but through social distancing and new methods of veterinary care, we can keep our families safe with minimal risk.
If your veterinarian does not offer home visits, or if your veterinary office is closed, contact your local emergency care clinic for assistance.