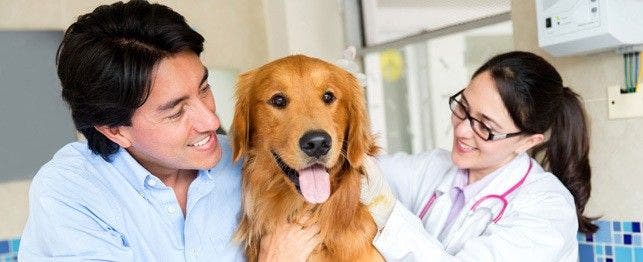 Vetting Your Vet: How to Find the Right Veterinarian for Your Pet
You just brought home a new pet and you're thrilled to welcome the newest member of your family into your home.
You've got it all — the best pet products money can buy, comfortable bedding, grooming tools, food, and of course, toys. Yes, your new dog, cat, bird, whatever has everything he or she needs to live a long and happy life.
Except for one very important thing — a quality veterinarian.
Besides regular check-ups, vaccinations, and testing, you need a veterinarian for a myriad of services, including, but not limited to, deworming, heartworm prevention, flea and tick control, spaying and neutering, and nutrition.
You wouldn't choose just any doctor for you or your family, and you shouldn't choose just any doctor for your pet. Sure, cost and location matter, but those should not be the primary drivers in your veterinary decision.
Like with any doctor, your relationship with your veterinarian is one that takes time to develop. You cannot completely trust someone overnight, but if you do some research, and truly understand your pet's needs, you can find the right veterinarian.
So how do you properly evaluate a veterinarian? This guide will help you vet your vet — whether you're looking for your first veterinarian or a change from your current veterinary practice.
Cost and Trust
Here's a simple fact about veterinary care: it isn't cheap. Many of the same techniques and technologies used in human medicine have found their way into veterinary medicine. For example, ultrasound and EKG testing are now commonplace in veterinary medicine. On top of that, veterinary dentistry, surgery, cardiology, orthopedics, dermatology, ophthalmology, and pain control have all developed rapidly in the past 20 years.
This is a good thing! After all, you want your pet to receive the best care possible. But all of these treatment options come at a price, and since most people don't know the finer points of medical treatment for their animals, they can't help but wonder whether they can trust their veterinarian or whether he or she is recommending unnecessary testing and treatment to increase the profit margin of their practice.
As a pet owner, you should take some time to consider in advance what treatment options you are comfortable with and what you will and won't do. Consider your pet's age, current level of health, and temperament.
Will you put your 14-year-old dog through surgery, rehabilitation, and chemotherapy in order to add a year to his life? Six months? Your veterinarian can offer his or her advice or thoughts, but in the end it's a decision only you can make. On the other hand, don't skimp on simple diagnostic testing like blood work and x-rays that can provide a definitive answer to what's wrong with your pet and how to treat it.
Visiting the Office
Word-of-mouth, reviews, and referrals are great, but the best way to determine if a veterinarian is right for you is to visit the doctor's office yourself. Most veterinary hospitals and offices are happy to give you a tour/consultation. Of course, you want to make sure the facility is clean and neat, with no objectionable odors, but watch these things closely as well:
Physical Examination: Your pet should receive a thorough examination from head to tail, regardless of the reason you are there. If your pet is there for a possible ear infection, the vet will need to look at the ear, but they should also look at the pet's eyes and mouth, listen to the heart and lungs, check the paws and teeth, and palpate the abdomen thoroughly.
Diagnostics: These tests should always make sense and be explained to you thoroughly. Diagnostic testing is often all about ruling certain things out. When tests come back negative, a pet owner may feel like they paid for an unnecessary test if the reason for the testing wasn't communicated in the first place.
Communication: Communication goes beyond explaining the reasons for diagnostic testing — your veterinarian should also provide clear information and direction on any recommended treatments, prescribed medications, or needed surgeries.
Interactions: Observe how the veterinarian and technicians interact with, handle, and treat your pet. If they need to firmly restrain your pet in order to safely perform their jobs, are they doing it with respect? The staff should radiate a genuine love for animals and for their jobs.
Digging Deeper
Besides finding out whether or not a veterinarian can care for your pet for all those expected visits, you also want to ensure he or she can properly handle emergencies and surgeries should they arise.
When assessing a veterinary hospital or practice, ask these questions:
What type of x-rays are used? If the practice doesn't have digital x-ray, it's a sign that they either can't afford it (not good) or that they don't keep up with technology (also not good).
What is the surgery suite like? How many surgery and dental tables do they have? Having more than one means they are more able to accommodate emergencies and that they perform a lot of procedures.
Who monitors your animal under anesthesia? Will there be a dedicated staff member whose job it is to monitor your pet's vital signs and alert the doctor to any problems?
What kind of anesthetic drugs do they use? There are a lot of anesthetic agents out there, but not every drug is suitable for every animal. Find out what the protocols are for your particular pet or breed.
Do they have an oxygen cage? It's needed for animals that are having breathing difficulties due to heart disease, fluid in the abdomen, and other conditions.
Additional Resources
Before you schedule a visit or set up a consultation, it's a good idea to research all your potential options. Here are some great resources for finding the right veterinarian for you and your pets.
Veterinarians.com features over 20,000 veterinarians and animal hospitals across the country, enabling you to vet all the vets near you, as well as get discounts on services.
FindALocalVet.com is a directory that makes it easy to find and compare local veterinary practices that offer the specific services you need. The site also includes information on animal surgery, animal dentistry, large animal care, emergency services, preventative care, and vaccinations.
VetRatingz.com is a site where people provide real, independent ratings, reviews, and recommendations for veterinary clinics and animal hospitals across the country.